"I am delighted to confirm that I will represent Lahore"
The 2019 Pakistan Super League teams and squads are creating a lot of buzz leading up to the tournament.
The Pakistan Super League (PSL) franchise T20 cricket league takes place from February 14 to March 17, 2019.
Comprising six teams, the 32-day competition is the fourth season of the PSL.
The players draft took place on November 20, 2018, to determine the final teams and squads for PSL 4.
The 2019 PSL 4 teams chose from five categories, including platinum, gold, diamond, silver and emerging categories.
Players in platinum will get anything from Rs. 1,70,00000 (£93,000) to Rs. 2,60,00000 (£142,000) for the full season. Each team has 3-4 big name platinum players.
Cricketers under the diamond category will get between Rs. 90,00000 (£49,000) and Rs. 1,20,00000 (£65,000) for PSL 4. Payment will depend on players skill level and experience.
AB de Villiers from South Africa and West Indian Carlos Brathwaite will make their PSL debuts in the platinum and diamond categories respectively.
For the gold category, players will receive from Rs. 65,00000 (£35,000) and Rs. 80,00000 (£43,000).
Cricketer selected in the silver category will earn between 28,00000 (£15,000) and 40,00000 (£21,000).
In the final emerging category, players will get paid from Rs. 13,00000 (£7,000) and 18,00000 (£9,800). This is a big amount for young players considering each team has to field an emerging player.
The emerging player has to be under the age of twenty-three.
Each team also has a supplementary category, in the event any players suffer any injury. If this does happen a player from the supplementary group can come in as a replacement.
Let's take a look at the six Pakistan Super League teams and squads, including some of the big players featuring  in the competition:
Islamabad United
Luke Ronchi from New Zealand who comes under the platinum category was the backbone for Islamabad United in 2018.
His contribution at the top of the order was very crucial for United as they won the PSL for the second time in 2018.
With Misbah-ul-Haq leaving Islamabad, Ronchi takes the captaincy reigns. Luke who was in Pakistan for the players draft told the media:
"A massive thanks to Islamabad United, the family, to get me involved before the Pakistan Super League (PSL) last season.
"It was an amazing time and I hope that we continue in the manner that the Islamabad United and family have played for three years."
If we talk of bowlers, then Pakistan leg-spinner Shadab Khan and Green Shirts all-rounder Faheem Ashraf are also in the platinum category.
Powerful Pakistani batsman Asif Ali is part of the diamond category. Former England opening batsman Ian Bell will also represent Isloo in the same category.
In the bowling department, Pakistan Test cricketer Mohammad Sami (diamond) will spearhead the United bowling attack.
Under the gold category, there is hard hitting batsman Phil Salt from England. Pakistan pacer Rumman Raees and left-arm spinner Samit Patel from England will be the key bowlers for Islamabad under this category.
In the silver category, there is young Pakistani opener Sahibzada Farhan, along with left-handed batsman Cameron Delport from South Africa.
Young pace bowler Waqas Maqsood, along with all-rounders Hussain Talat (ambassador) and Zafar Gohar are also silver category players.
Under the emerging category for youngsters, Islamabad has chosen bowler Muhammad Musa and all-rounder Nasir Nawab.
Batsman Rizwan Hussain, bowler Zahir Khan, as well as all-rounders Amad Butt and Wayne Parnell from South Africa make it into the supplementary category.
Squad
Platinum: Luke Ronchi (NZL), Shadab Khan (PAK), Faheem Ashraf (PAK)
Diamond: Mohammad Sami (PAK), Asif Ali (PAK), Ian Bell (ENG)
Gold: Rumman Raees (PAK), Phil Salt (ENG), Samit Patel (ENG)
Silver: Sahibzada Farhan (PAK), Waqas Maqsood (PAK), Hussain Talat (PAK), Zafar Gohar (PAK), Cameron Delport (RSA)
Emerging: Muhammad Musa, Nasir Nawaz
Supplementary: Wayne Parnell (RSA), Rizwan Hussain (PAK), Amad Butt (PAK), Zahir Khan (AFG)
Karachi Kings
Pakistani batsmen Babar Azam and New Zealand opener Colin Munro, as well as the Green Shaheens fast bowler Mohammad Amir feature in the platinum category for Karachi Kings.
In the diamond category, Kings have South African batsman Colin Ingram (ambassador) and Pakistan all-rounder Imad Wasim.
Wasim will captain Karachi for the second time on the trot. Owner Salman Iqbal went on Twitter to confirm the names for captain and vice-captain, tweeting:
I am happy to announce that the management team of @KarachiKingsARY has decided that @simadwasim will lead the team as Captain and @CAIngram41 as his vice captain .
"Best of luck to both of them ."
All-rounders Ravi Bopara from England and Pakistani-born Sikandar Raza Butt of Zimbabwe fit into the gold category.
Bopara has been playing for Kings since the inaugural PSL season, which took place in 2016.
In the silver category, there is pinch hitter Awais Zia, pacer Sohail Khan and leg-spinner Usama Mir, all from Pakistan.
Leg-spinner Abrar Ahmed and all-rounder Ali Imran are two young player selections under the emerging category.
Surprisingly all-rounders Aamer Yamin from Pakistan and Liam Livingstone of England only make it into the supplementary category for the blue Karachi outfit.
Squad
Platinum: Colin Munro (NZL), Mohammad Amir (PAK), Babar Azam (PAK)
Diamond: Colin Ingram (RSA), Imad Wasim (PAK), Usman Khan Shinwari (PAK)
Gold: Ravi Bopara (ENG), Mohammad Rizwan (PAK), Sikandar Raza Butt (ZIM)
Silver: Awaiz Zia (PAK), Usama Mir (PAK), Aaron Summers (AUS), Sohail Khan (PAK), Iftikhar Ahmed (PAK)
Emerging: Ali Imran (PAK), Abrar Ahmed (PAK)
Supplementary: Aamer Yamin (PAK), Ben Dunk (AUS), Liam Livingstone (ENG), Jaahid Ali (PAK)
Lahore Qalandars
Gaining a major scoop in the platinum category, Lahore Qalandars will have the services of South African dashing batsman AB de Villiers.
As this will be the first season of AB in PSL, fans will be hoping to do some 'Dama Dum Mast Qalandar' on his shots.
AB will also travel to Pakistan for PSL 4, playing in front of his home crowd. Confirming his trip, AB issued a statement reading:
"I am delighted to confirm that I will represent Lahore Qalandars in front of our home crowds on 9 and 10 March, during the HBL PSL 2019.
"I look forward to revisiting the Gaddafi Stadium and aim to play my part in helping Lahore Qalandars achieve something they have been aspiring for since the inception of this tournament in 2016."
Explosive Pakistan opener Fakhar Zaman is another flashy batsman in the platinum category.
Former world number one all-rounder Mohammad Hafeez also falls into the top tier category. Hafeez leads the popular city, known as 'Zinda Dilon Ka Shehar.'
Right arm leg-spinner, Yasir Shah who has a history of celebrating in a very mast fashion in the PSL comes under the diamond category.
The diamond category also includes all-rounders Carlos Brathwaite from West Indies and Corey Anderson of New Zealand.
Brathwaite is famously known for his heroics in the final over of the ICC 2016 World T20.
Kiwi batsman Anton Devcich retains himself in the gold category.
Pakistan left-arm pacer Rahat Ali and rookie Sri Lankan leg-spinner Sandeep Lamichhane join Devcich under the gold category.
In the silver category, there is a trio of Pakistani batsmen including Haris Sohail, Agha Salman and Sohail Akhtar.
The young in-form 'Dhoom Dhoom' Shaheen Shah Afridi (ambassador) is the prime bowler featuring in the silver category. Qalandars are relying on Afridi to rattle the opposition.
Despite his early success, Shaheen firmly has his feet on the ground as journalist Faizan Lakhani describes in a tweet:
"@iShaheenAfridi is so humble & down to earth, when he was unable to deliver in initial games, he went to @lahoreqalandars management, said "I am unable to deliver, I want to return all the money back to you.
"LQ management and @Bazmccullum gave him confidence & he delivered."
After playing two seasons for Quetta Gladiators, Hasan Khan moving to Lahore is also under the silver category.
The emerging category includes batsman Umair Masood and all-rounder Mohammad Imran.
Zimbabwean wicket-keeper batsman Brendan Taylor and Pakistani fast bowler Haris Rauf find a place in the supplementary category.
Squad
Platinum: Fakhar Zaman (PAK), AB de Villiers (RSA), Mohammad Hafeez (PAK)
Diamond: Yasir Sha (PAK), Carlos Brathwaite (WI), Corey Anderson (NZL)
Gold: Anton Devcich (NZL), Rahat Ali (PAK), Sandeep Lamichhane (SRI)
Silver: Shaheen Shah Afridi (PAK), Haris Sohail (PAK), Agha Salman (PAK), Sohail Akhtar (PAK), Hasan Khan (PAK).
Emerging: Umair Masood (PAK), Mohammad Imran (PAK)
Supplementary: Brendan Taylor (ZIM), Gauhar Ali (PAK), Aizaz Cheema (PAK), Haris Rauf (PAK)
Multan Sultans
Ali Tareen son of Pakistani politician Jehangir Tareen bought Multan Sultans in late 2018.
All-rounder Andre Russell who is from the West Indies will come to the party as a platinum cricketer.
Famous Pakistani all-rounders Shoaib Malik and 'Boom Boom' Shahid Afridi are also in the platinum category.
Malik is captain for the Sultans. Excited about sharing the stage with Afridi, Shoaib says:
"Afridi is still playing solid cricket and as a former national teammate and captain of Multan.
"I'm happy for him to be in our team as he is one of the very few players out there who can single-handedly change the game with their bowling and or batting and sometimes even with their fielding."
England Test cricketer James Vince is a diamond category pick. The skiddy Junaid Khan and 7 feet tall Mohammad Irfan (ambassador) are two left-handed bowlers also in the diamond category.
Pakistan Test opener Shan Masood drafts into the gold category, as does young West Indian batsman Nicholas Pooran and teen leg-spinner Qais Ahmed from Afghanistan.
In the silver category, there is domestic opener Umar Siddiq Khan, English right-hand bat Laurie Evans, Sialkoti fast bowler Mohammad Abbas, leg-spinner Irfan Khan and all-rounder Nauman Ali.
Abbas has done really well in the Test arena, helping Pakistan to some great victories.
Mohammad Junaid and all-rounder Mohammad Ilyas got the nod under the emerging player's category.
As part of the supplementary category, the back-up players include wicketkeeper Tom Moores from England, fast-medium bowler Daniel Christan of Australia, Pakistani medium pacer Ali Shafiq and veteran wicketkeeper Shakeel Ansar.
Ali Tareen will be hoping all these players perform and bring success to his team.
Squad
Platinum: Shoaib Malik (PAK), Andre Russell (WI)
Diamond: Junaid Khan (PAK), Mohammad Irfan (PAK), James Vince (ENG)
Gold: Shan Masood (PAK), Nicholas Pooran (WI), Qais Ahmed (AFG)
Silver: Mohammad Abbas (PAK), Umar Siddiq Khan (PAK), Irfan Khan (PAK), Nauman Ali (PAK), Laurie Evans (ENG)
Emerging: Mohammad Junaid (PAK), Mohammad Ilyas (PAK)
Supplementary: Daniel Christan (AUS), Tom Moores (ENG), Ali Shafiq (PAK), Shakeel Ansar (PAK)
Peshawar Zalmi
Fast bowler Wahab Riaz and medium-fast pacer Hasan Ali who has been consistently performing for Pakistan in the short format of the game are platinum retained players for Peshawar Zalmi.
T20 specialist all-rounder Kieron Pollard is a draft pick in the platinum category.
Wicket-keeping opener Kamran Akmal (ambassador), former Pakistan captain Misbah-ul-Haq and West Indies all-rounder Darren Sammy will represent Zalmi under the diamond category.
Sammy, a fan's favourite will skipper the side for the third consecutive year, with Peshawar owner Javed Afridi confirming on his Twitter handle:
"It gives me immense pleasure to announce that Daren Sammy will be leading the Peshawar Zalmi (Yellow Storm) in PSL 4 as well."
On the batting front, England's middle order batsman Dawid Malan and Pakistan opener Umar Amin made it into the gold category.
Left-arm spinner Liam Dawson of England is retained in the gold category as a bowler who can bat a bit.
Peshawar picks Pakistan's Sohaib Maqsood, domestic wicket-keeping batter Jamal Anwar and right-handed Australian batsman Wayne Masden in the silver category.
In addition, fast bowler Umaid Asif and all-rounder Khalid Usman are retainers under the silver category.
Talented bowler Sameen Gul remains in the emerging player's category.
The supplementary category will consist of leg-spinner Samiullah Afridi from Pakistan, England all-rounder Chris Jordan and West Indies opener Andre Fletcher.
Samiullah did play in PSL 2, which took place in 2017. Peshawar Zalmi has won the competition in 2017, defeating Quetta Gladiators by 58 runs in the final.
Squad
Platinum: Wahab Riaz (PAK), Hasan Ali (PAK), Keiron Pollard (WI)
Diamond: Kamran Akmal (PAK), Misbah-ul-Haq (PAK), Darren Sammy (WI)
Gold: Liam Dawson (ENG), Dawid Malan (ENG), Umar Amin (PAK)
Silver: Umaid Asif (PAK), Khalid Usman (PAK), Sohaib Maqsood (PAK), Jamal Anwar (PAK), Wayne Masden (AUS)
Emerging: Sameen Gul (PAK), Nabi Gul (PAK)
Supplementary: Chris Jordan (ENG), Andre Fletcher (WI),  (PAK), Samiullah AfridI (PAK), Ibtisam Sheikh (PAK)
Quetta Gladiators
Pakistan and Quetta Gladiators captain Sarfraz Ahmed retains his platinum player star status. Wicket-keeping batsman Ahmed skippers the Gladiators for the fourth season in a row.
West Indian right-arm off break bowler Sunil Narine and Caribbean all-rounder Dwayne Bravo are two other major players in the platinum category.
In the diamond category, we will get to see former Australian all-rounder Shane Watson and Mohammed Nawaz who will play his fourth season for Quetta.
Nawaz is an effective left-arm spinner and a handy lower middle order batsman.
Former South African cricketer Rilee Rossouw (ambassador) and Umar Akmal from Pakistan are in the squad under the gold category.
Rossouw was one of the brave hearts who travelled to Pakistan in 2018, playing in the Karachi final. Akmal has a somewhat controversial history both with Pakistan and his former PSL team Lahore Qalandars.
Umar will be hoping to resurrect his PSL and Pakistan career with some good performances during the tournament.
Pakistani born Australian leg-spin bowler Fawad Ahmed is also in the gold category.
The silver category players include Pakistani batsman Saud Shakeel, left-arm spinner Mohammed Asghar and all-rounder Anwar Ali.
Asghar was previously with Peshawar Zalmi for the first three seasons of the PSL.
In the silver category, there are two young batsmen also, namely Danish Aziz and Ahsan Ali.
Bowlers in the emerging category include Ghulam Mudassar and 15-year-old Naseem Shah.
Opener Ahmed Shehzad who has played over fifty T20 internationals for Pakistan only makes it into the supplementary category.
English bowler Harry Gurney and Muhammad Azam Khan, son of 1992 Cricket World Cup-winning wicketkeeper Moin Khan are also back up players for the Gladiators.
Squad
Platinum: Sarfraz Ahmed (PAK), Sunil Narine (WI), Dwayne Bravo (WI)
Diamond: Mohammad Nawa (PAK), Sohail Tanvir (PAK), Shane Watson (AUS)
Gold: Rilee Rossouw (RSA), Umar Akmal (PAK), Fawad Ahmed (AUS)
Silver: Anwar Ali (PAK), Saud Shakeel (PAK), Danish Aziz (PAK), Ahsan Ali (PAK)
Emerging: Ghulam Mudassar (PAK), Naseem Shah (PAK)
Supplementary: Ahmed Shehzad (PAK), Muhammad Azam Khan (PAK), Jalat Khan (PAK), Harry Gurney (ENG)
So that was our round-up of all the Pakistan Super League teams and squads for 2019.
The Pakistan Cricket Board (PCB) are administrators of the PSL brand and event. All matches played under the T20 format will be held in UAE and Pakistan.
Five venues will host the matches including Dubai International Cricket Stadium (Dubai), Sharjah Cricket Stadium (Sharjah), Sheikh Zayed Cricket Stadium (Abu Dhabi), Gadaffi Stadium (Lahore) and National Stadium (Karachi).
Matches will begin in the UAE, with the last eight games taking place in Pakistan, including the playoffs and final.
There will be a total of thirty-four day-night matches in the tournament.
PSL also has a great commentators line up led by Alan Wilkins (ENG).
The commentary team includes Ramiz Raja (PAK), Danny Morrison (NZL), Bazid Khan (PAK), Michael Slater (AUS), Kepler Wessels (RSA), Graeme Smith (RSA) and Matthew Hayden (AUS).
The official anthem for PSL 4 sung by Pakistani heartthrob Fawad Khan is energising all the fans. Fawad will perform the anthem during the opening ceremony on Valentine's Day.
Watch the official trailer of 'Khel Deewano Ka' here: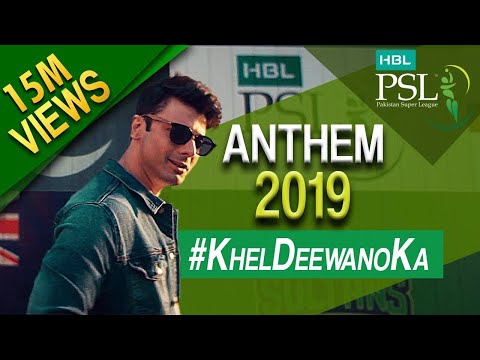 American rapper Pitbull will also perform at the PSL opening ceremony
Defending champions Islamabad United take on Lahore Qalandars in the first of the Pakistan Super League at the Dubai International Cricket Stadium on February 14, 2019.