"Pakistan Navy is specially proud of ex PN serviceman Fakhar Zaman"
The Kia Oval has proven to be a lucky ground for the Pakistan cricket team.
Besides the Oval hosting its 100th Test match from 27 to 31 July 2017, there truly is a remarkable history between Pakistan cricket and the ground.
Since the early 90's fans have been captivated by the rivalry between Pakistan and England. Matches between the two sides have produced some of cricket's most memorable moments.
The Pakistan cricket team has also enjoyed several famous victories, including controversy against England at the Oval cricket stadium in South London.
Pakistan won Test matches in 1992, 1996, 2010 and 2016. The Test match in 2006 was awarded to England after Pakistan had refused to play. This was because they were accused of ball tampering by on-field umpire Darrell Hair from Australia.
Pakistan's triumph in the 2017 ICC Champions Trophy also came at this ground.
Spread over five tours and one ICC tournament, the highlights from these include: world class bowling performances of Wasim Akram, Waqar Younis and Mushtaq Ahmed, Pakistan protesting off the field in the abandoned test, heroics of Mohammad Amir, Pakistan's comprehensive 10 wicket win and Fakhar Zaman hitting a magical hundred against India.
With 2017 marking the 100th Test at the Oval, DESIblitz relive 6 iconic moments for the Pakistan cricket team that have taken place at this ground:
1. The 1992 Showdown Test – England vs Pakistan
The 1992 Test match series was nicely poised at 1-1. The final Test held at the Oval in England was pre-match billed as The Showdown Test.
However the game did not produce a close finish and turned out to be a one sided affair.
The lethal bowling of Wasim Akram and Waqar Younis, along with responsible batting ensured a comprehensive victory for the Green Shirts.
As a result, Pakistan beat England by 10 wickets on a hard and bouncy surface, with a day to spare.
On day 1, Akram demolished England with most worthy figures of 6-64.
From 138-3, England collapsed to 2017 all out. The hosts lost their last seven wickets for a mere 25 runs in perfect batting conditions.
Meanwhile Pakistan adopted a mature batting approach in their first innings total of 380.
Captain Javed Miandad led the way with 59. An elegant half-century from debutant wicket-keeper Rashid Latif established a crucial 173 runs first innings lead.
The visitors reduced England to 59-4 in the second innings after a devastating spell from Younis. Akram's three wickets and a five-wicket haul from Younis were enough to bowl out England for 174.
With a target of 2 runs, Pakistan won the match in 0.1 overs. In a series, which saw Pakistan being labelled as the Pariahs of Cricket, Wasim and Waqar took a staggering 43 wickets between themselves.
2. Pakistan wins third successive England Tour Test Series in 1996
In 1996, leg-spinner Mushtaq Ahmed took eight wickets in the third and final Test match as Pakistan defeated England at the Oval.
A comfortable nine-wicket win completed a well-deserved 2-0 series victory for Pakistan.
England gave the impression of being in total command when Graham Thorpe (106) and John Crawley (56) were batting.
But captain Wasim Akram and Waqar Younis struck back at vital moments. The famous pair of W's shared seven wickets between themselves in the first innings.
With the Green Shaheens restricting England to 326, they went onto score a mammoth 521 in their first innings. Opener Saeed Anwar (176) scored the bulk of the runs, falling 24 runs short of a double century.
In addition Salim Malik was unbeaten on 100 as the England bowling attack seemed totally clueless.
On day 5, England were looking to draw the match. But Mushtaq turned the tide in Pakistan's favour with a terrific spell of 6-78.
Pakistan reached their target of 48 with the loss of 1 wicket to win their third consecutive test series win on English soil.
Mushtaq was not only the man of match, but also the man of the series. He ended with seventeen wickets in the series.
3. The Infamous 2006 Abandoned Test – England vs Pakistan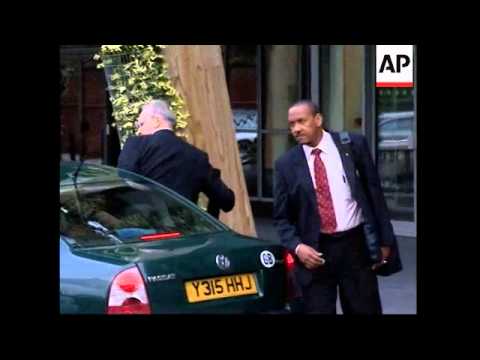 The fourth test match at the Oval was awarded to England. This is because Pakistan refused to play, following allegations of ball tampering.
Despite Pakistan being in a healthy position, the game had to abruptly finish when the visitors disapproved the umpires decision.
Umar Gul and Mohammed Asif taking 4 wickets apiece swept England aside as they were all out for 173 in the first innings.
A century by Mohammad Yousuf (128), along with healthy contributions from Mohammad Hafeez and Imran Farhat enabled Pakistan to reach 504.
During England's second innings, the drama started to unfold just after 2:30pm on day 4.
Following a routine inspection of the ball, umpires Darrell Hair and Billy Doctrove decided the fielding side had unfairly altered its condition.
As per law 42 the ball was changed instantly, with England being allowed to select a new ball. They were also awarded 5 penalty points.
The decision from the umpires did not go well with the Pakistan cricket team. While the team continued to play on until tea, they did not return after the short break in protest as what they saw as an insult. Thus Pakistan effectively felt they had been accused of cheating.
With Pakistan not coming back on the field, the match was declared a win for England.
The fans and spectators probably thought they were robbed of a full test match as the game ended on a controversial note.
4. Young Amir bowls Pakistan to victory in 2010
After losing the first two test matches of the 2010 series this was a must win game for Pakistan.
The Pakistan cricket team won a closely fought match on the penultimate day, thanks to a superb second innings spell from Mohammad Amir.
The Test match is also significant because of what was to follow in relation to Amir's involvement with spot fixing.
Fast bowler Wahab Riaz took five wickets on his Test debut as England were skittled for just 233 in there first innings.
Azhar Ali batted sensibly with an unbeaten top score of 92. Pakistan made 308; giving them a decisive lead of 75 runs after the first innings.
Despite a century from an under pressure Alastair Cook (110), Amir (5-52) and Saeed Ajmal (4-71) dismissed the last six batsmen without getting into double figures.
It was a disappointing effort by England, considering they went from 156-2 to 222 all out.
Even though Pakistan made a tough job of the chase, they eventually achieved their target with 4 wickets in hand.
Amir spoke to the media after becoming the youngest player to take a 5-wicket haul in Test cricket in England:
"In these kind of conditions, everyone feels pressure. But I kept control of my nerves. I also had lots of support, Asif, Ajmal and Wahab Riaz bowled well. Wasim Akram is my idol and I love him."
Naturally later on in the series, it was sad to find out that he was one of the names revealed in the spot fixing scandal.
5. Pakistan Independence Day triumph to Square 2016 series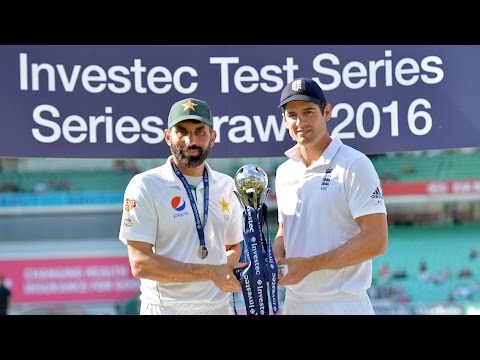 The Green Brigade beat England in fine style on Pakistan Independence Day, which falls on 14 August.
Pakistan played remarkably well to win the match by 10 wickets and level the series 2-2. The Pakistan cricket team gave it their all, be it in batting or bowling.  Hence it was quite evident that Pakistan went onto the field with success in mind.
Fast bowler Sohail Khan (5-68) and leg-spinner Yasir Shah (5-71) bowled beautifully. The bowling pair claimed five wickets each in England's first and second innings respectively.
Younus Khan also hit an outstanding knock of 218 in Pakistan's first innings.
A century from Asad Shafiq was another key factor in Pakistan scoring 542 runs. This was in reply to England's 328 in the first innings.
After bowling out England for a modest 253 in the second innings, Sami Aslam (12*) and Azhar Ali (30*) took Pakistan to yet another victory at the Oval.
Misbah-ul-Haq led his troops well, to give the Pakistan nation the ideal gift on Independence Day.
Not only did Pakistanis home and abroad commemorate 14 August, but also rejoiced with the nation to celebrate Pakistan's achievement.
6. Fakhar Zaman leads Pakistan to ICC Champions of Cricket 2017
Fakhar Zaman was the man for Pakistan as they outclassed India by a massive 180 runs to clinch their maiden ICC Champions Trophy.
Zaman smashed a sensational hundred in the final, with Pakistan reaching 338-4 in their 50 overs.
In reply, India were all out for 158 in 30.2 overs. Mohammad Amir did the early damage with three wickets.
Clearly rattled, India had no answer to some exceptional bowling from Amir, Hasan Ali, Junaid Khan and Shadab Khan.
India were not able to even score half of Pakistan's total. Winning by 150+ runs in the end proved to be a one-sided contest.
The tournament was great for Fakhar Zaman. Muhammad Zakaullah, Naval Chief Admiral said:
"Pakistan Navy is specially proud of ex PN serviceman Fakhar Zaman, who remained part of Pakistan Navy cricket team for seven years. (He) has become symbol of Pakistan as well as of Pakistan Navy."
The Pakistan cricket team can be unpredictable as a side. But it is clear that when playing at the Oval, they turn up as a force.
DESIblitz congratulates the Pakistan cricket team on their success at the iconic Oval ground. The ground hosts its 100th Test in July 2017.