"he was arrogant with his gestures and next ball he was hit for 6"
Players from Pakistan and Afghanistan have had some real heated moments on the cricket field, especially since 2018.
Some of these heated moments came in one match between the two arch-rivals during an ODI tournament, featuring the cricket giants of Asia.
Cricketers representing Pakistan and Afghanistan have also taken their rivalry further into franchise T20 cricket outside of their respective countries.
Taking the form of anger, aggression and arguments, all these heated moments have become more of a Pakistan versus Afghanistan issue.
As a result of these on-field fights and scowls, players have gone on to face fines and sanctions for breaching the ICC Code of Conduct.
The first Level 1 breach is when a player or personnel is found guilty of Article 2.1.1. This link to " conduct that is contrary to the spirit of the game." The second Level breach is when a player violates Article 2.1.7, which states:
"Using language, actions or gestures which disparage or which could provoke an aggressive reaction from a batsman upon his/her dismissal during an International Match."
Here's a more detail look at 5 heated moments involving players from Pakistan and Afghanistan.
Hasan Ali vs Hashmatullah Shahidi: Pakistan vs Afghanistan
The first of three incidents took place during the Super 4 game between Pakistan and Afghanistan of the 2018 Asia Cup.
The ODI match in question had taken place at the Sheikh Zayed Cricket Stadium, Abu Dhabi on September 21, 2018.
The incident was revolving Pakistan pacer Hasan Ali and top-order batsman Hashmatullah Shahidi from Afghanistan.
After Hashmatullah hit a delivery back to Hasan, the bowler tried to show aggression towards him by scaring him with the ball twice.
The bowler and batsman gave a stare each other, along with exchanging a few words. Hasan kept looking back as he was walking to his bowling run-up.
With Hasan being the instigator, he had to face the brunt of his action. He was found guilty of breaching the ICC Code of Conduct.
Confirming the penalty, the ICC in an official release said:
"The incident involving Hasan happened in the 33rd over of Afghanistan's innings when he threatened to throw the ball towards striker Hashmatullah Shahidi after fielding off his own bowling."
Hassan was given one demerit point for the Level 1 breach and fined 15 per cent of his match fees. He went on to accept the sanction proposed by Andy Pycroft (ZIM) from the Elite Panel of ICC Match Referees.
Despite Hashmatullah remaining unbeaten on 33, Afghanistan lost the game by three wickets. As for Hasan, his conduct was of a typical fast bowler, yet majorly over the top.
Watch an Aggressive Hasan Ali here: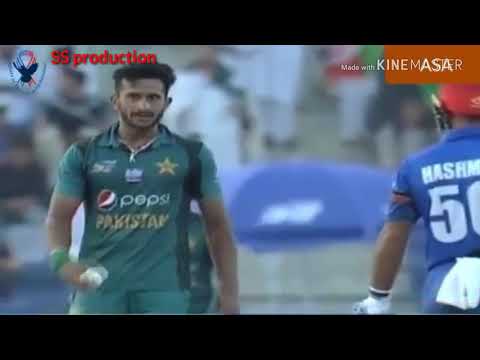 Asghar Afghan vs Hasan Ali: Pakistan vs Afghanistan
The Super 4 game of the 2018 Asia Cup match featuring Pakistan and Afghanistan had another incident between the two arch-rivals.
The incident saw skipper Asghar Afghan (AFG) batting and running to the bowing end, brushing his shoulders on bowler Hasan.
Taking place in the 37th over, Asghar was deliberate with his intentions, as he did not try to avoid contact with Hasan. Asghar was given an official reprimand by Match Referee Andy Pycorft for a Level 1 breach as per the ICC Code.
Accepting his wrongdoing, he also received a fifteen per cent match fee fine and one demerit point.
Within a 24-month period, this was a second demerit point that was sanctioned to Asghar.
Asghar was also reprimanded and given a one demerit point in 2017. This is after showing dissent following a decision from the umpire during an ODI against Zimbabwe.
Despite losing this match by three wickets, Asghar made a relatively quickfire 67.  Though as a captain, his behaviour was not exemplary. It certainly was not in the spirit of the game.
Perhaps it was payback time from Asghar, with Hasan trying to fight with Hashmatullah Shahidi earlier in the match.
Rashid Khan vs Asif Ali: Pakistan vs Afghanistan
There was a third and final incident during the Pakistan versus Afghanistan Super 4 game of the 2018 Asia Cup.
The incident came in the 47th over during Pakistan's pursuit of 258. It all happened after Aftab Alam took a catch of Asif Ali (7) on the boundary.
Bowler Rashid Khan gave a very inappropriate send-off and gesture to the batsman. The talented leg spinner put his index finger up, staring into the departing batsman.
Rashid was clearly provoking an aggressive response following Asif's dismissal.
After admitting his guilt, Rashid was sanctioned to one demerit point by match referee Andy Pycroft. The Level 1 offence also saw Rashid receiving a fifteen per cent match fee fine.
Similar to Hasan Ali and Asghar Afghan, the charges on Rashid were made by the official umpires.
Reporting the offences were on-field umpires Anil Chaudhary (IND) and Shaun George (RSA), third umpire Rod Tucker (AUS) and fourth umpire Anis-ur-Rahman (BAN).
Rashid also had a similar gesture when bowling out Mohammed Nawaz (10). Pakistani fans were critical of Rashid's action.
Moin Madraswala, a Pakistani fan felt Rashid and his actions eventually cost Afghanistan the game. He went on Twitter to have a dig at Rashid, tweeting:
"Rashid khan is a good bowler but arrogance cost Afghanistan the game."
"After bowling out Nawaz he was arrogant with his gestures and next ball he was hit for 6 by number 9 batsmen."
Rashid had a great game otherwise, taking 3-47. However, his antics on the pitch were not professional, with Pakistan cruising to a three wickets win.
Naveen-Ul-Haq vs Mohammad Amir: Galle Gladiators vs Kandy Tuskers
A league stage match between Galle Gladiators and Kandy Tuskers in the 2020 Lanka Premier League was quite tense. It became a battle between Pakistan and Afghanistan – be it in a franchise cricket match
It all began after left-arm pacer Mohammad Amir (PAK) hit Afghanistan rookie Naveen-ul-Haq for a six.
Naveen apparently then went on to hurl abusing words to Amir. The Pakistan bowler then had an exchange of feisty words with the young naive afghan pacer.
Munaf Patel and others from the Tuskers did try to diffuse the situation but without no avail.
Umpires Ravindra Kottahachchi (SL) and Lyndon Hannibal (SL) had to eventually calm things down.
In an exclusive interview with Cricingif, Amir mentions that even after the match Naveen "Kept arguing." Amir admits that under the circumstances, he also did not hold back:
"The situation was such, and I was also aggressive."
Whilst Amir was honest, visuals suggest Naveen did take it a little too far, especially with him being the junior player. Even though these things can happen, youngsters such as Naveen should learn from this going forward.
The only consolation for Naveen was that his team won the match by twenty-five runs. Both Naveen and Amir had an average game with the ball, taking one wicket each.
Shahid Afridi vs Naveen-ul-Haq: Galle Gladiators vs Kandy Tuskers
Following Kandy Tuskers triumph against Galle Gladiators, there was another incident after the game.
The same match saw bowlers Naveen-ul-Haq and Mohammed Amir having a spat with each other.
During the post-match line-up Gladiators captain, Shahid Afridi began scowling at Naveen. Visibly Afridi was showing his Pathani dominance, with full force.
Afridi was definitely trying to settle the score in connection to the earlier incident involving Amir. Naveen yet again was responsive to a senior player, as he was obviously uncontrollable.
The former Pakistan cricket legend later went on Twitter, posting what he had mentioned to Naveen:
"My advise to the young player was simple, play the game and don't indulge in abusive talk."
"I have friends in Afghanistan team and we have very cordial relations. Respect for teammates and opponents is the basic spirit of the game."
Afridi certainly was very diplomatic in his tweet, but he could easily have had a more private talk with Naveen.
Naveen too went on Twitter, replying to Afridi's tweet, writing:
"Always ready to take advice and give respect,Cricket is a gentleman's game but if someone says you all are under our feet and will stay their then he is not only talking about me but also talking abt my ppl.
Naveen's tweet was indicating that Amir had taken it too far by speaking about his nation and countrymen.
Watch Shahid Afridi trying to set the record straight with Naveen-ul-Haq here (00:40):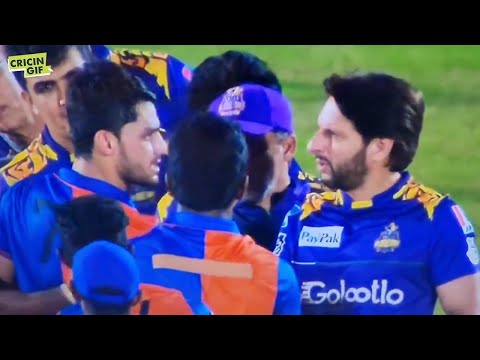 Amir reportedly stated that Naveen was lying and in fact speaking ill of him. In this match, emotions got the better of all three players.
Everyone should play like a gentleman and not forget they are ambassadors of their respective countries.
Many of the aforementioned heated moments hint on the raw behaviour of players, particularly from Afghanistan.
Having said that Afghanistan has some very humble cricketers who are normally very gentle. Players from Pakistan also need to lead by example and show the way to their brotherly neighbours.