"I hope to use this platform to inspire other Indian women with my performance."
As WWE currently experiences a number of Indian wrestlers dominating the scene, such as Jinder Mahal, the WWE Champion, a new face has emerged. Hailing as India's first female WWE wrestler, Kavita Devi has made her debut!
The sportsperson, hailing from Haryana, made her first entrance into the ring as part of the Mae Young Classic tournament.
While her match took place on 13th July 2017, it will be aired in August on WWE Network.
The Mae Young Classic acts as a 32 woman tournament, where female wrestlers from across the world will battle each other for the top spot. The first match, scheduled on 13th July, took place in Florida, where Kavita Devi fought against New Zealander Dakota Kai.
As India's first female wrestler entered the ring, she beamed a huge smile and raised her fist in the air. Proud to represent her country in the top wrestling company.
Both Kavita and Dakota fought tirelessly against each other. While the Indian wrestler showcased her raw strength, Dakota proved a challenging opponent with her quick speed. Pitting strength against speed revealed a thrilling match for the audience.
However, in the end, Kavita Devi couldn't overthrow Dakota Kai's agility. Unfortunately, she lost the match and her place in the Mae Young Classic tournament.
It's strength versus speed with #KavitaDevi and @DakotaKai_WWE!! #MaeYoungClasic pic.twitter.com/mzJxIEP6A1

— Karen ?? ?? (@KarenNerdsOut) July 14, 2017
But this doesn't necessarily spell the end for the wrestler's career in the WWE. Like many before, she will most likely stay within the company's developmental. She may even eventually appear on WWE's NXT, a show once graced by the Singh Brothers.
The female wrestler had previously said at the beginning of the tournament: "I am honoured to be the first Indian woman to compete in WWE's first ever women's tournament.
I hope to use this platform to inspire other Indian women with my performance and make India proud." With such strong words, it's likely we will see Kavita grace the famous ring in the future.
Prior to her WWE debut, Kavita Devi has paved an amazing sports career for herself. During high school, she became an excellent Kabaddi player and even earned a gold medal in the 75kg weightlifting division at the South Asian Games.
In addition, Kavita Devi has trained under the guidance of none other than the Great Khali. Training at his Punjab-based academy, she developed her incredible skill and powerful strength. Perhaps these qualities caught the eyes of WWE scouts when she entered their try-outs in April 2017?
But in April 2016, the wrestler gained viral fame as a video surfaced of her in the Continental Wrestling Entertainment (CWE).
A fellow wrestler named BB Bull Bull, sends an open challenge to a willing opponent. Kavita Devi steps into the ring to face her, surprisingly wearing a brightly coloured salwar kameez!
She reveals her outstanding skill as a wrestler, by knocking down BB Bull Bull with a strong spear.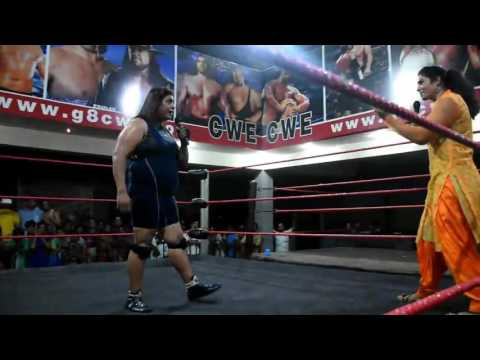 With an inspirational history behind her, Kavita Devi seems to have all the ingredients to become an amazing WWE star.
While her journey witnessed a slight dent with the loss of the Mae Young Classic tournament, this shouldn't stop her.
In time, perhaps she will go on to feature in NXT and, like many before her, eventually land in either WWE's RAW or Smackdown.
Watch this space for Kavita Devi!