"I'd like to tell all the women: Work hard to prove your talent and don't let men stop you."
Kavita Devi made a fantastic impression when she made her WWE debut in the Mae Young Classic tournament. So much so, the federation signed her up, making her WWE's first ever Indian female wrestler.
Will she make history a third time by competing in the first-ever Women's Royal Rumble?
WWE dedicated time and effort in building up their roster of female wrestlers. Gone is the Divas Championship belt, replaced with the Women's Championship, and even the moniker of 'Diva' – the female division has a revived focus on wrestling ability.
In keeping with this, the federation will hold its first Women's Royal Rumble on 28th January 2018. Taking place on the famous pay-per-view event, Royal Rumble, the match will follow the rules of the men's equivalent.
Thirty female wrestlers will compete for the chance to enter a title match for either the RAW or Smackdown Women's Championship title. They enter the match at timed intervals, aiming to eliminate all other contestants until they are the last ones remaining.
While the match itself is exciting, the other thrilling aspect lies in who enters the Royal Rumble. Fans will only know the full line-up once the 30th contestant is allowed to enter. This means the potential for new, up-and-coming wrestlers to make their main roster debut.
With 34-year-old Kavita now signed to the WWE, could this mean she will compete in the match? Will she have what it takes? Let's take a look at the wrestler and her chances.
A Powerful Debut
As mentioned, Kavita first appeared on radars at the Mae Young Classic tournament. In August 2017, she competed in one of the competition's first matches against New Zealander Dakota Kai. While she lost the match, the Indian wrestler made a fantastic impression.
First, she turned heads with her choice of wearing an orange salwar kameez for the fight. And then, when the match commenced, fans were in awe of her performance. Kavita's strength and power certainly shone through as she did a 'gorilla press slam' on her opponent.
The particular moment when she held Dakota completely up in the air turned into a viral image. In fact, the match itself was viewed over 16M times on YouTube!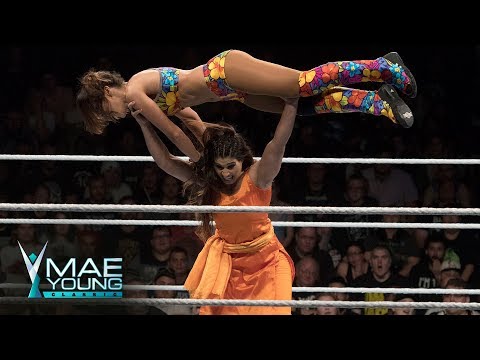 Prior to the WWE, Kavita trained under Dalip Singh Rana, better known as The Great Khali. With his mentorship, no wonder the sportswoman has developed tremendous skill and talent.
If she does appear on the Women's Royal Rumble, her strength world work well in eliminating opponents over the top rope.
However, she doesn't just stand out for her wrestling ability – she hails as an inspiring figure, especially for Indian women. Speaking to ESPN, she acknowledged how the country still struggles with gender equality and accepting women taking on non-traditional roles.
"Our society is still struggling to accept the fact that women and men are equal, but I'd like to tell all the women: Work hard to prove your talent and don't let men stop you.
"You will have to face difficulties. I've had to face my share of them, but believe in yourself and give yourself a chance for the world to believe in you."
With such an inspirational message and philosophy, we're not surprised that Kavita recently became a Presidental honouree. On 20th January 2018, she was one of 112 honoured as India's "First Ladies" in New Delhi.
The title pays homage to pioneering Indian women, celebrating their achievements. With the 34-year-old receiving such a title, it cements her place in the history of Indian female wrestling.
The Likelihood of Kavita's Appearance
With a number of great achievements already under her belt, one could argue Kavita Devi would make an excellent contender in the Women's Royal Rumble. However, how likely is it that she will make an appearance?
At the moment, she has signed a developmental contract with WWE – giving her the opportunity to train under them. However, this doesn't mean she enters straightaway into the main roster. As of yet, Kavita isn't in NXT, the federation's developmental roster.
Instead, WWE reports she is expected to arrive at their Florida Performance Centre in the coming weeks. Stephanie McMahon, Chief Brand Officer, confirmed this when she congratulated Kavita on her honouree, saying:
.@KavitaDeviWWE is not only the first Indian woman to sign with @WWE, but she has just been named one of India's "First Ladies", which honors outstanding female pioneers. Congratulations Kavita, we look forward to having you at the @WWEPerformCtr soon! https://t.co/mO6NzJut07

— Stephanie McMahon (@StephMcMahon) January 24, 2018
This would then suggest the possibility of seeing at the historic match is relatively small. However, there are only 22 active female wrestlers on the main roster – meaning there are plenty of empty slots that need to be filled in.
Judging by previous Men's Royal Rumble matches, other wrestlers usually fill these spots. They can be previous Superstars of WWE, making an appearance for the fans, or up-and-coming sportspeople, usually from NXT.
We can then presume this will be the same for the Women's Royal Rumble. Some reports initially claimed Ronda Rousey may compete in the historic match, but she denied this.
However, it could also mean Kavita has a chance of entering, making a debut on the main roster.
Fans of the wrestler will also have noticed the increased activity on her social media channels. She has created a new Twitter and shared more images on Instagram over January 2018. Could this also suggest a possible appearance?
For now, we'll only find out until the match takes place on 28th January. Already an exciting and landmark event, make sure not to miss out on it.
But should Kavita Devi compete in the Women's Royal Rumble, it will make the fight even more thrilling for Indians fans!