"The Greatest Royal Rumble will be a spectacle of historic proportions"
WWE's brand new Pay-Pay-View, the Greatest Royal Rumble (GRR), is taking place on 27th April 2018 at the King Abdullah International Stadium in Jeddah. Both Jinder Mahal and The Great Khali are set to appear.
A first of its kind, the GRR came about as a new partnership between WWE and Saudi General Sports Authority. The Pay-Per-View will include male Superstars from both Raw and SmackDown Live. Though the Royal Rumble matches are known for including surprises entrants.
Fans can look forward to a 50 man Royal Rumble Match! This is the largest Royal Rumble match since 2011 which featured 40 Superstars.
It's also the first time a match of this sort has been carried out three times in one year. The first was the 30 man Royal Rumble match, the second being the 30 women Royal Rumble both at Royal Rumble (2018).
The rules will remain exactly the same as the normal Royal Rumble. Two Superstars start the match with another competitor entering the match at timed intervals. Eliminations occur when a Superstar is thrown over the top rope with both feet touching the floor. The last Superstar standing will be declared the winner.
All the male championships will be defended. Controversially, due to Saudi's strict laws, the female Superstars will not be competing.
Jinder Mahal
The "Modern Day Maharaja" is set to reclaim his lost United States Championship. Jinder Mahal captured his first WWE United States Championship at Wrestlemania 34. He defeated former United States Champions, Bobby Roode, Rusev and the then champion, Randy Orton, by pinning Rusev after his "Khallas" finisher connected.
On 16th and 17th April, the 2nd Superstar Shake-Up took place which saw the General Managers of Raw and SmackDown Live, trade Superstars.
Mahal was traded to Raw along with his title and Sunil Singh. Raw General Manager, Kurt Angle had him defend his title against Jeff Hardy. He was defeated by the "Charismatic Enigma", ending his reign at 8 days.
Subsequently, Mahal invoked his rematch clause at the GRR. The following night, Hardy was drafted to SmackDown Live, taking the United States title back to the "blue brand".
Not a great start to his Raw return. However, he could turn things around at the GRR. Even if Mahal was to lose, he still has some options. He would be available to pursue the Intercontinental Championship, currently held by Seth Rollins. He could find a partner to pursue the Raw Tag Team Championships.
But now that all three former members of 3MB are on the same brand, maybe the WWE Universe could see a 3MB reunion. It is fair to say the three members have all had huge amounts of success since disbanding.
Jinder Mahal is a former WWE and United States Champion. Heath Slater became the first ever SmackDown Tag Team Champion with Rhyno. Drew McIntyre was released by WWE in 2014, dominated independent wrestling promotions, returned to WWE and became the NXT Champion.
"3MB 2.0" could be a force to be reckoned with. However, with Drew McIntyre forming a new tag team with Dolph Ziggler, we may have to wait some time.
The Great Khali
On 24th April, WWE announced The Great Khali, Rey Mysterio and WWE Hall of Famer, Mark Henry will enter the Royal Rumble match. The Great Khali was last seen as an accomplice to Jinder Mahal at Backlash 2017.
The former World Heavyweight Champion assisted Mahal during his match against Randy Orton in the Punjabi Prison match to retain the WWE Championship. The match Khali invented. This was a one night only appearance.
The GRR will mark the "Punjabi Playboy's" 8th Royal Rumble entrance. Standing at 7 feet 4 inches tall, 420lbs, The Great Khali is a colossal opponent. However, this did not stop the 2nd female Royal Rumble entrant, Beth Phoenix eliminating him, with an unconventional tactic.
Khali's best Royal Rumble performance was in his Rumble debut in 2007. Entering at number 28, he lasted 3 minutes and 45 seconds. Within that time, he eliminated 7 Superstars: Hardcore Holly, Chris Benoit, The Miz, Rob Van Dam, CM Punk, Carlito and Chavo Guerrero before being eliminated by the Undertaker.
Since then, Khali has had a string of bad luck, being eliminated within a couple of minutes of entering with very few eliminations. In 2011 he eliminated Husky Harris (Bray Wyatt) and in 2012 he eliminated Ezekiel Jackson and Jinder Mahal. 2013 marked his last Royal Rumble match until this year at the GRR.
Since his WWE release in 2014, The Great Khali established his own wrestling school, Continental Wrestling Entertainment (CWE) in Punjab, India. The school at which the first Indian female signee, Kavita Devi trained.
The Future of WWE in Saudi Arabia
"The Greatest Royal Rumble will be a spectacle of historic proportions," said Vince McMahon, WWE Chairman & CEO.
"Our partnership with the Saudi General Sports Authority reflects a long-term commitment to present WWE's world-class entertainment to a global audience on a grander scale than ever before."
It seems as though this will not be the last time WWE host an event in Saudi Arabia.
WWE have been carrying out tryouts in Jeddah in search for some new talent. It has been reported that the winner of the tryouts will earn themselves a spot in the 50-man Royal Rumble match.
Visited the 4th day of #KSATryouts today. This week was a huge success due to the hard work of @WWE Talent Development, @WWEPerformCtr coaches and @WWENXT talent. #WWEGRR pic.twitter.com/u2MDgDHy3A

— Triple H (@TripleH) April 21, 2018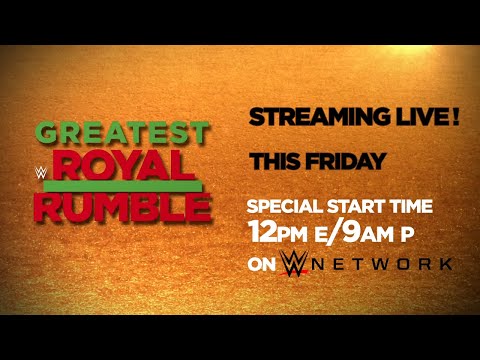 Will Jinder Mahal reclaim his United States Championship? How will the Great Khali fare in the 50-man Royal Rumble match? Which Saudi hopeful will win himself an opportunity of a lifetime?
Watch the Greatest Royal Rumble on the WWE Network. The pre-show begins at 4 pm UK time followed by the main show at 5 pm.