"How dare you overlook the Maharaja? How dare you disrespect me?"
Jinder Mahal continues to prove he will act as a strong competitor against the World WWE champion Randy Orton. This week he went one step further by actually stealing the WWE belt from the wrestler with the help of the Singh Brothers!
He stole the belt during the 25th April 2017 episode of WWE Smackdown, during a confrontation with Randy Orton.
The shocking moment acts as the latest development in the build up to Mahal's match with Orton for the World WWE championship. It's due to take place during the pay-per-view Backlash, on 21st May 2017.
The moment began after Jinder Mahal interrupted "The Viper" Randy Orton while he held a promo for a future match with Bray Wyatt.
He then decided to verbally attack the wrestler, saying: "How dare you overlook the Maharaja? How dare you disrespect me? I'm the true horror. You should be worried about me."
The No.1 contender than accused Randy Orton of disrespecting him and added: "But at Backlash, I will take back my respect. I will take the glory of the World WWE championship back to me and my people."
In what has been deemed as a way to cater to the wrestling company's Indian audience, Mahal continues his promo in Punjabi:
"Backlash teh ranido tendu hariayga Jinder Mahal! (On Backlash Jinder Mahal will defeat you!). Main kiya tussu sab American lok Maharajay de meri peri pawogay! (all you American people will be at Maharajah's feet!)"
He then engages in a fight with Randy Orton, but soon his accomplices, the Singh Brothers (formerly known as the Bollywood Boyz), arrive to help.
The three of them work together to strike "The Viper" down. To the crowd's shock, in the process, they managed to steal his belt and leave the ring with it.
Watch the moment here: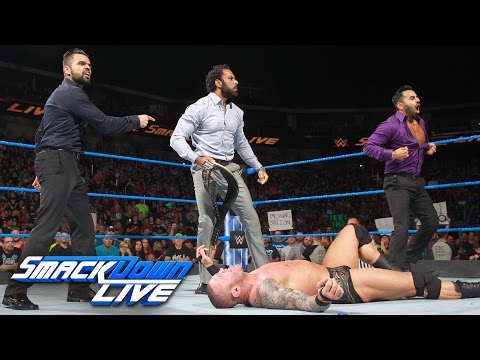 Since the incident, Jinder Mahal posted an image of him with the belt on Instagram. With a simple message of "Get used to it …. #wwe #1Contender", the wrestler appears confident he will win the upcoming match.
Despite his villainous behaviour, many seem excited with the possibility of him winning. One fan said:
"I honestly hope he wins the WWE championship. Stop making good performers look like losers. Jinder deserves to be champion. [sic]"
With the belt now in the hands of the No.1 contender, fans will be itching to see what happens next.
Keep your eyes peeled on 21st May 2017!