"I hope I do well so the women of India can begin to dream big."
Kavita Devi brought some Indian elegance to wrestling as she made her professional WWE debut in an orange salwar kameez.
Devi also had a dupatta (long scarf) tied around her waist to complete her traditional South Asian look.
But did her clothing do anything to help Devi win her wrestling debut in the 2017 WWE Mae Young Classic?
Kavita Devi, from Haryana, is India's first professional female wrestler. After qualifying from WWE's historic Dubai tryout in April 2017, Devi became one of the 32 competitors in the first edition of the WWE Mae Young Classic.
The tournament is for female wrestlers only and aims to encourage more women into the sport.
Kavita Devi at the 2017 Mae Young Classic
Dakota Kai, from New Zealand, was Devi's opponent for her WWE debut in the Mae Young first round clash.
With past experience in MMA and weightlifting, Kavita Devi is a 5'9″ Indian powerhouse. For her strength and size alone, India's first professional female wrestler looked a clear favourite.
But Dakota Kai has been wrestling for nearly a decade and has considerable speed to add to her vast experience.
Ahead of her debut, Kavita Devi has been training in Punjab with the former World Heavyweight Champion, The Great Khali.
Unfortunately, though, it wasn't quite enough to prevent Devi from suffering a debut defeat.
Despite controlling much of the match, using her power to great effect, a moment of inexperience cost her.
As Devi rushed in, Dakota Kai used her speed and agility to leave Kavita bamboozled in the corner, before connecting with a kick to the face. But before that finishing move, it was the Indian who was dominating.
She began by controlling the wrist of Dakota Kai and impressively walking the top rope. Devi also used her power to lift and throw her opponent with ease as well as withstand a flying kick from Dakota.
Perhaps most impressively, though, was Kavita Devi using her strength to military press Dakota before throwing her to the canvas.
You can watch the official highlights of the match here: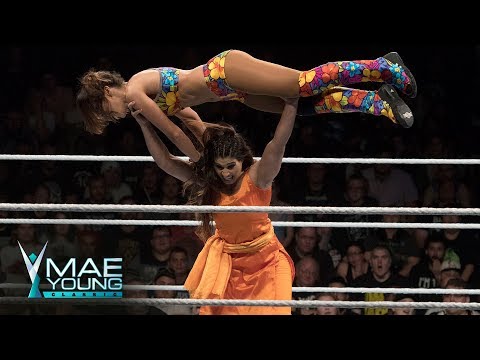 What Next for Kavita Devi?
India's first female wrestler will now be hoping to become the latest South Asian WWE star. Speaking to WWE, she says:
"I feel proud that I will be the first Indian woman to step into WWE. I hope I do well over here so the women of India can begin to dream big."
With the Mae Young Classic set to be an annual event, Kavita Devi may well be featuring again in 2018.
But could we see her again before then? You can follow Kavita Devi on Twitter and Instagram to find out where she may be appearing next.
Or you can check out these 5 Incredible South Asian Wrestlers who Kavita Devi will undoubtedly be using for inspiration.