"Fielding is an art, you have to enjoy it. If you don't, you will be found out."
The 2018 Pakistan Super League (PSL) has been an amazing and truly mesmerising experience for cricket players, fans, and commentators from all over the world.
With so many ifs and buts, perhaps even the Pakistan Cricket Board (PCB) could not have predicted such a smooth and vibrant event.
The 3rd edition also became more interesting with the addition of Multan Sultans owned by the Schon Group.
During PSL 3, it was like living in the fast lane for a period of thirty days. Hence the super exciting drama, tension, and entertainment were like a non-stop thriller for everyone.
There were numerous highlights and unforgettable moments to this carnival of cricket.
The opening ceremony ignited the passion for PSL 3 at the Dubai International Cricket Stadium. Ali Zafar performed to this year's anthem Dil Jaan Se Laga De. Abida Parveen displayed her magic with a bit of Sufism on stage. And American singer Jason Derulo dazzled the crowd with his electrifying beats.
Fabulous fielding efforts created an unbelievable start to the tournament.
In the second match, Karachi Kings 'Boom Boom' Shahid Afridi took a stunning catch in the deep to remove Quetta Gladiators Umar Amin. One handed he kept his balance to push the ball back into play and safely into his hands.
The catch was followed by Afridi's customary celebration, lightening up the PSL. It was a wonderful sight to see him catch the ball with so much energy at his age:
"It worked well [laughs]. Fielding is an art, you have to enjoy it. If you don't, you will be found out. You have to be ready all the time," said a joking Afridi.
Sharjah was memorable for many reasons. The one-legged effort and courage of Peshawar Zalmi's Darren Sammy to win an improbable game against Quetta set the stage on fire.
In match 10, Sammy picked up an injury whilst claiming two wickets. But the injury did not deter his desire in the penultimate over when needing 22 off 12 balls.
After facing one delivery at the crease, Sammy smacked the ball for a six. In the last over requiring ten, he smashed a six down the ground. Following a dot ball, he hit a boundary to finish things off, remaining unbeaten on 16.
Speaking at the post-match ceremony, a happy Darren Sammy said:
A terrific hat-trick from Multan Sultans Imran Tahir sparked wild celebrations on the ground. The way Tahir bowled under pressure against Quetta in match 13 was magnificent.
He knew that he had trapped Rahat Ali with the flipper on his third consecutive ball. It was so plumb. As a result, the celebration and passion of Tahir was good to see. Everyone enjoyed it to the core.
This tournament was all about emerging players. None other than young Hassan Khan who walloped a six to win a thrilling match for Quetta at the Dubai International Cricket Stadium.
Taking his side over the line against Multan, it was like another big player was born. By the end, it was complete elation. Their great mentor Sir Viv Richards came bursting onto the field to embrace Hassan. It meant so much to him and the team.
Another emerging player, Shaheen Shah Afridi of Lahore Qalandars came to light against the Sultans.
Afridi delivered a fantastic spell of pace bowling, taking 5-4, including 3 wickets in 4 balls. The best way to describe his devastating bowling is 'Dhoom Dhoom' – he is a star replacement for the legendary 'Boom Boom' Afridi.
With his performance, Qalandars registered their first victory in the tournament.
Around this time who can forget commentators Danny Morrison and Michael Slater also getting into the groove with some 'Boogie Woogie' to Kudiyan Lahore Diyan.
Watch Slater and Morrison dance away here:
The drama intensified in Dubai, with the very first super over in the history of the PSL.
It was tit for tat in game 24 between the Kings and Lahore Qalandars. After what appeared as the last ball of the match, happy Karachi fans thought they had won.
On the other hand, the Qalandars camp felt down. But as the pandemonium goes, everyone got to see through TV replays that Usman Khan Shinwari had, in fact, bowled a no ball. Suddenly everything changed around with Lahore fans erupting in joy. It felt chaotic with fantastic scenes.
A little later, umpires did not help matters with confusion surrounding the ground as to how many runs were needed off the free hit. Lahore eventually won the match in the super over, courtesy of some clever bowling from West Indian Sunil Narine.
Despite fifty shades to Qalandars owner Fawad Rana, this win brought a smile to his face. Even though Lahore was already out of the tournament, sympathetic fans had something to cheer about.
Meanwhile, it was no surprise when Narine yet again got reported for an illegal action after their loss to Gladiators in Sharjah. He did not bowl in the remaining game for the Qalandars.
Multan losing four matches on the trot prompted their exit from the tournament. Their fate could have been different had they not persisted with the out of form Ahmed Shehzad.
A top favourite of PSL 3 has to be Luke Ronchi – the eventual man of the series award winner. The 94 he made against Karachi Kings in the Qualifier was batting at the very best.
The cool and smart Ronchi hit the ball very sweetly, especially straight down the ground and over cover. He also played the spin of Shahid Afridi with complete ease.
For someone who has not played for his country for a year, what a find Ronchi has been for Islamabad United. He came to the PSL, rediscovered his form and been quite a revelation. Playing proper cricket shots towards the square-leg region, he was indeed a trump card for his team
The next part of the PSL canvas was painted beautifully in Lahore. Except a few, all of the foreign players made the trip to Pakistan.
The foreign commentators led by the charismatic Alan Wilkins also embarked on this journey.  The commentary team got to tour around the old city with former legendary opener Majid Khan.
The yellow storm of Peshawar raising their tempo in Lahore came like a tornado to reach their second final in a row. Had it not been for the clumsy running by Mir Hamza of Quetta during Eliminator 1 it could have been a different story.
Kamran Akmal stole the show against Karachi Kings with a phenomenal 77 in Eliminator 2. Darren Sammy, a quintessential leader, and a T20 character inspired his team to the final.
This extraordinary journey of the PSL finally culminated in Karachi. As promised, the climax of Pakistan's premier cricket event illuminated the city of lights in spectacular fashion.
West Indian commentator Daren Ganga arriving in Karachi eloquently complimented the city and his Pakistani wife tweeting:
"Karachi, City of Lights, Noor meri jaan…."
Before the final, the closing ceremony was a glitzy and star-studded affair. Sammy and fellow Zalmi teammates Andre Fletcher and Hasan Ali danced to a track by Strings – be it with some Caribbean moves.
PSL 3 concluded with Islamabad United defeating Peshawar Zalmi by 3 wickets. Kamran Akmal dropped a vital catch of Asif Ali. Cashing in on his reprieve, the man from Faisalabad became a hero, hitting 3 marvellous Sixers along the way.
Commenting on his innings, a confident Ali told the media:
"Six-hitting is my natural game. The coaching staff encouraged me to play that way. Pressure was there, I've won a number of games for Faisalabad playing this way. Playing under pressure gives me a lot of enjoyment."
Consequently, Dean Jones and his all-important notebook guided Islamabad to their second PSL victory in three years.
Watch the full highlights of the PSL Final here: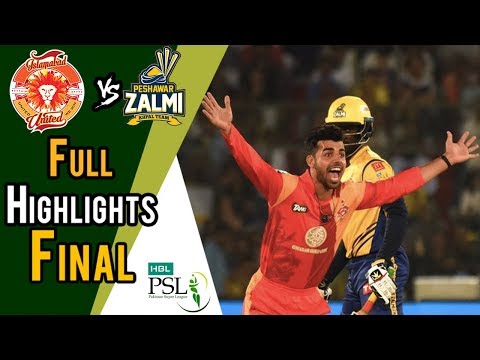 All the foreigners enjoyed their stay in Pakistan. The Sultan of Swing Wasim Akram played host to many of them in Karachi.
Barring a few umpiring errors, it has been yet another successful PSL. This T20 league has become a massive brand now, providing a good launching pad for young cricketers.
Besides the players mentioned, do look out for opener Sahibzada Farhan and all-rounder Hussain Talat. These two have a bright future ahead of them.
With more players and teams visiting Pakistan, cricket is the ultimate winner. More matches are also expected to take place at home for season 4.
The Pakistan Super League is heading in the right direction going into 2019. We look forward to more nail-biting drama.