"It was a great learning experience working with Kirronji and Anupamji."
Reliance Big Entertainment brings together director E. Nivas and writer Neeraj Pandey – fresh from critically acclaimed films A Wednesday! (2008) and Special 26 (2013) – with an all new rom-com, Total Siyapaa.
Total Siyappa narrates the story of Aman played by Ali Zafar, a songwriter living in London. Aman hopes to marry his girlfriend Asha (Yami Gautam).
However, what should be a straightforward 'meet-the-parents' dinner turns into chaos when Asha's parents learn that not only is Aman a Muslim, he's also Pakistani.
A series of unpredictable mishaps follow as Aman meets Asha's various crazy and wacky family members.
Ali Zafar already a well-known musician, singer, songwriter in Pakistan and India made his Bollywood acting debut with the offbeat Tere Bin Laden (2010) for which he received a Filmfare Best Debut Actor nomination.
Ali's subsequent films Mere Brother Ki Dulhan (2011) and Chashme Baddoor (2013) while not Box Office hits did bring Ali a lot of praise from critics and audiences alike.
Yami Gautam fresh from her success in the surprise 2012 hit Vicky Donor, plays Aman's girlfriend. While this is only her second Bollywood film, Yami hasn't been sitting idle for the past year. Her filmography includes films in Tamil, Telugu and Malayalam.
The actress said: "While at the moment I am doing Hindi films, I am, as always have been, open to interesting scripts in regional cinema too. I may have been born in the North, but I am from the South."
Yami's second release this year will also be in Bollywood, starring alongside Ajay Devgn and Sonakshi Sinha in Pabhu Deva's Action Jackson.
Of her role as Asha in Total Siyappa, Yami says: "I play a zanier character than the one in Vicky Donor, but I am definitely more in control than my reel family. After the hullabaloo they create over my suitor's identity, someone needs to keep that rising mercury in check!"
The actress enjoyed her time in production with the film and the learning experience with her cast members: "Honestly I think it was a great learning experience working with Kirronji and Anupamji. Ali too is a wonderful actor. I have had a good time shooting for the film," she says.
The cast also brings together husband and wife duo Anupam Kher and Kirron Kher as on-screen husband and wife for the first time on film.
The pair have played husband and wife previously in an episode of the long running US show E.R. but this is their first outing as husband and wife on Indian celluloid. As Kirron explains:
"Anupam has a guest appearance in the film. We share screen space only for a while, but there is a relationship throughout the film, which you will see. I will confess that it wasn't a new experience as I have worked with him a lot in theatre."
Ali Zafar has his mark all over the film as he has also composed the music, written lyrics and sung for the album comprised of five songs. The album released on Valentine's Day to good reviews and features Pakistani singer Fariha Pervez accompanying Ali on the track 'Nahi Maloom Hai'.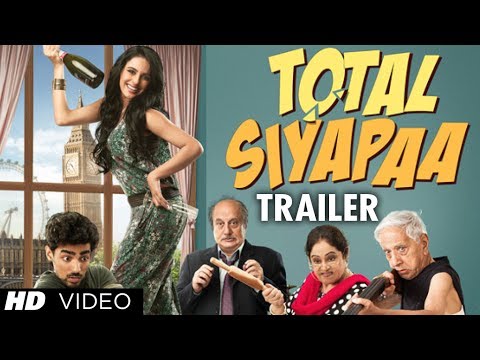 The tracks cover a range of styles from retro vibes, touches of Punjabi styling as well as Arabic and Latino elements.
Gautam has high hopes for the film, saying: "I think it's the kind of script that will enthuse the audience… I think people will look at India-Pakistan relations from a fresh perspective."
The film takes a new angle on an old topic. Total Siyapaa takes Indo-Pak relationships into a new genre combining comedy and politics through the simple tale of two people wanting to cross the boundaries for love.
Of the film's subtly political commentary Ali says:
"Total Siyapaa is a different take on Indo-Pak relations. It takes you to a different place, you forget everything and you're just with those characters. You forget all boundaries and in the end you realise we're all the same."
Yami also commented on the nature of the film and added: "While the movie deals with what people of the two countries feel about each other, it has been treated in a fun way. We have made a good laugh-worthy film dealing with love without belittling any issue."
Aman's efforts to win over Asha's crazy but warm-hearted Punjabi family will have the audience clutching their stomachs with laughter. The film faces strong competition from female-orientated films, Gulaab Gang and Queen, also releasing on the same day hoping to benefit from International Women's Day over the weekend.
Total Siyapaa isn't without its female element though with the presence of Yami and scene-stealer Kirron Kher alongside Ali are both bound to draw in audiences. Kirron laughingly suggests: "The word 'Siyappa' is my dialogue in the film, so I joke with Ali and Yami that I have the title role in the film."
A fun-filled family comedy is sure to have you rolling in your seats whether you are Indian or Pakistani! Total Siyapaa releases from March 7.