"Queen is the most fun I have had at the movies in a very long time!"
Queen is a film that reflects upon the modernism and conservatism of India today, from the perspective of a single female character.
Directed by Vikas Bahl, the film is set across Europe. It is about a small town Punjabi girl that resides in Delhi called Rani (Kangana Ranaut). Rani is from a conservative family and has an over-protective brother who goes wherever she goes, being her shadow, guide, and protector.
Rani is excited that she is about to get married, until an unexpected mishap takes place and the wedding is called off.
But instead of going through the emotional process of lamenting her sad situation, Rani decides to move on in life and go on her honeymoon alone, where she rediscovers herself.
Speaking about the film, Kangana Ranaut says: "This film is more about a girl, who is lost in a very spiritual way that she cannot stand up for herself and she hasn't got any confidence."
She adds that the film is about her character, going on a journey to find herself and discover more about her life and gain confidence, as she travels alone on her honeymoon to Paris and Amsterdam.
Vikas Bahl and his team have managed to successfully shoot the film in 145 different locations across the world in 40 days, despite having a limited budget. Vikas has been able to create this authentic film with the help of Anurag Basu who produced the film.
He has chosen a brilliant cast to star in Queen, including the likes of Rajkummar Rao, Lisa Haydon, Vinay Singh, Bokyo Mish, Jeffrey Ho, Joseph Guitobh and Canadea Lopez Marco.
Through Anurag, Vikas was able to cast Kangana, as he had her in mind for the film when he was writing the script. Vikas says:
"I was very sure that there was one person, who could play this character and bring value to this character and for me that was only Kangana."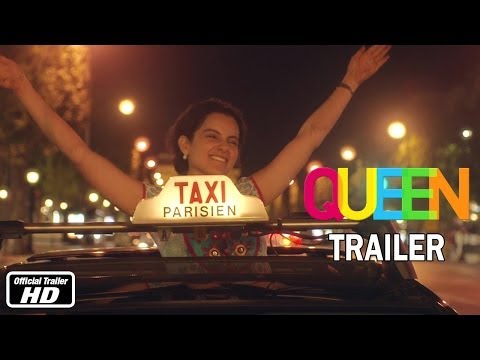 Even though Vikas was only able to write so much on the script, he needed someone who could bring more emphasis to the character. Even though he didn't know Kangana he had a gut feeling that she was the only one that could pull it off.
In terms of the music soundtrack, the film has received mixed responses. The music launch took place at the, Khala Ghoda Arts Festival in Mumbai. Vikas Bahl was at the launch with his lead actors, including Kangana and new generation actors Rajkummar Rao and Lisa Haydon, along with others like, music composer Amit Trivedi.
The team were not really talking about the music as such. However they were happily enjoying the soundtrack being played live at the festival, as they were shaking a few moves on stage.
The music album was more than expected for Amit Trivedi, as the album has 8 tracks like, 'London Thumakda', 'Badra Bahaar', 'Jugni' and 'O Gujariya' just to name a few. The soundtrack is expected to lift the moods of Amit Trivedi fans, as the music has a moving connection when listening to the tracks.
When thinking of making the song, 'Hungama Hogaya', Vikas was intrigued by whenever he went abroad to a different country, he would hear random Indian songs being played at bars or unexpected places.
From there Vikas thought of a situation to make the song work, as the film is based in Europe. So he based the song on his experience and related it to Kangana's character, where she hears a random Indian song being played at a night club, which makes her excited and then she takes over the club because she has found India in a strange club somewhere in Europe.
Hype around the film has been building prior to release, and critical expectations are high. Karan Johar has also tweeted his praise over the film: "Queen is the most fun I have had at the movies in a very long time! Vikas Bahl is a star and Kangna is beyond brilliance! Loved it.
"Special mention to the ensemble cast of Queen especially Lisa Haydon who is brilliantly cast and essays her part to pitch perfection," he added.
Queen releases from March 7, in celebration for International Women's Day. Be ready to show the power and unity of women and embrace the journey of Rani as she finds out about herself.