"I always thought that Juhi is someone that likes being in her comfort zone."
Producer Anubhav Sinha, best known for his Shahrukh Khan starrer Ra.One (2011) brings a whole new breed of superheroes to the big screen with Gulaab Gang.
Debutante director Soumik Sen, takes inspiration from the real life Sampat Pal Devi and her pink saree-clad 'Gulabi Gang' to bring a female-centric story of justice and empowerment.
Madhuri Dixit Nene stars as 'Rajjo', the leader of a vigilante group maintaining order and handing out justice in a small village in rural India. Rajjo soon realises that the political party she campaigns for, spearheaded by 'Sumitra Devi' (played by Juhi Chawla) is corrupt.
Rajjo and her Gulaab Gang are forced into a new political battle fighting against the system and its inherent corruption to bring in a new order of justice.
A female-centric film was originally conceived by director Soumik Sen with Tabu in the lead role four years ago. It underwent many cast and script changes before Madhuri and Juhi were finalised. Set in a matriarchal society, Soumik explains:
"The story is about the classic conflict between good and evil. The film is full of action scenes and 'naach-gaana' as in any other commercial film. I have tried to make it a believable world where women are at the centre of everything happening."
"This is such an important film in light of what's happening around us," says Madhuri commenting on the increased press attention India has received over the past few years regarding violence against women.
Madhuri and Juhi, two powerhouse actresses with a string of accolades to their name come together on screen for the first time in their 27 year shared career span. The film also starts Tanishta Chaterjee of Brick Lane (2007) fame, Divya Jagdale, Priyanka Bose and Vinitha Menon among others.
Madhuri's career has spanned three decades and 70 films. Following her marriage to US citizen, Dr. Sriram Nene, Madhuri took a break from acting and moved to Denver to start a family.
She stayed in touch with Bollywood however with her film Aaja Nachle (2007) and position as a judge on the TV show, Jhalak Dikhla Jaa. The travel back and forth as well as the time away from her children eventually prompted a move back to India for good.
Following Dedh Ishqiya (2014) with Gulaab Gang, Madhuri has now starred in two back-to-back films playing a strong female character.
She describes her character Rajjo as: "An empowered woman. Gulaab Gang is her journey as an activist helping empower those around her."
Juhi has been working steadily throughout her marriage, the birth of her children and the unfortunate hospitalisation of her brother. Juhi who has made a career playing bubbly happy young women with her signature laugh plays an antagonist in the movie.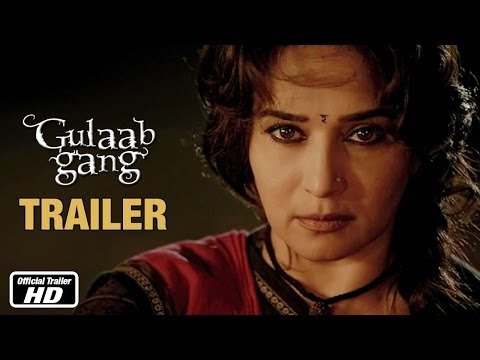 This is only the second time Juhi has played a morally dubious character following her role as a vengeful sister in Arjun Pandit (1999). Understandably Juhi had initial doubts about playing such a negative role:
"I am really glad I am being accepted as a villain today. I was scared of people not accepting me this way or starting to laugh at my dialogues," Juhi admits.
Madhuri also added that she was surprised at Juhi for accepting the role: "I always thought that Juhi is someone that likes being in her comfort zone. Her role in this film couldn't be further from her comfort zone… I was pleasantly surprised."
Gulaab Gang is a revolutionary film for the Bollywood industry, with practically an all-female cast headlining the feature. Director Soumik Sen said:
"I wanted to reverse the trend where men are either heroes or villains – or both. It is sort of a Utopian idea in Bollywood, where women are 'hero' as well as 'villain'."
The film will also feature music by Soumik Sen and Sadhu Sushil Tiwari featuring lyrics by Neha Saraf and Shreya Narayan.
The songs on the album all have a rustic folk flavour mixed with a classical element. 'Rang Saari Gulabi' stands out as it is sung by Madhuri Dixit Nene herself and her mother Snehalatha Dixit with Anupama Raag.
A special promotional track has also been created for the film; 'Mauj Ki Malharein' features YouTube sensation Lilly Singh, also known as Superwoman, and the Canadian even flew out to Mumbai to film a music video.
Bollywood is certainly excited for the release of the film, expecting it to do well both commercially and critically.
Following the release of the movie's trailer, Shahrukh Khan tweeted: "Too excited about Gulaab Gang. My two favouritest actors coming together. Drool time just at the thought of it. All the best."
Gulaab Gang has been greatly anticipated by fans and critics since its inception. Bringing together two of the most successful actresses for the first time, Madhuri and Juhi, Gulaab Gang is not a film to be missed. Gulaab Gang releases on March 7 in time for International Women's Day.