"Professional wrestling has more fame, money and glamour."
Karachi and Lahore play host to the Ring of Pakistan (ROP) wrestling season 2K18 from December 07 to 09, 2018.
After the success of the Pro Wrestling Entertainment (PWE) event in 2017, this is the second time professional wrestling is coming to Pakistan.
ROP 2K18 is expected to be a a great international sports entertainment tournament held in Pakistan.
More than 20 professional wrestlers will make their journey to Pakistan for this competition. Superstar wrestlers from Canada, Hong Kong, UK and USA will compete in the groundbreaking event.
Pakistani wrestler Baadshah Pehalwan Khan who lives in France is the only desi athlete to feature in ROP 2K18.
The aim of the two-day wrestling event is to elevate professional wrestling in Pakistan. ROP 2K18 will act as a peace initiative presenting a positive projection of Pakistan.
Following an exclusive chat with ROP Managing Director Imran Shah, DESIblitz presents everything you need to know about the two-day extravaganza.
Ring of Pakistan (ROP)
A first of its kind, Ring of Pakistan (ROP) is a sports entertainment organisation that is helping the development of professional wrestling in Pakistan.
Pakistan born British citizen Imran Shah is an entrepreneur and founder of ROP.
Brought up in the capital Islamabad, Imran first came to the UK in 2004 to pursue higher studies before venturing into business.
Shah, the organiser for ROP 2K18 does not have a wrestling background or come from the entertainment business. But he always had a keen interest in wrestling as he mentions:
"I always dreamt of bringing professional wrestling home to Pakistan. So we can watch it with our family and friends.
"There is a huge fan following of wrestling in Pakistan."
Imran initially made connections in the UK through friends to create an idea. Consequently, he saw an opportunity and subcontracted the maiden event in 2017.
Pro Wrestling Entertainment (PWE)
Pro Wrestling Entertainment (PWE) is the company which executed the first event as a subcontractor.
The inaugural PWE event took place during May 2017. The tournament saw a squad of about 25 famous wrestling superstars from 18 world-class nations battle it out.
WWE champion Wade Barett, Intercontinental Champion Carlito, Pakistan's first professional wrestler Baadshah Pehalwan Khan along with several other impact wrestlers from around the globe participated in PWE.
Khan won the PWE even after winning the Royal Rumble held at Liaquat Gymnasium, Pakistan Sports Complex in Islamabad on May 21, 2017.
Talking of PWE, Shah told DESIblitz: "Last year's event was one of its kind.
"There was no precedent. We had to make people believe that it is going to happen and at the same standard as other events on an international scale."
Commenting on the success of the 2017 event, Imran continues:
"The response was overwhelming. When the international wrestlers arrived it became a national event."
After the achievements of PWE 2017, ROP 2K18 will be a massive international sports event for Pakistan.
Wrestling Comes Home
Professional wrestling is coming home to Pakistan for the second time with the ROP 2K18.
Over 20 internationals will be participating in ROP 2K18. The biggest name travelling to Pakistan in 2018 is former WWE and Impact Superstar Chris Masters.
Masters comes from an era when wrestling was very popular and a big hit globally.
WWE NXT stars such as Sylvester Lefort (Tom La Ruffa) from France and Ho Ho Lunfrom of Hong Kong will compete in the event.
Candian KC Spinelli, a female wrestler from Impact Wrestling, will also feature in the two-day tournament
British fans will closely follow wrestler and action hero Andrew Harrison aka Tiny Iron from the UK.
From a Desi perspective, Pakistani wrestler Baadshah Pehalwan Khan returns for season 2 and will compete in the tournament.
Khan resides in France but is a native of Dolian in Punjab, Pakistan. At the latest, all the wrestlers will arrive in Pakistan on December 06, 2018, a day before the actual event starts.
Other wrestlers attending include Alex Cyanide (England), Bjorn Hakeen (Finland), Heddi Karaoui (France), Mila Smidt (France), Fabio Giarratano (Italy), Yacine Osmani (Algeria), Bernard Vandamme (Belgium) and Adam Bensema (Algeria).
#FightForPeace
Besides providing a platform to introduce professional wrestling in Pakistan, presenting Pakistan as a peaceful nation is at the heart of the agenda.
The hashtag #FightForPeace is and will trend on Twitter before, during and post event.
The Ring of Pakistan (ROP) management is in sync with the relevant authorities to promote wrestling development and peace through advocacy work.
Highlighting the Pakistan government and Army, Imran acknowledges:
"The Pakistan government is very supportive of sports. And we are getting a lot of help, which is nice. The Armed Forces of Pakistan will also extend their support and help to ensure this event is safe and secure."
Shah reveals that the successful organisation of PWE and the great hospitality of Pakistan made it feasible to attract international wrestlers:
"When the wrestlers came to Pakistan last year that changed everything. They saw the hospitality."
Similarly, global wrestling participants and officials are expecting to enjoy their stay in Pakistan and fight for peace.
Famous Attendees
The Shadow Justice Minister Imran Hussain MP has agreed in visiting Pakistan to support Team Great Britain and promote community cohesion. The GB team has three wrestlers coming from the UK, including Tiny Iron.
Prominent businessmen from Europe with Pakistani heritage and respective wrestlers from the same region will come for this event.
In Pakistan, the organisers will welcome Sindh Governor, Imran Ismail and Karachi Mayor, Wasim Akhtar.
When asked if any high profile political figure will make an appearance, Shah replied:
"We have requested Prime Minister Imran Khan to come at the closing ceremony. The indication is that he will attend."
Celebrities and sports people possibly attending include Javed Miandad and Moin Khan from Karachi.
Arif Lohar is one of many who will attend when the event travels to Lahore.
With the event capturing everyone's attention on a national level, many other celebrities will come on board.
Ambitious Targets
Ring of Pakistan (ROP) has big ambitions for professional wrestling to become more widespread in the country.
Speaking about this Shah tells DESIblitz: "I would like to see that professional wrestling finally makes its mark as new sports industry in Pakistan.
"By that I mean is we set up academies to train wrestlers, so we can have more Pakistani wrestlers for the 2019 season."
To produce more wrestlers like Baadshah Pehalwan Khan, ROP is also keen to collaborate with the Pakistan Wrestling Federation (PWF).
Hence when ROP form academies, there will be an alternative platform for wrestlers under a different body to crossover.
Commenting on this potential opportunity Imran explains: "Professional wrestling has more fame, money and glamour."
This could pave the way for champion wrestlers such as Muhammad Inam Butt to become brand ambassadors and have a specific involvement with ROP.
There is also space to involve players from other cultural sports like kabaddi and kushti with ROP in the future. The idea is to transform some of the players into professional wrestlers.
Successful Impact
Similar to what multiple Guinness World Record holder Ziyad Rahim has done with organising marathons in Pakistan, Team ROP also plans to project the country in a positive light. Shah states:
"We want to show the world that Pakistan is as normal as any other country. By holding this mega event that will send out a very strong message about Pakistan.
"We have a new government, we have a new vision and we have a new hope."
For ROP 2K18, the organisers have also been closely working with the education sector to encourage and inspire the youth of Pakistan.
This will help to develop the next generation of sports people and project Pakistan as a healthy sporting nation.
Imran Shah and his team have left no stone untouched to ensure that the event runs smoothly and is successful.
The organisers have also roped in American actor-comedian and LIVE wrestling commentator, Johnny Loquasto to work his magic on ROP 2K18.
KMC sports complex hosts ROP 2K18 in Karachi on December 07, while the second show takes place at Alhamra Art Centre in Lahore on December 09.
There will be a variety of matches taking place over the course of two days including one-on-one. There will be female wrestling matches to uphold gender equality.
Many other matches across a range of disciplines will also be part of the event. The ultimate winner will receive the prestigious Ring of Pakistan (ROP) World Heavyweight Championship belt.
Watch the Official Promo for Ring of Pakistan (ROP) 2K18 here: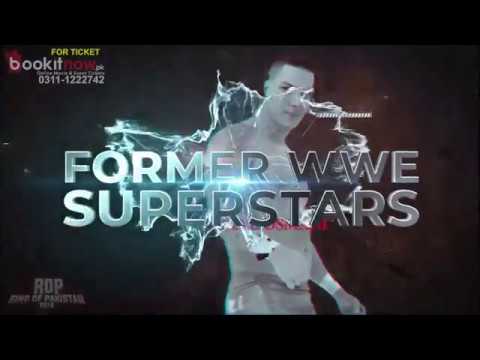 Hum TV, the official broadcaster will transmit the event in two separate episodes – Karachi and Lahore. For the future, the plan is to have monthly episodes with more frequent wrestling series.
Fans can expect an action-packed Ring of Pakistan 2K18.