"PWE will feature your favorite wrestlers and stars from around the globe."
Experimenting with his language skills, the British professional Wrestler, Andrew Harrison aka Tiny Iron, has a video message for the Pro Wrestling competition, taking place in Pakistan.
Speaking in Urdu, Tiny Iron informs his fans to get ready, because he is coming!
Sounding rather expressive yet excited with energy, it is thrilling to watch one of Britain's biggest biceps giving a message in Urdu.
Along with many international Wrestlers, Pakistan is all set to host its first Pro Wrestling competition.
So get ready to hear the Pro Wrestlers stamp their feet and roar on the grounds of Pakistan!
Pro Wrestling Competition
After years of despair and barren stadiums, it's turning out to be a good year for sports in Pakistan.
Last month, the much-celebrated Pakistan Super League had its finale, at Lahore's Gaddafi Stadium, with great excitement of the cricket-starved fans. And now, it's time for Pro Wrestling fans to be treated with action-packed, energy-fueled entertainment.
Organised by the Pro Wrestling Entertainment Federation (PWE), the events will take place later in 2017, across the diverse cities of Pakistan.
Popular Pakistani Pro Wrestler, Baadshah Pehalwan Khan, recently took to Twitter to announce Wrestle Mania's upcoming arrival to Pakistan:
"Today #CricketComesHome Tomorrow #ProWrestlingComesHome #PakistanWillRise," he tweeted.
However, Tiny Iron isn't the only international Pro-Wrestler expected to come to Pakistan. According to reports of PWE by Geo News, there are a bunch of other international Wrestlers planning to attend the launch event in Karachi:
"Tiny Iron, Badshah Pehalwan Khan, Yacine Osmani, Omen, and Flesh Gordon will be attending the pre-launching ceremony at Karachi," a PWE official told Pakistani media.
"PWE will feature all of your favourite Wrestlers and guest stars from around the globe. Our goodwill ambassadors will also share their experiences and real image of Pakistan all around the world," the official added.
Tiny Iron
Tiny Iron, who calls himself half man, half amazing, has been previously known as the bodyguard to pop sensation, Rihanna. Until his 24-inch biceps landed him in professional Wrestling.
All ready and pumped up to Wrestle in the soil of Pakistan, his video message was delivered to us through Baadshah Pehalwan Khan, who tweeted:
"TINY IRON has a message for you."
Showing off his strong physique and personality, Tiny Iron says: "Pakistan, Main Ah Raha Hoon," in his rather tough and deep voice.
TINY IRON has a message for you !#Pakistan #prowrestling #PWE pic.twitter.com/tj8DrGOMhD

— BaadshahPehalwanKhan (@KhanBP) March 20, 2017
Moreover, at the Body Power 2016, DESIblitz was also given the opportunity to interview Tiny Iron. At 4:55 in our Body Power Expo video you can see Tiny Iron chatting to us about his biceps!
Watch Tiny Iron's interview with DESIblitz here: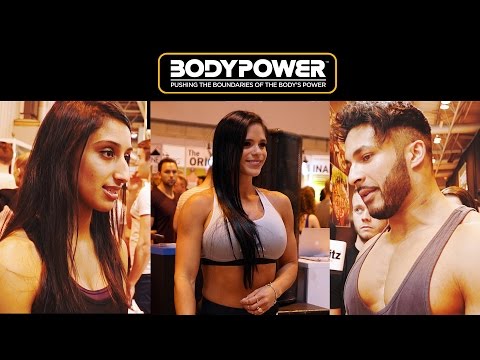 It appears that Pakistan is about to witness a new dawn in International Sports.
Well, if your weekend highlights ever included binge-watching WWE while growing up, and you randomly morphed into your favourite Pro Wrestler to fight off your sibling? Then get ready to celebrate and greet Wrestling in Pakistan.