"It really means a lot to be named as your Sportsman of the Year!"
The 2017 British Ethnic Diversity Sports Awards (BEDSA) took place on Saturday 18th March at London's Hilton Park Lane.
Now in its third year, the BEDSAs celebrate the resounding success of sports men and women from all ethnic backgrounds, as well offer emerging sporting talents a platform to put themselves forward.
The lavish evening welcomed sports personalities and their teams from all over the UK. They arrived in London, dressed up to the nines and all in good spirits.
Hosted by presenter and comic Lenny Henry, the annual ceremony drew appearances from celebrities and high profile guest such as David Haye, Jade Jones, Jason Robinson and music stars WSTRN.
Watch all the highlights from the 2017 Lycamobile British Ethnic Diversity Sports Awards here: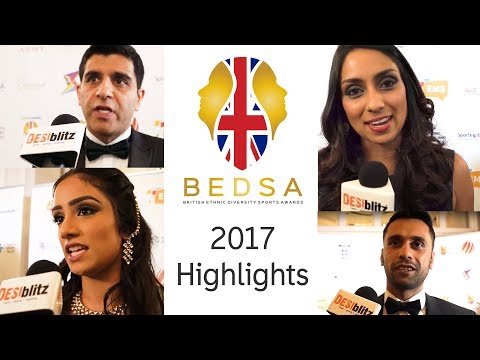 As well as sports talent from Asian communities, including former England cricketer Isa Guha and world champion martial arts silver medallist Harleen Kaur, who was "thrilled and honoured" to be nominated for 'Young Sportsperson of the Year'.
Room hasn't stopped laughing at the @BEDSAofficial tonight thanks to this man Sir @LennyHenry – @SportingEquals#BEDSA2017 pic.twitter.com/I7nFSN9GzA

— David Haye (@mrdavidhaye) March 18, 2017
The top honours of the night were taken by Sir Mo Farah and Kadeena Cox. Winning the 'Lycamobile Sportsman of the Year', Mo said:
"Thank-you to the Lycamobile British Ethnic Diversity Sports Awards and a very special thanks to everyone who's voted for me.
"It really means a lot to be named as your Sportsman of the Year! And congratulations to my fellow nominees as well. It's so great to see everyone come together this evening to celebrate the incredible achievements of our diverse sporting communities."
British parasport athlete, Kadeena Cox took the award for 'Sportswoman of the Year'. Having proved to be an inspiration to many, she said:
"I'm very honoured to have won this award and would like to give a massive thanks to Sporting Equals for all the work they do in BAME communities."
Here is the full list of winners of the 2017 Lycamobile British Ethnic Diversity Sports Awards:
Youth Sport Trust Young Sports Person of the Year
Alice Tai
British Army Unsung Hero
Inderpal Singh Cheema
Sport England Community Sports Project of the Year
Spring SLR
England Athletics Coach of the Year
Chris Hughton
Spirit of 2012 Connecting Communities
Al Madina Centre
Mind Wellbeing Award
Sonia Smith
Tennis Foundation Special Achievement
Shapla Sports
FA Recognition Award
Rashid Abba
UK Sport Inspirational Performance
Ruqsana Begum
Sporting Equals Sportswoman of the Year
Kadeena Cox
Lycamobile Sportsman of the Year
Mo Farah
Lifetime Achievement Award
Jason Robinson OBE
CEO of Sporting Equals, Arun Kang later commented on the significance of the awards, saying:
"I would like to congratulate all the winners, they thoroughly deserved their accolades.
"Sporting Equals organise the BEDSAs as we want to celebrate diversity at both an elite and grassroots level.
"It was heartwarming to see the delighted faces of the community groups and volunteers who give so much of their time to get communities more active as well as the elite stars who will hopefully inspire the next generation to take the baton."
Lycamobile chairman Allirajah Subaskaran, echoed the words made by Kang, adding:
"Awards such as these are crucial in driving change in the sports sector by increasing participation and diversity."
The British Ethnic Diversity Sports Awards 2017 proved to be a resounding success in strengthening the impact of ethnic diversities in sports and encouraging more people from different communities to actively participate in the profession.
Congratulations to all the winners!