"Having a Fab Meal here on our first visit to P.F. Chang's Lahore, With Wasim Khan our buddy from Birmingham."
Leicestershire County Cricket Club Chief Executive Officer (CEO), Wasim Khan MBE is a strong favourite to become the Managing Director (MD) of the Pakistan Cricket Board (PCB).
Wasim travelled to Pakistan in November 2018, following an invitation from PCB Chairman Ehsan Mani to consider the position.
After several interviews, Khan apparently stood out as a strong candidate. An official announcement may come imminently.
The England and Wales Cricket Board (ECB) incidentally did encourage Wasim to apply for the same vacant position under their governing body. But as per reports, Khan's first choice is the job as MD PCB.
Wasim Khan is historically from the Small Heath suburb of Birmingham. He was the first British-born Asian player of Pakistani origin to play county cricket.
Khan, a dual national has long held a Pakistani passport. Hence along with his wife and children, Wasim will move to Pakistan once and if he receives confirmation of the appointment.
Speculation is rife, ever since he was spotted in Lahore. On November 30, 2018, Bobby Waris, Company Director of Pak Travels in Birmingham posted several pictures of him with Wasim.
After visiting a Cantonese restaurant in Lahore, posting on Facebook, Bobby states:
"Having a Fab Meal here on our first visit to P.F. Chang's Lahore, With Wasim Khan our buddy from Birmingham."
Khan has long been regarded as an instrumental figure in the future of England cricket. He has done a lot to engage young people from South Asian cricket communities.
Many believe he could one day even become CEO of the ECB.
Prior to joining Leicestershire CCC as CEO, Wasim did serve in a similar role for the cricket foundation, Chance to Shine. During his 5 year tenure, Khan brightly expanded the foundation.
Wasim has also sat on various key platforms. These include the Equality & Human Rights Commission Sports Group, The Prince's Trust Cricket Group and the board of Sport England.
Khan is a former English county cricket player, previously representing Warwickshire, Derbyshire and Sussex as an opening batsman.
Despite playing in England and Pakistan's Wasim Akram being a favourite of his, Wasim did not represent either nation on an international level.
During a 10 year career from 1992 to 2002, the left-handed batsman hit 2835 runs in 58 first-class matches. Smashing 5 centuries and 17 fifties, his highest score was 181.
If he decides to accept the PCB Managing Director job, this will be an exciting yet challenging post for Khan.
One of his remits will be to reorganise the domestic structure of Pakistan. This is something that former cricket legend turned Prime Minister and Patron of Chief Imran Khan has long called for.
Imran was a big advocate to structure Pakistan cricket on a regional basis. However, this issue will definitely be up for discussion at the board level.
With Pakistan's population being bigger than other cricketing nations such as Australia, Mani believes the regional model is not necessarily the answer.
The PCB can implement a regional structure of eight teams, reflecting the different cities or provinces of Pakistan.
But such a move can present repercussions for the players of the departmental sides.
For more than 40 years, it is companies such as Habib Bank Limited (HBL), Water and Power Development Authority (WAPDA) and Pakistan International Airlines (PIA) that recruit players on a monthly wage.
In the past, players and officials have opposed any moves to remove or sideline departmental cricket.
There will be resistance if further plans are put on the table. But the PCB is contemplating to reduce domestic teams by 30% to improve quality.
Watch our interview with Wasim Khan here: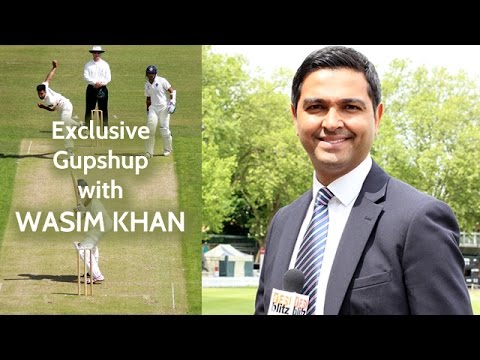 The cricket governing board of Pakistan also want departments to sponsor regional teams.
With the PCB injecting more than PKR 600 million per annum on domestic cricket, the board targets to make regions financially self-sustainable.
The PCB feel domestic teams should not entirely rely on funding from them.
Presently there are 16 teams on the domestic front, featuring in the Quaid-e-Azam trophy. From the 16, there are eight regional and 8 departmental sides.
Wasim will also have the responsibility for establishing an exchange or advantage programme to assist the development of Pakistan cricketers. Thus the PCB will support cricketers that want to play for an overseas county or state team.
He may also have the task to downsize the number of people that PCB employees.
This stands at around 900 across Pakistan. Theoretically, the PCB only needs a small team of permanent staff based at the Gadaffi Stadium headquarters in Lahore.
Most importantly, Khan will try to attract the regular return of international cricket in Pakistan, including matches with arch-rival India.
He might also form an association for Pakistan cricketers alike to the Professional Cricketer's Association (PCA). This union provides a development and welfare programme for all professional players in England and Wales.
Forming a players union in Pakistan may not be so plain sailing
Earlier in 2018, Wasim confirmed that Pakistan would play a Twenty-20 match against Leicestershire on May 1, 2018.
This would act as a warm-up game ahead of their IT20 match England at Sophia Gardens in Cardiff on May 5, 2018.
Confirming the match, Leicestershire CEO Wasim Khan said: "We are really pleased to be chosen to host Pakistan again.
"A floodlit T20 game promises to be an extremely special occasion at the Fischer County Ground."
Though Khan is a strong favourite for the MD position, this role can change to CEO after the PCB Board approve constitutional amendments to Mani's position.
Mani is PCB Chairman and CEO at the moment.
Meanwhile, the potential move to appoint Wasim Khan is very positive as most will welcome it. He is a humble, dynamic and influential administrator.