"Yasir has been a phenomenal bowler for Pakistan ever since his Test debut four years ago."
Pakistan leg-spinner Yasir Shah makes history after completing 200 Test wickets to break an 82-year-old pre-World War II record.
Shah accomplished this record on the fourth morning of the final Test against New Zealand in Abu Dhabi, United Arab Emirates (UAE) on December 6, 2018.
This is a great achievement by Yasir Shah, considering he made a late entry to Test cricket.
Despite playing his first One Day International (ODI) in 2011 against Zimbabwe, it was three years later (2014) that he made the move to Test cricket.
Even though he always had the talent, he could not initially make the Test side due to the presence of Saeed Ajmal.
But after finally getting his chance, the Swabi-born player seized the opportunity.
DESIblitz highlights the new record and where it stands, along with reactions and a round-up of his Test career.
Breaking the Record
In the second match of the three-Test series, Pakistan cruised to victory against New Zealand by an innings and 16 runs at the Dubai International Cricket Stadium on November 27, 2018.
During this game, Shah took 14-184 to equal the record of Imran Khan for most wickets in a Test.
In the 1976 home Test also against New Zealand, Imran bagged his first 10-wicket haul to send 14 players back to the pavilion.
Yasir is joint with Imran after claiming 8-41 in the Kiwis first innings and 6-143 in the second.
Following this match, Shah got close to the 1936 record with 195 wickets.
With success in his sight, Yasir playing his 33rd Test match got rid of three New Zealand players in their first innings.
Thus as he was two wickets away he had to delay breaking the record until the second innings of the touring side.
In reply to New Zealand's 274, Pakistan were all out for 348 in their first innings.
At stumps on day 3, New Zealand were left on 26-2 in their second innings with Shah taking one of the wickets.
On the morning of day 4, Yasir only needed one wicket to break a historical record.
With New Zealand 37-2, Shah got William Somerville lbw for 4 to finally set a new world record to his name.
Watch the 200th wicket of Yasir Shah:
Fastest to 200-100 Test wickets
Clarrie Grimmett of Australia held the previous record against South Africa at the Old Wanderers, Johannesburg on February 15, 1936.
Grimmett got to his 200 wickets in his 36th Test match. Whereas Yasir achieved the same feat,  playing three fewer matches.
No other bowler in international cricket came close to breaking this record before.
Prior to Shah surpassing the record, Indian off-spinner Ravichandran Ashwin was at number two. R. Ashwin reached this milestone in his 37th Test.
As a result of Yasir breaking the record, Ashwin is now on number three in the all-time list.
Australian Dennis Lillee and Waqar Younis of Pakistan are joint fourth, reaching 200 wickets in their 38th Test match.
Former Australian leg-spin legend Shane Warne is in 10th position, joining the 200-club in his 42nd Test.
Shah is also the second fastest bowler with Charlie Turner (Aus), Sydney Barnes (Eng) and Grimmett (Aus) to take 100 wickets in their 17th Test match.
England's George Lohmann remains the fastest to 100 wickets in his 16th Test. He achieved the record versus South Africa at the Old Wanderers, Johannesburg on March 2, 1896.
Watch a video about Yasir Shah being second fastest to 100 wickets: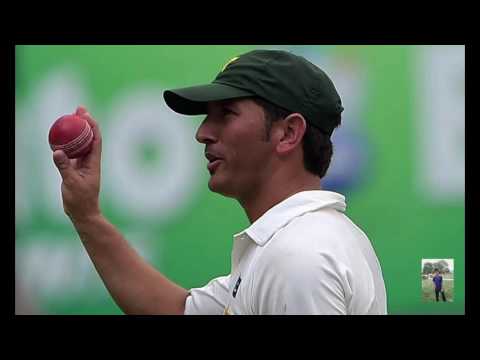 Reactions
Understandably, there have been many positive reactions on social media following Yasir's fantastic achievement.
The great Shane Warne is not one to compliment a cricketer for any reason. But after Pakistan's triumph in the 2nd Test, Warne went on Twitter to praise Shah a lot, tweeting:
"Congrats to my man @Shah64Y – what a terrific game you had & what a spell that was in the 1st innings, very special.
"Watching you spin a web bought me a lot of joy and a big smile buddy. Well done. Keep it up and stay patient my friend #spintowin."
When Shah made his debut, Warne did predict that he would get to 200 wickets.
I'm liking my man Yasir Shah's energy & shape on the ball, also his over spinner & patience !! He's going to take 200 + test wickets ?

— Shane Warne (@ShaneWarne) November 2, 2014
Little did he know at the time, that he would do it in just thirty-three tests. Three Tests less than any man in history.
Most people agree that Yasir is the best leg-spinner in Test cricket at the moment. Following England's defeat to Pakistan in the 1st Test of a four-match series at Lord's, Ben Stokes said:
"He is the best leg spinner since Shane Warne."
The Pakistan Cricket Board (PCB) Chairman Ehsan Mani sent his congratulations to Shah saying:
"It is, indeed, a proud moment for the PCB and cricket fans across the country.
"Yasir has been a phenomenal bowler for Pakistan ever since his Test debut four years ago. I hope and pray for his continued success.
"He is a world-class performer and a real match winner, who has a fantastic attitude towards the game."
Watch Yasir Shah and Shane Warne having a bowling session: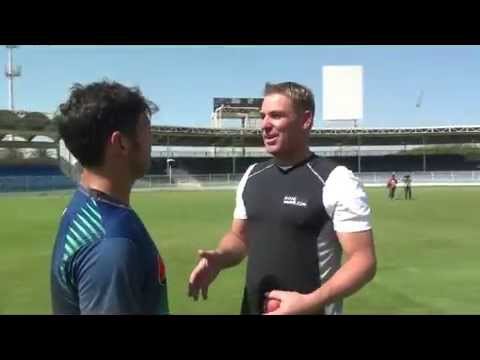 Test Career Highlights
Yasir is consistently above all other spinners in Test cricket. Shah has played a lot of Test cricket in the UAE, making him much more effective with his speed through the air.
He has some amazing successes in the Test arena. He went to become the first Pakistani spinner to take a 10-wicket haul in England. Sri Lankan off-spinner Muttiah Muralitharan did the same earlier in 2006.
He received the man of the match award for his 10-141, following Pakistan's win over England in the 1st Test at Lords on July 17, 2016. Then he took a fifer in the 4th Oval Test, ensuring Pakistan levelled the series.
Yasir has healthy bowling averages, particularly in the West Indies and Sri Lanka.
His workload is also quite phenomenal, bowling more than 30% of all Pakistan's overs in Test cricket. This indicates whenever Pakistan play a home or away series, Shah is crucial.
Up until his 200 wickets record-breaking Test, Yasir has won the man of match and man of the series 4 times respectively.
He has taken 5 wickets in a match on sixteen occasions and 10 wickets three times.
Watch 10-wicket haul of Yasir Shah at Lord's in 2016: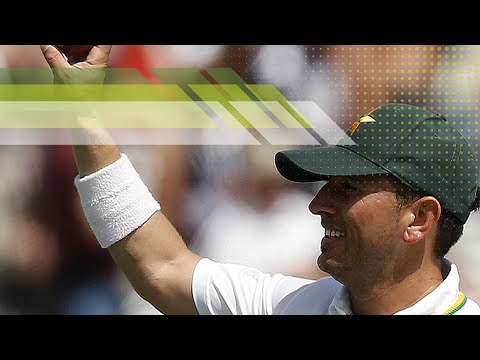 Saeed Ajmal and Yasir Shah
The interesting point is that had the career of super spinner Saeed Ajmal continued, Shah may have not been given a regular run in the team.
At his peak, Ajmal was the number one bowler in the world, proving to be a difficult customer to handle.
But once Ajmal was called for throwing, Yasir became a permanent fixture in the Pakistan side following a string of good performances.
Even though Ajmal was the man in form, this begs the question as to why Shah made his Test debut so late.
He played his first Test match at the age of 28 against Australia on October 22, 2014. Yet his ODI debut came three years earlier against Zimbabwe at the Harare Sports Club on September 14, 2011.
The PCB has always been reluctant to try more players. They tend to stick with the same pool of 25 cricketers.
But there is a lot of talent in Pakistan and they should be given a chance if performing at the domestic level.
Watch a video about Yasir Shah and Australia:
Meanwhile, Shah throughout his Test career has got Pakistan out of some very difficult situations.
At other times he has demolished the opposition and led Pakistan to victory when facing the very best in world cricket.
Ever since he made his Test debut, the most pleasing aspect about Yasir is his consistency.
With Shah breaking this record it is a big honour for him, Pakistan and Pakistan cricket.
This is one record which will be difficult to beat, especially with few Test matches taking place in comparison to the past.
Cricketers are also more prone to injury, along with playing more shorter formats of the game including ODI and T20 cricket.
If he maintains his performance and fitness, Yasir will go onto break many other bowling records.
With Shah at his peak, the future looks bright for Pakistan Test cricket.
DESIblitz congratulates Yasir Shah for doing a Usain Bolt and becoming the fastest man to bag 200 Test wickets.