"It definitely hasn't sunk in just yet. I'll probably need a few days"
British Asian golfer Aaron Rai held off a thrilling final round charge from fellow countryman Matthew Fitzpatrick to secure his maiden European tour title.
Aaron won the 60th Hong Kong Open on November 25, 2018, by a narrow margin of one shot.
Rai began round 4 with a relatively comfortable six-shot lead.
But the 24-year-old Fitzpatrick did reduce Aaron's lead to just one until he got a bogey on the penultimate hole.
This was enough for the 23-year-old to claim victory on 17 under in the pouring rain at the Hong Kong Golf Club. Matthew had to settle for second place on 16 under.
With this win, Rai went up 76 places to reach 122 according to the official golf world rankings.
The Wolverhampton born Aaron was very happy following his first European tour triumph. He said:
"It's incredible. It definitely hasn't sunk in just yet. I'll probably need a few days for that to happen. It's incredible to win on any Tour, let alone the European Tour and let alone the Hong Kong Open.
"It's an incredible course, incredible event and very well supported. The crowds have been amazing. I'm just very grateful.
"Matt played incredibly all day. It was tough but again, I really just tried to play the course as much as possible, rather than Matt, or anyone else who was playing well today."
Rai said he had very little issues adjusting when asked about the conditions:
"It's like back at home [in England]. If anything, the course played a bit longer and the greens were slower but it only took a few holes to get used to it."
Fitzpatrick started the final round with birdies on the first two holes to close the gap to just 4 shots.
By the halfway mark, Matthew was just three behind after converting another birdie on the par 3 hole 8.
Four more birdies by Fitzpatrick on the 10th, 13th, 14th, and 16th holes made for a very exciting finish.
However, on the 17th hole, Matthew missed a four-putt par under pressure, giving the initiative back to Aaron.
Post-match, a disheartened Fitzpatrick mentioned:
"It was great. Obviously disappointing on 17 there, such a simple bogey, but yeah, I gave it a good go.
"It was always going to be tough to beat him. The last two days, he's been very solid and not given anything away, which made my life more difficult.
"I love this week just to start the season. Wish it was January. But it's the end of the year now and I'll have some time off and just re-evaluate where I'm at and take it from there."
Despite getting a bogey on the final hole, Rai carded a final round of 69 to become the champion of the 2018 Hong Kong Open.
Watch highlights of Aaron Rai winning the 2018 Hong Kong Open: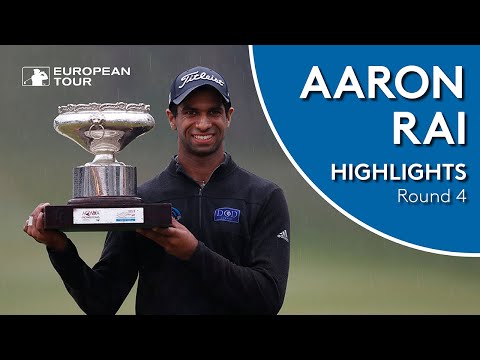 Aaron was in sublime form throughout the tournament, carding scores of 65 (round 1), 61 (round 2) and 68 (round 3).
The interesting aspect is that Rai never let his lead slip following the conclusion of every round.
For Matthew, it was a case of too little too late.
Tommy Fleetwood of England began the final round joint second on -10. But he fell way back with a disastrous 3 over 73 in round 4 to finish in 14th place overall.
Spain's Sergio Garcia, a big name in the golfing world ended his campaign in 6th position, carding a final round of level par 70.
Similar to Garcia, Shubhankar Sharma from India was also on nine under par, scoring a final round of 67.
Victor Aaron has certainly accomplished an amazing feat – that too at such a young age.
Rai is quite a unique golfer as he wears two gloves when playing, After becoming the 12th Englishman to win the Hong Kong Open, Rain explains the two glove theory:
"It started when I was eight years old, so 15 years ago now.
"I just happened to be given these two gloves. The guy who actually makes them sent a pair over.
"And I got into the habit of wearing them. Then, a few weeks down the line, my dad forgot to put the two gloves in the bag so I had to play with one.
"It was terrible. I couldn't play, I couldn't feel the grip, so I've always stuck with the two gloves ever since."
It's his time.#HonmaHKOpen pic.twitter.com/I1d8bjvHrs

— DP World Tour (@DPWorldTour) November 25, 2018
Prior to this tournament, Rai was a three-time Challenge Tour winner in 2017.
His victories came at the Kenya Open (Nairobi: Kenya), Andalucía Costa del Sol Match Play 9 (Malaga: Spain), and Le Vaudreuil Golf Challenge (Le Vaudreuil: France).
Victor Aaron received a wonderful trophy and an official prize money of $333,330 (£260,000) for his first European tour title.
But more importantly, he adds his name to a famous list of winners.
Champion players from the United Kingdom to have won the Hong Kong Open include Ian Woosnam (Wales), Colin Montgomerie (Scotland) and Rory Mcllroy.
Rai has a very bright future ahead of him. DESIblitz congratulates Aaron Rai on his historic victory.