"It's the best feeling ever."
Amir Khan became world champion in a victorious match winning unanimously on points. He won the World Boxing Association (WBA) light-welterweight title beating Ukraine's Andreas Kotelnik at the MEN Arena in Manchester UK, on 18th July 2009.
The British born fighter has showed his fitness and strength in a 12 round fight. He outclassed title holder Andreas and won on the judges' scorecards  – 120-108, 118-111, 118-111. At 22, Khan showed his amazing hand speed and unparalleled boxing skills against the champion, which helped Amir get ahead in the first ten rounds of the fight.
Despite attempts from  Kotelnik towards the final rounds of the bout to contain Amir, the British boxer from Bolton was already ahead of the game. Khan's efforts and training to bring himself to the level to win such a fight were demonstrated by overwhelmingly him in the ring. His speed, pace and foot-work allowed him to throw well timed left-right punches and jabs that forced Kotelnik to concede eventual defeat.
Khan was the more composed fighter who was quick to score and kept clear of losing too many points. Kotelnik's best shots were placed on Khan's chin but Khan showed a strong defence with moves from the waist that helped him keep the fight under his control.
Immediately after the fight, after hearing he had unanimously won the fight, Amir said, "It's the best feeling ever."  He then added, "I want to thank Freddie Roach and my team for making this happen. I'm a world champion and I'm going to enjoy it. I'm still young and I've got big things to come."
Watching the fight in the front row was Naseem Hamed, the Prince from Sheffield who became WBO featherweight champion aged 21. Many other celebrities were part of a 10,000 plus crowd at the MEN Arena who all witnessed the glory of Amir Khan. A contrast to the defeat he suffered in the first round knockout to Colombia's Breidis Prescott.
Freddie Roach, Khan's trainer was very pleased with his performance and said, "I'm delighted for him. There are still things we can work on. But Amir will only get better."
Here is a video of Amir Khan's press conference after his winning fight where he talks about his challenges of the fight and the support from Freddie Roach  (produced by ITN).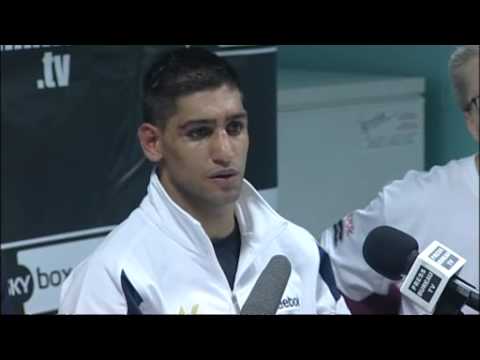 Khan moved to 21 wins  and 1 loss after this fight, and it is rumored that Khan must now try to lure Ricky Hatton back for another fight.