"it made a lot more sense for us to have a male protagonist."
After five years of waiting, it looks like gamers will finally get a worthy Star Wars game and it is called Star Wars Jedi: Fallen Order.
The game has been developed by Respawn Entertainment who are the minds behind Titanfall.
Star Wars Jedi was announced during E3 2018 but a proper look at it was not introduced until early 2019.
The official reveal only gave gamers a glimpse at the story but it was more than enough to be excited about ahead of its release.
A more detailed look was revealed at E3 2019 which even included some lightsabre-fueled gameplay. An extended gameplay demo has since been released.
While gamers have had the likes of Star Wars Battlefront which was more of an online multiplayer, this new release focuses on a single-player experience.
Star Wars Jedi is set to release on November 15, 2019, just in time for Christmas.
While some tweaks are still being made, the current look appears to be promising. We look at the game in more detail.
Who do you play as?
When the game releases, players will take control of Cal Kestis, portrayed by Cameron Monaghan.
He is one of the last surviving Jedi as he attempts to develop his skills while being hunted down by the Galactic Empire.
The character reveal was met with mixed results as some stated that Cal was a safe character design that is not far from characters that Star Wars fans are already familiar with.
The game's director Stig Asmussen explained his reasoning behind the character. He said Cal was chosen to be a male because the new trilogy of films has a female protagonist.
Asmussen said that it was "because at the time Rey was kind of the thing for Star Wars, and so it made a lot more sense for us to have a male protagonist".
People also wondered whether it could have been better to have a non-human hero. It was considered during the early stages of development, but the team eventually decided against it.
Asmussen explained:
"Ultimately we didn't go with an alien race because we felt like – no pun intended – that would alienate a lot of people."
"We wanted to make sure that there was a real human connection to the character that we have in the game, although I personally – I mean, that's more kind of like [a] broader decision why we did it – personally I think it would be really cool to have an alien protagonist."
It will be interesting to see how Cal's character develops as the story progresses.
The Plot
Star Wars Jedi is set a few years after the events of Order 66. Cal is among a handful of Jedi who was able to survive and is now on the run.
He is only partially through his training and has had to go into hiding. He keeps a low profile by working on construction sites.
After he attempts to recover a Venator Class Star Destroyer above a pit, an accident happens involving one of his friends.
A droid belonging to the Empire watches Cal openly use the force to save his friend from falling into the pit.
The droid transmits the footage to the Empire causing Cal's real identity to be revealed to the imperials.
The Empire deploys the Second Sister, a character trained by Darth Vader to find Cal and get rid of any remaining Jedi. Cal ends up going on a thrilling adventure.
Throughout his journey, the young Cal will visit familiar planets with the assistance of the rebel Saw Gerrera, who is portrayed by Forest Whitaker. Cal will also reunite with his old mentor Master Cere.
Though there is no official word, it is possible that some fan favourite characters from the films may appear in the game even if it is just a cameo.
Cal has to use his Force powers to protect himself from stormtroopers as well as wielding a lightsaber to take the action up a level.
Lavish environments and compelling interactions have indicated that it will be very story-driven.
Watch the Reveal for Star Wars Jedi: Fallen Order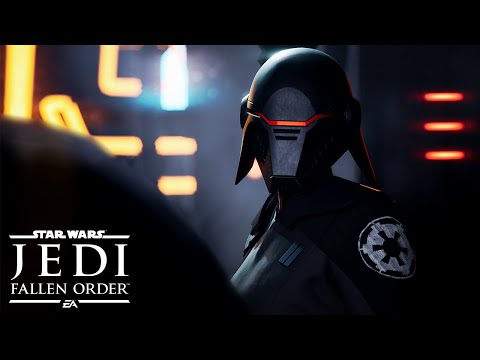 Gameplay
When it comes to gameplay, the stunning environment and set during one of the most famous periods in Star Wars history make for an ideal combination.
Combat is also intriguing especially when armed with a lightsaber. The foundations are simple: light and heavy attacks, a block button that can be tapped to parry, a dodge that can be modified into a roll and a jump.
The Force attacks can also be modified, they can push and pull objects. They can also be tapped for a quick move or held for a stronger effect.
It also appears Cal can use the Force to slow time, which allows him to take on more dangerous foes with a little more ease.
While it sounds easy, the presence of enemies makes things a whole lot more difficult.
Enemies hit hard with purpose. This makes combat much more strategic and measured.
It is not about swinging at an opponent until they fall. Combat involves breaking down their defences, at which point the next hit will kill them.
The story is split into a number of planets, each housing levels that loop back around on themselves.
Even though Cal is one of the few Jedi left, he is not alone on his journey. His trusty droid BD1 is there to help.
It has the ability to hack terminals, heal Cal and manage the hologram map as well as being a loyal friend.
If an enemy causes damage, not to worry, there are meditation runes where Cal can heal up and recharge BD1's limited stock.
Naturally, enemies will more difficult but that can only make for a more immersive experience.
Release
Star Wars Jedi: Fallen Order will be released on November 15, 2019, for PlayStation 4, Xbox One and PC.
The game is published by EA which did cause concern as gamers feared that there would be numerous microtransactions.
The concern about microtransactions was mainly down to its inclusion in Star Wars: Battlefront 2 which was especially bad.
For those who did not want to pay for the loot boxes, they had to make significant progress in order to get the full experience. It was a disaster which generated headlines around the world and caused outrage.
In a bid to avoid a repeat, Respawn boss Vince Zampella stated that the new release is a single-player story with no microtransactions and no multiplayer.
The reaction was extremely positive, but some wondered whether they would be added at a later date. EA confirmed that they will not be added.
They said on social media: "No microtransactions. No loot boxes. And no, we won't be adding them.
"A single-player Star Wars story for those of you who are ready to become a Jedi."
The release now means that everyone will be able to enjoy the game and have access to the same features.
While there have been some good Star Wars games in the past, this game looks to have nailed the feeling of being a Jedi.
Enemies are fought with speed and power and the finishing blow will feel like a fitting reward.
This is a classic-era Star Wars game, giving gamers a glimpse of the aftermath of the events of Order 66.
The visually impressive release is canon meaning that we may see Cal in a future film. Expect twists in Star Wars: Fallen Order when it releases on November 15, 2019.