The voice of Darth Vader is famously portrayed by versatile black actor, James Earl Jones.
Ten long years since the last Star Wars movie, Revenge of the Sith, graced our screens.
Yet, the new film's trailer is instantly met with racist responses that are of extreme magnitude.
The full official trailer for The Force Awakens (2015) was released on October 19, 2015.
Instead of trending the most-hyped movie of 2015, '#BoycottStarWarsVII' begins to take over social media.
Many trace its origin to Twitter user, Lord Humungus, who posts a hate message on the same day the trailer comes out:
"The new Star Wars movie (#StarWarsVII) barely has any whites in it. It's all muds. #BoycottStarWarsVII #StarWarsTheForceAwakens"
The most obvious target is John Boyega, a British-Nigerian actor who plays a First Order stormtrooper named Finn.
Lord Humungus then prompts his followers to help push the boycott hashtag and creates a flow of statements attacking the film for being 'anti-white'.
One of which is aimed at its Jewish director J.J. Abrams, whose choice of an ethnically diverse cast for the Star Wars film has received due attention.
#BoycottStarWarsVII because Jewish director #JJAbrams is openly anti-white. pic.twitter.com/LlWHn0tsBq

— Lord Humungus (@DarklyEnlighten) October 19, 2015
Another Twitter user, End Cultural Marxism, is also seen as responsible for encouraging the #BoycottStarWarsVII tweets.
Yes, #BoycottStarWarsVII is now trending @genophilia — End Cultural Marxism (@genophilia) October 19, 2015
But just as there are many haters out there, Twitter has found an army of supporters as well, who use the hashtag to promote positive or satirical messages instead.
British Asian DJ Nihal says:
"I'm boycotting Lord Of The Rings because I'm not a Dwarf nor have pointy ears, huge hairy feet or an addiction to gold #BoycottStarWarsVII".
Many users also tweet to remind everyone that the creator of the Star Wars franchise, George Lucas, is married to an African-American businesswoman, Mellody Hobson.
In addition, the voice of Darth Vader is famously portrayed by versatile black actor, James Earl Jones.
And any true Star Wars fan will no doubt remember Samuel L. Jackson playing the role of Jedi Master Mace Windu in the 1999 prequel, The Phantom Menace.
Thus, many find such disapproval of actors of colour a little hard to decipher, other than for the pure intention of trolling.
John himself is well-prepared for this, however, as racial attacks at his role in the film have begun as early as November 2014 when first look of the film was shown.
In a more recent interview, he addresses the issue again, saying: "You either enjoy it or you don't. I'm not saying get used to the future, but what is already happening.
"People of colour and women are increasingly being shown on-screen. For things to be whitewashed just doesn't make sense."
To truly embrace diversity in the acting world, Ava DuVernay who directed Selma (2014) invites the online community to trend a new hashtag – '#CelebrateStarWarsVII'.
And it is certainly pleasing to see many supporters for her positive campaign.
My little bro who is OBSESSED w/ Star Wars now gets to see a more diverse cast on screen. #CelebrateStarWarsVII pic.twitter.com/kEHRwUF0BA

— ur new step dad (@afroeccentrix) October 19, 2015
Twitter trolls aside, the seventh instalment of the mega-popular and iconic film franchise is set to be the most talked-about topic of 2015.
A behind-the-scene snippet revealed at the San Diego Comic-Con 2015 in July 2015 has already built up an incredible hype.
When the full trailer arrives on Sunday, it has already clocked more than 13 million views and earned raving reviews from fans, calling it 'best saga of all time no argument'.
Variety reports that ticket sales has soared way above that of The Hunger Games – eight times and more, to be precise.
The production team deserves much credit for this, opting for 35mm film and a refreshing focus on practical effects over CGI, and bringing back some of the original cast members.
Abrams says: "It's Star Wars, there'll be an endless number of effects that'll be done, of course.
"But we needed to set a standard. You wanted it to be legitimate. Building as much as we could was a mandate."
You can watch the official trailer here: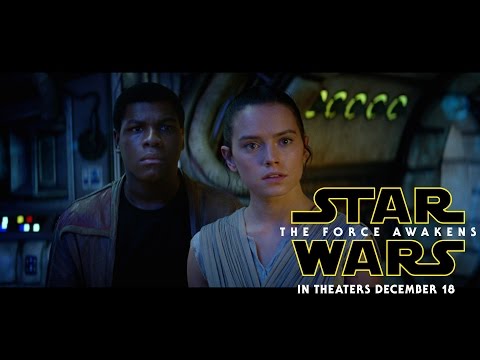 Star Wars: Episode VII – The Force Awakens, starring John Boyega, Daisy Ridley, Harrison Ford and Carrie Fisher, will be out in cinema on December 18, 2015.