"playing through this title will expand your expectations"
The remake of Final Fantasy VII looks to be one of the most anticipated games of 2020.
The original game, which released in 1997 went on to become a cultural classic. It is considered one of the greatest video games of all time as it has influenced numerous role-playing games (RPG).
The series as a whole has worldwide popularity, known for its innovation, music and visuals.
Twenty tears years later, the game has been rebuilt for a new generation of gamers.
The Final Fantasy VII Remake reimagines the original story but with stunning new graphics, a new combat system and a bigger focus on cinematic storytelling.
The original game was ahead of its time, boasting 3D graphics and over 50 hours of gameplay spread across three discs.
Final Fantasy VII Remake will be just as massive. It is so big that the game will be split into separate chapters, each one filled with depth.
However, like with the majority of Final Fantasy titles, it will be a PlayStation exclusive. The game will release for PS4 on March 3, 2020.
We explore why this classic game remake is one to look forward to.
The Story
Final Fantasy VII Remake retells the original story, which follows former Shinra soldier Cloud Strife.
Cloud Strife joins the eco-terrorist group AVALANCHE as a mercenary to fight against the corrupt Shinra corporation, who have been draining the planet's life energy, as well as the rogue former Shinra soldier, Sephiroth.
However, Cloud Strife's battle results in him getting involved in something far bigger.
The game is a full remake built from the bottom, featuring full polygonal graphics instead of the pre-rendered environments of the original.
The first chapter is set in the city of Midgar. In the original, players spent approximately eight hours in the city but the developers Square Enix have said the new Midgar is big enough to be its own game.
They believe that the first chapter will take up two Blu-Ray discs, a rarity within modern films or games.
While the game will be released in parts, director Tetsuya Nomura explained that the second part is already in development.
Square Enix previously said that the first part only covers Midgar because "the whole story was going to be huge."
Producer Yoshinori Kitase said in June:
"We really are still fleshing out that process and fleshing out what we're going to do for the second game in the project, and what kind of story is going to be in that, so we really can't tell you."
Now Nomura has confirmed the development of part two, saying:
"Even in this Midgar portion alone, the density and volume are so great that I had to give directions to lighten them.
"We've already begun working on the next one as well, but I'm confident that playing through this title will expand your expectations just like the world that extends beyond Midgar."
Episodic Format
One of the most talked-about elements in the new Final Fantasy VII is the fact that the story will be split into episodes.
According to Yoshinori Kitase, "a proper HD remake" would not fit into one instalment and maintain the "same feeling of density of the original."
He said: "We've seen everyone's comments and reactions to the news that Final Fantasy VII Remake will be a multi-part series and many have speculated correctly as to the reason why we have made this decision.
"If we were to try to fit everything from the original into one remake instalment, we would have to cut various parts and create a condensed version of Final Fantasy VII.
"We knew none of you would have wanted that.
"I hope that by explaining a little more about our design decisions that you can appreciate the size of this project and what we have planned for this remake.
"Going beyond the scale and depth of the world, narrative and gameplay from the original to deliver something that feels familiar yet new.
"As I said before, we like delivering surprises."
It has been said that each episode will be its "own unique experience" but it has not been confirmed as to how many episodes will there be.
Gamers will also have to wait and see how the episodes will be structured in relation to the original plot.
It is likely that only the first part will be released on March 3, 2020. It is unknown how long it will take between episode releases, which lead many to believe that Final Fantasy VII will eventually release on PS5.
A Reimagining rather than a Remake
Even though the new Final Fantasy VII is considered a remake, featuring the same story as the original, it is more of a reimagining.
The game has been reconstructed for a new generation of gamers while still following the original story and featuring memorable characters and locations.
Considering the original RPG is so popular, some fans were sceptical that the new game may stray away from its roots.
The game has strong influences from the original but Tetsuya Nomura explained that the game is not a direct remake.
He told Wired:
"We're not intending for this to become a one-to-one remake, or just the original Final Fantasy VII with better graphics."
Nomura went on to say that he intends for the remake to "apply to the current era" and "the current generation of players."
He clarified that he did not "want to change it so much that it's unrecognisable" but stated that it has to provide something "fresh and new" to players of the RPG title.
Gameplay
As it is a rebooted game, the gameplay has been altered to suit the modern game but it does take inspiration from other Final Fantasy games.
Similar to 2016's Final Fantasy XV, exploration and battle mechanics both take place in real-time.
Players can also switch between party members at any time. Each member has their own unique skills.
Throughout the game, players can use magic and summons as well as a Limit Break gauge, which allows characters to perform powerful attacks once charged.
Yoshinori Kitase revealed that while the game has more real-time elements, strategic elements will still be prominent. This includes weapon selection and magic for each character.
Although there is a lot of new gameplay features, a turn-based gameplay mode will be included for fans of the original game looking to have a nostalgic moment.
The news was confirmed by Kitase on Twitter. The Active Time Battle system allows players to enjoy the game similar to how it was on the original PlayStation.
It fills up at a slow rate but attacks will make progress faster. Once it is filled, players will be able to stop the action and use special abilities like magic, items and special moves.
Gamers can also assign these special abilities to shortcut buttons, allowing them to play in real-time without the need to pause.
This means that the classic mode will ensure that much more of what made the original so iconic will be present in the new game.
Watch the E3 2019 Trailer for Final Fantasy VII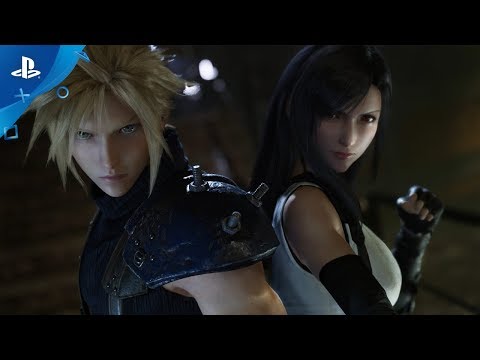 Even though it is unclear when the release of each part will be but the first part of Final Fantasy VII Remake will arrive on March 3, 2020, and it is clear that fans of the series are looking forward to it.
Not only will it attract players of the original 1997 game but it will also appeal to a whole new set of fans.
The developers have confirmed that it will be a huge game so we can only wait and see if it lives up to the original title.