It has a system akin to Gears of War's active reload system to speed up the cool-down of weapons.
EA's Star Wars: Battlefront is likely to be the multiplayer event of the year.
It is eagerly anticipated by gamers and Star Wars fans alike.
As a multiplayer only title, it's important to understand what you are getting when you purchase the game.
DESIblitz takes a look at the game's various modes and how it plays.
How Does It Play?
Star Wars: Battlefront will be playable in first person and third person modes. Players will take on the role of either a rebel or imperial soldier.
There are no predetermined classes in the game. In its place is a Star Card system, where players unlock and purchase new cards to build a load-out, or 'hand', that they can bring into battle.
This is comprised of equipment, special weapons and other abilities. Some Star Cards are one-time purchases, while others have finite uses.
While in game, players can also supplement their hand with power-ups that are dotted across the landscape. These contain short term powerful weapons or abilities.
Unlike previous entries in the series, Battlefront has a regenerative health bar. It also has a stamina bar, which is used for sprinting, jumping and using hero powers.
Weapons overheat if you use them for too long. It has a system akin to Gears of War's active reload system to speed up the cool-down of weapons for dexterous players.
Players can choose another player to 'partner up' with. This allows them to create an on-the-fly re-spawn point, and to share their 'hand' with their partner.
No Single-Player Campaign
In place of single-player campaign mode are missions, which can be completed alone, in couch co-op or online co-op.
Missions consist of several modes. Training mode gives players the opportunity to learn the various mechanics of the ground and air multiplayer modes.
Battles mode is a small scale version of the game's multiplayer component, pitting the player against a friend or an AI opponent.
Hero Battles allow the player to tackle challenges as one of the series' iconic main cast.
Luke Skywalker, Darth Vader, Boba Fett, Han Solo and Princess Leia have all been confirmed as playable characters. Footage is leaked recently of a playable emperor Palpatine.
Multiplayer Mayhem
The main focus will be its expansive multiplayer component, consisting of multiple game modes and several ways to play.
Fighter Squadron is the game's aerial dogfight mode. Players will jump into Star Wars vehicles, such as the X-Wing, TIE fighter and even the Millennium Falcon.
The fighter squadron will take to the skies in skirmishes across planet surfaces, where other players will be fighting on the ground.
Supremacy has players fighting over five contested control points across the map. Up to 40 players will be able to take part in supremacy battles at a time.
Cargo is a standard capture the flag mode in which players must infiltrate the enemy's stronghold and return captured cargo back to their base.
Droid Run has teams of six race to capture and defend three droids.
Walker Assault is an asynchronous multiplayer battle that has imperials attack a rebel stronghold, using the powerful AT-AT. Either the walker goes down, or the stronghold does.
Blast is the game's version of team death match, a standard 10v10 multiplayer fare.
Drop Zone, similar to Droid Run, is a take on the classic King of the Hill multiplayer mode. Teams of eight compete over control of a series of drop pods that appear at random intervals during the battle.
Heroes and Villains has teams tasked with protecting their MVP, one player at the helm of the franchises most iconic characters.
The longer a hero or villain stays alive, the more points the team gets.
Hero Hunt takes the team based battles of Heroes and Villains, and mixes it up.
One player takes the role of hero or villain, the other seven are charged with taking them down.
Downloadable Content
As with Dice's other series Battlefield, we can expect a long period of post launch support as well as paid DLC.
Battlefront has a DLC season pass available for £39.99. The exact content that will be available to pass holders is unknown.
EA have, however, promised four expansion packs for the game.
Given Dice's past history with DLC, it is likely that the season pass will offer a large amount of extra content to players, such as that from the prequel trilogy and new film.
But gamers are strongly advised, as with any game purchase, not to buy the season pass until more information about what it contains is made available.
Check out the gameplay trailer: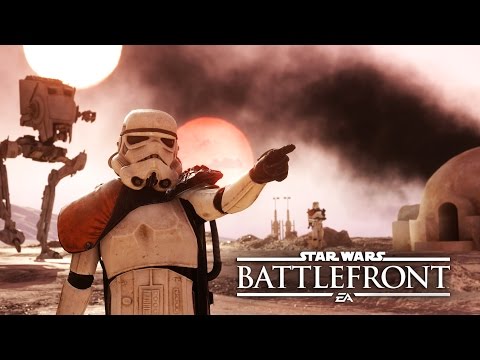 With The Force Awakens releasing shortly after the game hit the shelves, it is a wonderful time to be a Star Wars fan.
Star Wars: Battlefront will be out on November 17, 2015 for PS4, Xbox One and PC.