"it is very important to be versatile"
Taapsee Pannu has been announced as the new face of SUGAR Cosmetics' #BoldAndFree campaign.
The Indian brand is empowering women to be bold and carefree in their own skin and look beyond the conventional beauty standards they face.
The Bollywood actress posted a promotional video on her Instagram and added a lengthy caption explaining how excited she was to join the campaign.
She wrote:
"3, 2, 1… SUGAR! Super thrilled to announce this amazing collaboration with SUGAR Cosmetics.
"Thrilled to announce collaboration with a brand that resonates with being bold, living life freely, championing individuality, unapologetic self-expression and shattering beauty stereotypes.
"In a nutshell, thrilled to be a part of SUGAR Cosmetics.
"I had a smooth strut on this shoot, hope you match our steps too.
"Ready to share this fun and fabulous journey with you all. Join me as we set out to rule the world, one look at a time!"
Watch the SUGAR Cosmetics Advert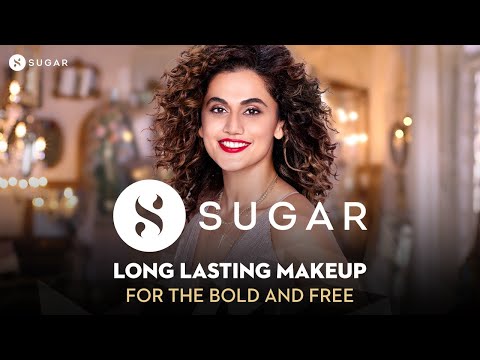 The advert is also expected to be broadcast in eight different languages including Marathi, Malayalam and Telugu.
Founded in 2015 and based in Mumbai, SUGAR Cosmetics currently has over 550 makeup and skincare products available in over 100,000 stores across 130 cities.
Known for its signature low-poly packaging, it is a favourite among millennials.
It is also one of the fastest-growing premium beauty brands in India.
In a statement, Taapsee Pannu added: "I love how SUGAR is a bold, aspirational yet accessible brand that caters to vivacious, independent women, creating a varied range of face, eyes, lips and skin products to suit all skin colours and types.
"Working in Bollywood, it is very important to be versatile to be able to take on any character with ease and SUGAR Cosmetics is that versatile hero in the beauty industry!
"Just as I take on various characters in my movies, SUGAR's products are designed to take on and suit every Indian skin tone making the wearer look beautiful and confident in her own skin.
"My absolute favourite are the SUGAR lipsticks – love how every colour suits and vibes with the real me.
"So, if you're looking for long-lasting beauty products to keep up with the unstoppable you and your on-the-go lifestyle, just try SUGAR Cosmetics!"
Co-founder and CEO Vineeta Singh said:
"It gives me immense pleasure to welcome Taapsee to the family!
"Today, SUGAR is the makeup choice for all bold, independent women who refuse to be stereotyped into roles.
"At SUGAR, we believe in chasing dreams and being unstoppable.
"We love making beauty fun and constantly aim at creating clutter-breaking personas."
"When we look at Taapsee, we see someone who is self-made – with the same bold, cheerful and fearless attitude that SUGAR resonates with.
"We're super excited to have her on board for our #BoldAndFree Campaign, and can't wait to create magic, one look at a time!"
It comes after the actress announced the release of her new short film, Vulnerable: Scars That You Don't See, which also includes challenging societal views of beauty.