"it's the one trophy both of us don't have in our cabinet."
Essex Eagles won their first T20 Blast cricket title, with the help of a wonderful all-round performance by Ravi Bopara.
Essex beat Worcestershire Rapids by four wickets in a thrilling final that took place at Birmingham's Edgbaston Cricket Stadium on September 21, 2019.
Eagles captain Simon Harmer from South Africa was inspirational in leading his side to their maiden T2o Blast win.
Throghout the day there was an incredible atmosphere in the ground. This was great for the players as Finals Day is what they all set their stall ahead of the English cricket season.
Umpires officiating the match included Rob Bailey, Alex Wharf, David Millns, and Martin Saggers. It was a gloriously sunny Saturday, perfect for cricket. The stadium had a capacity crowd of 24,450.
We take a closer look at all the action on Finals Day, covering both semi-finals and the grand finale.
Moeen Ali and Wayne Parnell Stay Calm
The first semi-final was between Worcestershire Rapids and Notts Outlaws, starting at 11:am.
Outlaws captain Daniel Christian (Australia) won the toss on a pitch that was a bit on the slower side. Notts got their first breakthrough in the second over.
Opener Hamish Rutherford (5) from New Zealand found Alex Hales off right-arm spinner Matthew Carter.
Rapids skipper Moeen Ali was certainly in the mood, smashing three sixes in the second and fourth over. But his stay at the crease did not last long. Trying to slog against the line, Ali was bowled out for twenty-one off Carter
The ploy of sending South African all-rounder Wayne Parnell (15) did not work out for Worcestershire. He hit high in the covers, finding Christian off medium-pacer Steven Mullaney.
Whilst wickets were tumbling, Riki Wessels was steadying the ship at the other end.
Wicketkeeper-batsman Ben Cox (1) also had a short stay at the crease. He got a thin edge to wicketkeeper Thomas Moores as Christian got his second wicket in the eleventh over.
Two overs later, Wessels attempting to slog-sweep had his stumps cartwheeling back off Mullaney for thirty-four.
And in the thirteenth over, coming down the ground to Carter, Brett D'Oliveira (7) recklessly took a big swing, which saw the ball hit his leg stump.
Carter taking three wickets was brilliant and consistent throughout his spell. He took two key wickets in the powerplay.
To make matters worse, Ed Barnard (4) needlessly got himself run out in the fifteenth over, courtesy of a direct hit by Joe Clarke. Barnard was miles short from the crease.
Outlaws were stamping their authority at this point.
Rapids had lost five wickets in very quick time. Desperately in need for some stability, all-rounder Ross Whiteley came into the action.
Whitely mercilessly hit two 6s and one 4 in the seventeenth over. Targeting 150, Whitely was out for thirty-six, with Luke Wood taking an easy catch at mid-wicket off a good length delivery from fast-medium bowler Harry Gurney.
The eight-wicket partnership of fourty-three runs between Whiteley and Daryl Mitchell was the highest on Finals day.
Two balls later, after spanking the ball for a six, Mitchell (13) was unable to get hold off a slower ball by Gurney. As a result, he hit the ball direct to Christian at extra cover.
Rapids finished on 147-9, off their twenty overs. That was a good score, considering they were 97-7 in the 15th over.
However, they were short of a par score on a pitch that was lacking in pace.
Notts got to a flyer reaching their fifty in the sixth over. But one-run later, opening batsman Christopher Nash (24) hit a slog sleep straight at the throat of Mitchell standing at square leg off Barnard.
Meanwhile at the other end discarded England batsman Alex Hales reached his half-century in the thirteenth over. With the Outlaws in a commanding position, Hales got an inside edge off Ali for fifty-one.
Despite the wicket, heads were dropping from the Rapids side, with Notts on course to reach the target. But Rapids go to death bowler Pat Brown made three strikes in the nineteenth over, which became a big turning point.
Chipping the ball off a slower delivery, Ali took an easy catch to remove Christian (15). Taking a huge swipe, Moores (1) was out next, as Wessels took a standard catch at long-on.
Chaos set in further when a mix up between Ben Duckett (49*) and Mullaney (0) got the latter run out as the panic button came on. Requiring seven runs off the last ball, Duckett and Samit Patel fell one run short.
This was a thriller of the highest order. Spectators witnessed extraordinary scenes as the Outlaws bottled it big time. Above all, it was a superb final over by Parnell under pressure.
Cameron Delport and Aron Nijjar Perform
Following a brief break, the second semi-final would see Derbyshire Falcons facing Essex Eagles.
Essex skipper Simon Harmer made the decision to bat first after winning the toss. It was the correct choice, especially as their fifty came up in the sixth over, with the loss of no wicket.
South African Cameron Delport was out after making an excellent 55 off twenty-eight balls, hitting nine 4s. Picking out long-on, Luis Reece took a customary catch off Alex Hughes.
Shortly later, Eagles lost their second wicket when one down batsman Daniel Lawrence (3) got a top edge to Matt Critchley at short-third man off Hughes.
In the 12th over, danger man Ryan Ten Doeschate (1) was adjudged lbw off left-arm swing bowler Reece. Essex were beginning to wobble at this stage.
Thomas Westley (39) was also unable to convert his good start to a big score. He hit a lofty shot towards the leg side, where Leus du Plooy took a comfortable deep catch off Reece.
Eagles were now struggling to capitalise in the middle overs, losing their early impetus. Leading wicket-taker of the competition, Rampaul then got rid of Ravi Bopara (27).
The former England batsman was trying to flick the ball only to find Reece at short-third man.
Essex had to settle for 160-5 after twenty overs. At the half-way mark, Derbyshire were content with restricting Eagles to that score.
In pursuit of 161, Falcons lost their first wicket on nineteen. Essex wicketkeeper Adam Wheater took a blinder behind the stumps off Aaron Beard to dismiss Reece for nineteen.
Harmer then got a peach of a delivery to drift and kiss the top of middle and off. This unplayable delivery saw the end of opener Billy Godelamn (9) in the fourth over.
Two overs later, exposing his stumps, Wayne Madsen was bowled behind his legs off young left-arm spinner Aron Nijjar (17).
Derbyshire were in a spot of bother at 48-3. Another absolute beauty from Harmer sharply turning from leg to off saw the departure of du Plooy, bowled for nine.
Anuj Dal (0) who then in a rush of blood came down the wicket was also bowled out by Harmer on his next delivery. Although Harmer did not manage to get a hat-trick, Falcons were reeling on 66-5.
Taking inspiration from Harmer, Nijjar claimed his second, bowling out Critchley (5) in the eleventh over.
A luring Hughes (23), was then stumped by Wheater off Nijjar. Leg-break bowler Lawrence also got into the wickets column when a ball from hit the middle stump of Fynn Hudson-Prentice who was trying to heave across the line (1).
With defeat looming for Derbyshire, Eagles did not take their foot off the peddle. In the eighteenth over Daryn Smit (19) picked out Delport off Harmer.
It was all over in the penultimate over as Nijjar came running in to take a fantastic catch of Rampaul (6), from a slower delivery by Delport.
Derbyshire were all out for 126, handing Essex a thirty-four runs win. Harmer led from front, picking four wickets, conceding only nineteen runs. Nijjar was brilliant with the ball and fielded well.
Speaking ahead of the grand final, Ravi Bopara shared his views about the surface saying:
"It's a tough challenge for the batters."
"Everyone is saying it will be a completely different pitch this evening, but I don't know, it looks pretty dry."
Despite the surface, Essex were confident going into the final.
Resolute Ravi Bopara and Confident Simon Harmer
Essex Eagles vs Worcestershire Rapids were the two teams for the grand final. Going into the final, Worcestershire had a chance to become the first side to defend the T20 Blast title.
Essex opted to field, taking into account any dew that may occur later on.
Eagles made one change, bringing in fast-medium bowler Sam Cook in place of death bowler Jamie Porter. On the other hand, Rapids went with the same XI.
Daniel Lawrence bowled a turning Jaffer to send Hamish Rutherford (4) back to the pavillion in the first over. Essex had the perfect start in the final.
Skipper Moeen Ali came in to join Riki Wessels at the crease as the floodlights began kicking in. The modern skyline lights of Birmingham were visible from the higher terraces of the stadium.
The Worcestershire fifty came up in the sixth over, with a six straight down the ground from Wessels. Ali was the most fluent batsman of the two, smashing some wonderful shots.
But similar to the semi-final, Ali (32) was out just when he got going. Simon Harmer took a tumbling diving catch off his own bowling, with Ali getting a little inside edge.
The next ball, Ben Cox was given lbw for a golden duck to leave Rapids on the edge at 61-3.
Following a brief fourth-wicket partnership, Wayne Parnell (19) was sent packing from a quicker delivery by Harmer that rattled the stumps.
Wessels (31) who never really had the touch was next to go, run out by Paul Walter in a risky single. Slicing the ball, Daryl Mitchell (19) also had a soft dismissal, with Cameron Delport taking a simple catch off Lawrence.
Even the semi-final hero, Ross Whiteley (7) left the crease early scooping the ball to Harmer at cows corner off Delport.
Nine runs later and in the final over, Ed Barnard (5) gave a dolly to Thomas Westley at short-third man off Ravi Bopara. And finally, an unconvincing shot by Brett D'Oliveira (10) gave Lawrence an easy catch at deep mid-wicket off Ravi Bopara.
With the conclusion of the Worcestershire innings, Eagles were set a target of 146 from twenty overs.
During the interval, Rapids were clearly fifteen runs short. But scoreboard pressure was always going to be on the side batting second.
Rapids got the dangerous Delport (1) out cheaply, with Wessels taking a confident catch at deep-midwicket off a low full toss from Parnell.
Worcestershire were controlling most of the game and it got better when Mitchell bowled out Adam Wheater (15), following a reverse sweep attempt.
Essex brought up their fifty in the ninth over, the slowest of Finals Day. For the Eagles, it was about working out, which bowlers to target and when.
But Pat Brown made up a lot of ground to take a safe catch of Westley (36) from a top edge off a banging delivery by Parnell.
Ryan Ten Doeschate (1) then went down the track to Ali, with the England all-rounder having the last laugh. Mitchell took a routine catch at midwicket to see the end of Doeschate.
The pressure got the better of Lawrence as he was also out slapping down the ground to Wessels who took a difficult catch off Ali in the fifteenth over.
With Essex on 82-5, the game was tilting a just towards Worcestershire.
However, a sixth-wicket partnership between Bopara and Walter brought back the Eagles into the game. Walter(14) was eventually out when the ball met the timber from a knuckleball by Brown.
Requiring twelve runs from the last over, Harmer and Bopara held their nerves to take Eagles across the finishing line.
After conceding a four of the penultimate ball of the match, Parnell was resigned to defeat.
Ravi Bopara was the man of the moment, smashing some lusty blows during his twenty-two ball 36. After the match, a jubilant Ravi Bopara spoke to Isa Guha saying:
"This means everything, it's the one trophy both of us don't have in our cabinet.
"In that Parnell over, I said I don't care if we only get six, you have a go here, I'll get the next over, and try to finish it in the 19th" It didn't quite work out like that, but the cogs were whirring!"
But the player of Finals Day was Simon Harmer who led his troops very confidently as Essex Eagles registred their maiden T20 Blast triumph.
More importantly, Harmer was exceptional with the ball in both the semi-final and final. Not forgetting his 18 off seven balls, which guided his side to victory.
The competitive Harmer who was given the man of the match praised Bopara and summarised the win during the presentation:
"Ravi was instrumental for us after missing a few games, Dan Lawrence, Ryan Ten Doeschate… when one fails the other picks up the mess. The team culture gets us over the line."
"It felt like I was playing at Chelmsford with a lot of turn on offer, but credit to Worcester for almost going back to back.
"There wasn't as much dew as I was expecting, but we managed to get over the line."
At the post-match press conference, in reply to a question about the plan of banging the ball short, disappointed by the loss, Moeen Ali exclusively told DESIblitz:
I mean its quite small straight… To just make the opposition try and hit squarer. And I should think towards the end we did not do it as much. We should have done that a bit more.
"It's not rocket science, on that sort of wicket you have to ball a bit short."
Watch Essex defeat Worcestershire to clinch 2019 T20 Blast title: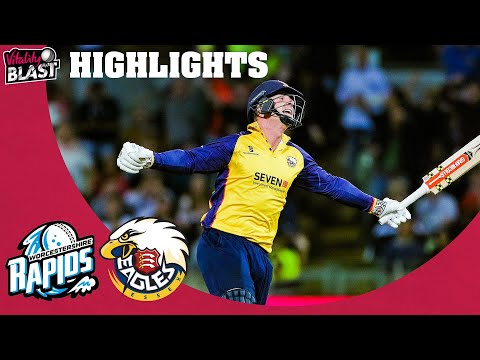 Ali who has had an indifferent season will be taking some time off, hopefully coming back strong for England.
DESIblitz congratulates Essex Eagles on their victory, along with wishing Ravi Bopara and Aron Nijjar further success.