"So it's finally hit me that this is happening"
It's been a while since we last saw Sonakshi Sinha on the big screen.
There have been all sorts of speculations and criticism surrounding her upcoming project, Noor, based on Pakistani author Saba Imtiaz' novel, Karachi, You're Killing Me.
The biggest one, however, is that it is going to be based in Mumbai despite being adapted from the book based in Karachi.
Some blamed it on the rising tensions between the two countries at the time. Others drew parallel on whether the film will be able to do justice to the author's work. And it seems Saba Imtiaz couldn't be happier about it.
The film's trailer released on 7th March 2017 and Saba Imtiaz is thrilled.
Sonakshi Sinha stars as the titular character – a Mumbai-based journalist who basically 'hates her life'. Her job and responsibilities seem to be the least of her priorities. And her daily struggles revolve around weight issues and a not-so-happening love life.
Impulsive, confused and yet adorably innocent, Sonakshi's character Noor resonates every girl in her twenties.
The trailer goes on to show how Noor suddenly decides to take charge of her life and seek redemption for the mistakes she has made.
From the looks of the trailer, Noor seems like a promising venture. The character instantly reminds one of Aisha Khan from Karachi, You're Killing Me.
Aisha is a single female reporter in Karachi and just as much a hater. Saba Imtiaz is, therefore, excited to see her book's character come to life and it doesn't surprise us.
Soon after Sonakshi posted the trailer for her upcoming film on Twitter, Saba Imtiaz took to social media to express her joy:
"So it's finally hit me that this is happening and I'll just be here unable to say anything coherent," she wrote.
She followed this with another tweet saying: "I love everything about this. EVERYTHING."
Watch the trailer for Noor here: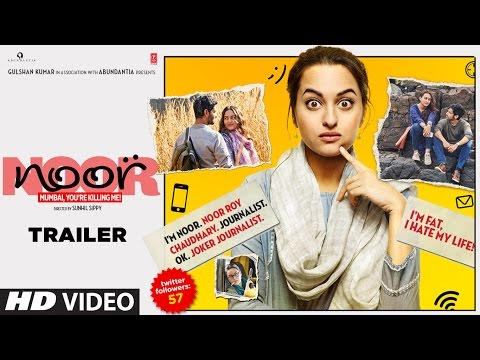 Naturally, fans of the book immediately bombarded her with questions on how similar is the film to the original book.
But Saba Imtiaz clarified that it's not an exact version. Isn't it just heartening to see how cinema is diminishing barriers between the two countries?
Let's wait and watch how relatable is Sonakshi's tagline 'Mumbai, You're Killing Me' to the fans of Karachi, You're Killing Me.
Directed by Sunhil Sippy, Noor is scheduled to release on 21st April 2017.