"Yoga teaches us to cure what need not be endured and endure what cannot be cured."
International Yoga Day 2018 is being celebrated today. The event is celebrated annually since it began in 2015, each year the event takes place on the 21st June.
The UN declared the international day, which is meant to signify peace and harmony internationally, in December 2014.
International Yoga Day 2018 is currently trending on Twitter as people from across the globe take part in the relaxing activity.
This includes the Prime Minister, Narendra Modi, and Ram Nath Kovind, the President of India, Bollywood stars and celebrities of India are no exception.
They use yoga for everything. From toning their enviable bodies through to helping them switch off after a long day at work.
For the event, the celebrities of India have taken to yoga, hoping to inspire people to give it a try and celebrate its many health benefits.
Celebrities of India Celebrate Yoga Day 2018
We have composed a list of Indian celebrities that enjoy yoga. Keep reading to find out why they love the calming practice and why they think you should give it a go too.
Rakhi Sawant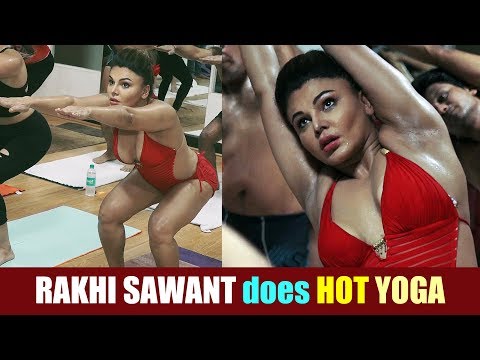 Dancer, model and actress Rakhi Sawant is a huge fan of yoga. In particular, the Indian star loves Hot Yoga, which is a popular yoga type both in India and all other parts of the world.
Otherwise known as Bikram Yoga, the higher temperature can allow for better circulation and more flexible muscles – perfect for a more intense workout.
Of course, as this type of yoga also increases sweating, it can also aid with weight loss. As Rakhi says:
"There are many uses. First of all, it's a great skin detox, and the sweating can get rid of toxins. Low BP, High BP, sugar-related illness, cholesterol… mainly weight loss."
Shilpa Shetty
Winner of Celebrity Big Brother 5, film actress Shilpa Shetty took to Instagram to share a video of her doing yoga. She shared the clip alongside a caption explaining the mental benefits of yoga. She wrote:
"Dear Instafam, Pranayama: Prana means life (no life without breath), Ayama means practice/control. So when you practice control over breath you WILL have control over your LIFE and MIND.
"It not only cleanses 72000 nadis/channels, your mind and blood ,but that cleansing process translates into energy.. SHAKTI.. This power helps you positively manifest your AURA, RELATIONSHIPS,SELF-AWARENESS and GOALS."
The post continued:
"This International Yoga day start with Pranayama.. Welcome the NEW you. Inhale the future, Exhale the past..Enjoy the present. A big thankyou to @narendramodi ji who leads and inspires by example. and @ra_rathore for keeping the momentum going so passionately #humfittohindiafit."
Malaika Arora Khan
Malaika Arora Khan took the day as an opportunity to promote Diva Yoga. The Happy New Year star posted a yoga video clip to Instagram. Alongside this, she said:
"Introducing Diva Yoga- a one of kind transformation program for a woman's overall well being. Are you ready to awaken the Diva in you?"
Suresh Raina
Professional India cricketer, Suresh Raina, showed off his own yoga moves on Twitter. The sport star encouraged his followers to also try it out. He wrote:
"Stretching, breathing and a good session of yoga that's how my #internationaldayofyoga2018 started! How about you?
"Fuel your body with some yoga and breathing! #YogaDay #internationalyogaday2018."
Milind Soman
My contribution to the 1,00,000 Suryanamaskaaras that the people at @BeCureFit are targetting today on #InternationalYogaDay 🙂 I feel stronger and more flexible with yoga and it's never too late to start!! #BeFitWithYoga pic.twitter.com/CFQ84gqad5

— Milind Usha Soman (@milindrunning) June 21, 2018
Soman was another celeb to take to social media to show off his yoga moves.
On Instagram, the supermodel, film actor and producer celebrated yoga and the way it made him feel stronger and more flexible. Soman said:
"I feel stronger and more flexible with yoga and it's never too late to start!! #BeFitWithYoga."
Nimrat Kaur
Actress Nimrat seen in the 2016 film Airlift, showed off the impressive array of yoga positions that she could achieve on Twitter. She added how important it was to keep your body safe, saying:
"On #InternationalYogaDay wishing for a healthy, aware lifestyle for all…as said , our body is the only place we shall ever have to live in. Keep it safe and beaming ! #WayOfLife #BornAgain @anshukayoga"
Kangana Ranaut
Indian film actress, Kangana Ranaut was most recently seen in Manikarnika: The Queen of Jhansi (2018). Ranaut uploaded a video of herself doing some yoga outside. With the video, she wrote:
"The very heart of Yoga practice is 'Abhyaasa'- Steady effort in the direction you want to go to. #Yoga is a journey of the self, through the self, to the self. #KanganaRanaut doing Abhyaasa of #dhanurasana this #InternationalYogaDay2018 #WorldYogaDay #YogaDay2018"
Devoleena Bhattacharjee
One of the highest paid actresses in the world of India TV, Bhattacharjee is well known for her role in the drama television series Saath Nibhaana Saathiya. 
Speaking about yoga, Bhattacharjee emphasised its ability to keep you fit, she said:
"The very heart of yoga practice is 'abyhasa' – steady effort in the direction you want to go. Yoga is must to stay fit."
For International Yoga Day 2018, the star posted a video of herself doing yoga, along with the caption:
"With fit body, we need fit soul too. I am requesting everyone to make yoga a daily habit. #InternationalYogaDay2018"
Pearl V Puri
In June 2018, we will see Puri play the lead role of Mahir Sehgal in the TV series Naagin 3.
The actor follows a very active lifestyle, so it's of no surprise that he is also an advocate of yoga. He said:
"Yoga means addition, addition of energy, strength and beauty to body, mind and soul. And I feel we all must trust it and enjoy it and stay fit."
Tejasswi Prakash
The 26-year-old actress currently stars in the mystery drama series Rishta Likhenge Hum Naya (2017) as the female protagonist, Diya.
Addressing yoga, Prakash thinks it's a great way to feel revived and keep fit. She said:
"A photographer gets people to pose for him. A yoga instructor gets people to pose for themselves and stay fit. Yoga brings a lot of fresh energy."
Heena Panchal
The Bollywood star is most famous for her songs 'Balam Bambai' and 'Bevda Bevda Zalo Mi Tight'.
The actress celebrated International Yoga Day 2018 with trying out a few yoga moves for herself.
Kunal Jaisingh
The Mumbai-based actor known for his roles in Ishqbaaaz (2016), Dil Boley Oberoi (2017), and Yeh Hai Aashiqui (2013), is another yoga enthusiast.
He adds that yoga is not a way of escaping life, but instead it strengthens us to help us deal with the realities of life. Kunal Jaisingh says:
"True meditation is about being fully present with everything that is including discomfort and challenges. It is not an escape from life. Yoga makes us fit and capable to fight with any challenges and help us to stay fit and young."
Helly Shah
In 2017, we saw the young actress play Devanshi in the television series Devanshi. She emphasises that age doesn't matter in the art of yoga. She says:
"Anyone who practices can obtain success in yoga but not one who is lazy. Constant practice alone is the secret of success. Yoga is must and I feel every age group people should do it."
Suyyash Rai
This television actor, singer and reality star (after appearing on Bigg Boss Season 9) delves deeper into the meaning behind practising yoga. Beyond keeping you fit, it can also help you explore life.
Suyyash Rai says:
"Yoga is not just repetition of few postures, it is more about the exploration and discovery of the subtle energies of life."
Shubhangi Atre
The current star of the comedy series Bhabi Ji Ghar Par Hai!, Shubhangi encouraged as many people as possible to get involved in yoga. She said:
"Yoga is the journey of the self, through the self, to the self. And I believe every individual should try this journey just to be in benefits and away from health issues."
On her Twitter account, today actress posted a picture of herself in a yoga pose and added that she would be taking the day for herself. The caption said:
"Yoga is a path that takes time and Dedication. It's a journey and some take longer and some take shorter time. Be willing to walk your own journey and be inspired by others at the same time. So, Taking the Day for myself today. #YogaDay."
Adnan Khan
The film and television actor is best-known for his lead role in the daily soap, Ishq Subhan Allah. Turning his attention to yoga, the actor spoke about more than just the physical benefits of the activity.
Adnan Khan said:
"Yoga teaches us to cure what need not be endured and endure what cannot be cured. It help us to remain healthy throughout the year."
Jyoti Singh
U.S-based actress Jyoti Singh found fame in the film Yadvi. The actress is a keen lover of yoga and practices for nearly two hours daily. Here are some of her posts that are sure to inspire you.
Mahika Sharma
Sharma is an actress and a model, and has appeared in many Bollywood movies as well as Indian TV serials. The star has practiced yoga since she was a child. She said:
"When you inhale, you are taking the strength from God. When you exhale, it represents the service you are giving to the world. Thats what my yoga teacher taught me during childhood. Enjoy yoga, stay fit."
Puru Chibber
Chibber is best known for his acting role in the crime drama Khotey Sikkey. When speaking about yoga he likens it to music. The actor said:
"Yoga is like music. The rhythm of the body, the melody of the mind and the harmony of the soul creates the symphony of life. Trust yoga to stay fit and healthy."
Responses from the Prime Minister and President of India
The Prime Minister of India, Narendra Modi, has taken to Twitter to display his positive attitude towards yoga. He said:
"In a world where non-communicable diseases, stress and lifestyle related ailments are rising, Yoga can play a central role in mitigating these diseases to create a healthy mind and body."
Modi also added an array of images of himself participating in the practice in Dehradun. Within these posts, the Prime Minister urged the younger generation in particular to adopt yoga in an attempt to make people healthier.
The yoga event that he attended in Dehradun was held at the Forest Research Institute. He led 50,000 volunteers through the programme.
The President of India, Ram Nath Kovind, also tweeted about the occasion emphasising the internationality of the event. He wrote:
"On #InternationalYogaDay greetings to all those practising yoga across the globe. Yoga is an ancient Indian tradition, but it doesn't belong to India alone. It is part of humanity's intangible heritage. I invite you to explore and celebrate yoga wherever you are #PresidentKovind"
On #InternationalYogaDay greetings to all those practising yoga across the globe. Yoga is an ancient Indian tradition, but it doesn't belong to India alone. It is part of humanity's intangible heritage. I invite you to explore and celebrate yoga wherever you are #PresidentKovind

— President of India (@rashtrapatibhvn) June 21, 2018
As demonstrated by our Indian celebrities and both the Prime Minister and the President of India, yoga can have plenty of benefits. These benefits range from health reasons through to gaining a deeper sense of self-discovery.
With so many people getting involved in International Yoga Day 2018, it seems likely that the number of people who will take up the activity on a more regular basis will also increase internationally.