"The purpose of yoga is to create strength, awareness and harmony in both the mind and body"
Yoga will always be an inviting practice for anyone who wants to stay healthy but isn't overly keen on physical exercise. The practice aims to be calming and strengthening rather than exhausting and overwhelming.
Instead of running on a treadmill for two hours, you can work on both your mental and physical health through yoga. Yoga focuses on slowing and controlling your breathing, so it's perfect for de-stressing and meditating, as well as providing you with many physical benefits.
Getting involved in yoga has never been easier. All you need is the right activewear and gear, then you can get started in your own home. DESIblitz explores what you should look for when buying the right yoga pants and the right equipment.
Why You Should Get Involved in Yoga
One of the best things about yoga is being able to control the level at which you practice it. You can start with easy positions and breathing techniques to ease yourself in, and then move at your own pace from there. So, there's no need to be a professional athlete to give this a try.
Dr. Nevins, DO, a board-certified osteopathic family physician and certified Kundalini Yoga instructor explains:
"Whether you're a couch potato or a professional athlete, size and fitness levels do not matter because there are modifications for every yoga pose and beginner classes in every style"
It's also a very adaptable sport. With the right instruction, you can practice these moves in the comfort of your own home and take it at your own pace.
But the benefits aren't purely physical, you can also improve your mentality and relieve stress through yoga. Dr Nevins continues:
"Regular yoga practice creates mental clarity and calmness; increases body awareness; relieves chronic stress patterns; relaxes the mind; centres attention; and sharpens concentration"
Buying a non-slip yoga matt is the easiest way to introduce yourself to yoga and doesn't cost a fortune. However, there are only so many positions that you can accomplish using a matt. If you want to explore the world of yoga more, you should check out yoga swings.
Buying a Yoga Swing
Deemed 'the ultimate yoga accessory', yoga swings/hammocks are exciting and interesting. Moving from a basic matt on to this apparatus may look challenging, but don't worry.
Although it may seem slightly complicated and scary at first, once you know how to use it, it can give you a great feeling of weightlessness and calmness.
Natalie Nevins explains:
"The purpose of yoga is to create strength, awareness and harmony in both the mind and body"
There are many physical benefits that can be gained from practising yoga. This includes improved respiration, increased flexibility, and even weight reduction.
Using the yoga swing lets you defy gravity and allows you to experience positions that may otherwise be difficult to accomplish on the ground.
The swing is fun and safe (once set up correctly) and you can accomplish many different moves. It also provides you with new possibilities to reach positions that can alleviate body aches and stress.
Dr Nevins adds:
"Stress can reveal itself in many ways, including back or neck pain, sleeping problems, headaches, drug abuse, and an inability to concentrate"
However, you must ensure that wherever you decide to set up your yoga swing, that the beam it is attached to can fully support you. You must ensure that the swing is both stable and strong enough to hold your body weight.
In addition, yoga swings themselves can vary as to how much weight they can hold so always check any weight limitations. In general, they can hold 250-300lbs but some swings can take more weight.
Popular structures that are used to support the swing include a strong tree limb, ceiling hooks, cross beams, or suspension racks that are sold separately.
The DHgate online store specialises in and stocks a rainbow of yoga swings. They have 18 different colours so you're sure to find one in your favourite colour. Yoga swing products start at $32.51 for one swing.
Check out DHgate to find the right swing for you!
Using a Yoga Swing
Using your yoga swing can be tricky without instructions so make sure you take it slow or have an instructor there with you to keep you safe and avoid injury.
To do a basic inversion, sit in the centre of your yoga swing and allow the edges of it to press into your glutes. Hold the sides of the swing and gradually bend backwards. Then, bend your knees and wrap your lower legs around the hanging straps of the swing.
Keep your head and neck relaxed pointing towards the floor. If you're a beginner, you should stay inverted for no longer than a minute. You can work your way up to five or 10 minutes after a lot of practice over either weeks or months.
Come off of the swing by releasing your legs from the straps and slowly lifting your body out of the bent backward position. Come to a simple seated position with your head on the floor to reduce dizziness.
Take a look at some more yoga swing positions and the video below to see how you can get the most out of using your yoga swing!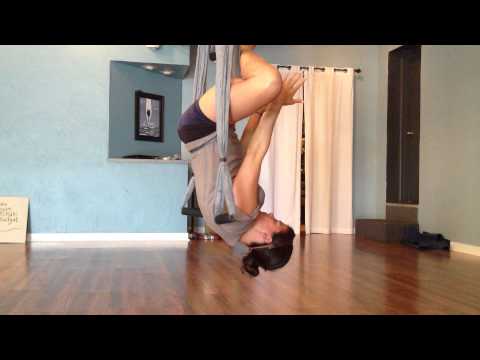 Wearing the Right Yoga Pants
Now you've sorted the equipment and got the swing, you'll need the right pants for the activity. Finding the right activewear is so important both for your health and your style.
To be able to perform as many of the yoga moves as accurately as you can, you'll need clothing that is breathable, flexible, and most of all, very comfortable.
If you're really interested in yoga, you'll need yoga pants that combine great style with everyday functionality. Why not feel good and look good at the same time?
Dr Nevins reiterates yoga's ability to have a positive effect on our mental states:
"Yoga can be very effective in developing coping skills and reaching a more positive outlook on life."
DHgate offers a selection of stylish and sexy yoga pants in a range of sizes and styles that will flatter your figure, whilst also giving you the practical freedom to move as you want.
Some of their designs mimic the natural curves of your body which accommodates comfort as well as style. Using contrasting shades to add an extra level of style, their yoga pants are something that are ideal for a good workout and to look stylish too!
The fabric is specifically designed to feel soft, whilst the fabric elasticity moulds to your unique body shape. This gives you ultimate comfort and support, but also provides you with all the freedom to move.
Some yoga pants may be too tight and restrictive, but DHgate's yoga pants are described as 'as comfortable as a second skin' – so you'll feel comfortable no matter which yoga position you try!
DHgate has an array of yoga pants and leggings perfect for yoga and your budget.
So, what are you waiting for? The best way to practice yoga is to kit yourself out with the right gear. Always make sure the equipment you're using is safe, suitable and stylish.
Getting involved in a practice that combats both physical and mental ailments is highly beneficial for your overall well-being. It's important to look after your mind as much as your body.
Now you know what to look for when you're buying your next yoga swing or yoga pants, you can get out there and feel good!