On the stand, stood a Porsche 911 GT3, both the road and racing version
The biggest car show in Europe, Autosport International, returned for 2018 to enliven 95,000 spectators with just the right amount of thrills and perfect racing stars.
Taking place between 11th and 14th January, avid motoring fans, traders and spectators filled the Birmingham NEC for four days of non-stop racing mania.
With endless stands taking up the NEC's exhibition hall, there were F1 cars, World Rally cars and many other performance racing cars and road cars on show, including Mercedes, Ferrari, and Porsche.
Autosport International also welcomed some of the big stars in the world of motor sporting to join enthusiasts and talk about their love for racing.
They included former Indian F1 driver and Le Mans driver Karun Chandhok, the youngest British Formula 3 champion Enaam Ahmed and F1 legend Nigel Mansell. Also present was the youngest and first female GT Championship winner, Jamie Chadwick.
DESIblitz was there to capture all the action.
BTCC Launch
Day 1 of the show saw the launch of the 2018 FIA World Rally Championship (WRC) with four cars. These are the M-Sport Ford Fiesta, Hyundai i20 Coupe, Toyota Gazoo Racing Yaris, and the Citroën Racing C3.
Reigning WRC Champion Sébastien Ogier, said: "It was fantastic to launch the new WRC series at Autosport International in front of so many true motorsport enthusiasts. Myself and the rest of the M-Sport team are really looking forward to Rallye Monte-Carlo later this month."
Part of the launch also included the Ginetta LMP1 Challenger, a race car going up to 650bhp. The LMP1 is also due to take part in 2018's Le Mans 24 hours race.
Autosport International also introduced a collaboration between the Invictus games co-founder James Holder and the Games Foundation.
They came together to create a league of injured and retired British Armed Forces to compete in the 2018 Ginetta Championship with Jaguar cars designed specifically for them.
Nigel Mansell and Main Feature
1992 F1 Champion and 1993 CART Champion Nigel Mansell headlined the sporting event over the weekend.
The racing legend was joined by a host of stars. Including 5 time Le Mans winner Derek Warwick, and British Touring Car Championship (BTCC) winners: Ashley Sutton, Matt Neal, Gordon Shedden, Colin Turkington, and Andrew Jordan.
Interestingly, Mansell was the last driver to be signed by Enzo Ferrari in 1990. And he spoke elatedly at Autosport International about his history with the team. He said:
"The generosity of the Ferrari team was fantastic. They wanted me to help with the Testarossa road car. I drove it on the circuit and told the engineers to soften the front suspension. Two weeks later a brand new Testarossa arrived on my drive."
The 64-year-old champion gave the crowds insight into his racing career, his fond memories of racing, and also about his Indycar experiences.
A Ferrari exhibit was also featured at Autosport International with the 2017 F1 car on display. As well as the SF70H, Championship winning F2004, 2017 LM GTE Pro World Endurance Championship-winning AF Corse 488 GTE, amongst others.
Former F1 driver Karun Chandhok spoke about his role with Williams Heritage. The Indian driver told the audience of the scheme which sees old racing cars being sold off. He said:
"Williams Heritage rebuilds, restores and then sells some of its older racing cars to collectors from around the world. And I'm lucky enough to get to demonstrate them – and coach the new owners."
Susie Wolff, the former Williams Martini Racing F1 Team driver, spoke to Dare to be Different about the positive effects of the organisation inspiring women in motorsports.
The Dare to be Different organisation also included an interview on stage with Autosport's Matt Beer about the ways in which to get into motorsport journalism.
The Autosport International Show was not just for racings fans, but for car enthusiasts as well. And there was plenty to see and do for everyone.
With car accessories and car parts taking up some stalls, there was also a chance to get the F1 experience with go-karting available for adults and teens.
Fans of motor racing could also find their team or driver's merchandise at some stalls, with signed paintings also being sold. One stall even offered specific parts to an F1 car or gloves of a racing driver.
Live Action Performances
Perhaps one of the highlights of the Autosport International show was the Live Action Show that took place every hour until 4 pm.
Hosted by David 'Crofty' Croft and popular Autosport vlogger Shmee150, the Live Action Show included performances from 2000 NASCAR Winston Cup Series Champion Bobby Labonte, drifting from 14-year-old professional drifter Conor Shanahan, and the Ginetta Racing Drivers Club.
Billy Monger was also on stage, and for the first time since becoming a double amputee after his crash in 2017, the 18-year-old will come back to professional racing in 2018.
The youngster defeated all odds by returning to racing by competing in Formula 3. Monger received gracious applaud from the crowd for his bravery and quipped he would be open to F1 if Lewis Hamilton decided to leave.
The Performance Car Show proved to be a huge hit with the public, with Motor1.com's stand featuring top road and race cars of 3,000bhp.
On the stand, stood a Porsche 911 GT3, both the road and racing version. In addition, fans also caught a glimpse of the Jaguar XE SV Project 8. It is currently the fastest saloon to ever make a lap around Nürburgring.
The four days at Autosport International 2018 flew by. Interestingly, while British Asians are arguably enthusiastic when it comes to driving swanky cars, there were not many Asians in sight at the event.
Could it be that motorsport events hold little interest to British Asians, or perhaps they don't know about them?
DESIblitz took the time to ask a few British Asians what they thought the reason behind the lack of diversity at the Autosport International Show.
The general view was that British Asians are not so interested as to pay for an event like Autosport. Especially because they were unaware of the event itself. Many of those interviewed had little or no idea of racing and what else was going on at the event. This leaves the impression that more social visibility is required to reach British Asian audiences.
And while so-called 'boy racers' may be out on the streets revving their engines, when it comes to attending high profile motoring events like Autosport, they are not in the loop to know.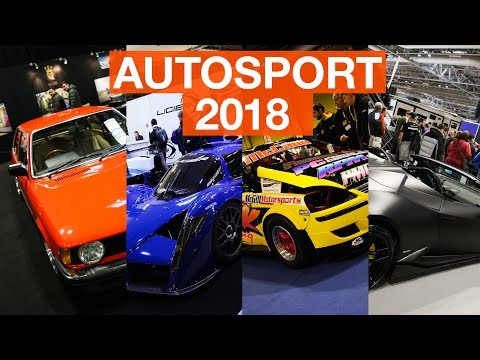 That said, the popularity of Autosport International continues to grow. With more and more car enthusiasts attending the event each year.
Autosport International 2018 was undoubtedly a huge hit. It returns to Birmingham in 2019, with even more exciting performances and racing stars to own the 4-day event.
See more images from Autosport International 2018 in the gallery below.