"I started by accident. I didn't know anything about racing… It was just me and my dad at the back of a trailer"
As the youngest ever driver to win the BRDC British F3 Championship, Enaam Ahmed has already paved his way to a successful career in racing.
The 17-year-old from London won the prestigious title back in 2017. And with his growing fame, this racing star has even higher hopes for 2018.
The young Brit-Asian recently made an appearance at Birmingham's Autosport International Show 2018.
There, he spoke with DESIblitz about his outstanding racing career so far and his hopes and dreams for the future.
2017 BRDC British Formula 3 Champion
2017 has proven to be an incredible year for the young racing star. Expressing his joy at winning and on becoming the youngest champion to date, Ahmed tells us:
"To be the youngest person to win the British F3 is pretty amazing. It was a really good season last year. I was with the best team."
Debuting in 2015 with MSA Formula for Arden, he finished 8th at the end of the year, winning one race and the rookie cup.
Despite having a natural ability when it comes to driving, Ahmed does not actually hail from a racing background. In fact, he explains that it was just an accident that he began to enjoy it:
"I just started by accident. I didn't know anything about racing… It was just me and my dad at the back of a trailer," Enaam tells us.
The young driver may have fallen into racing by chance, but he transformed his hobby into his career. And today, he is as serious as anyone when it comes to winning:
"With racing, I just like driving a car on the edge. It's the only thing that gets me excited in life, it's the only thing that gets my adrenaline going."
"I was never really a sporty person when I was young. So it's the only thing that gets me to train because I like what I do."
Ahmed also made an appearance in the SMP F4 Championships, where he took home 5 wins and 2 poles.
In 2016, he drove for Douglas Motorsport in British F3 Championship and came a respective 5th overall.
It was the next year that Ahmed owned the championship, but he began the year driving in the Toyota Racing Series with Giles Motorsport, before switching to Carlin for the second F3 season.
During his winning campaign in 2017, Ahmed quickly surpassed the number of wins by any driver in the previous year. By the end of his season, he had even beaten legend Ayrton Senna's record in 1983 by one race.
Ahmed became the 2017 BRDC British F3 Champion officially at Snetterton and even went on to win the last race at Donington Park, taking his total to 13 wins in the season.
Now, in 2018, Ahmed will be racing in the FIA Formula 3 European Championship with Hitech GP.
Making a Career out of Motorsport Racing
For most British Asians, motorsport racing is not the first career that comes to mind. In fact, sporting careers, in general, have a tendency to be discouraged in Desi communities. Particularly as more traditional professions are preferred.
However, as Ahmed tells us, he has received incredible support from his family and his parents throughout his racing career.
Undeniably, his Pakistani origin is also a rare thing in the motorsport racing world, and if Ahmed were to ever join F1, he would be the first driver from a Pakistani background to do so.
Although his parents did not know much about motorsport racing, they believed in their son enough to help him get to where he is today. Family encouragement means a lot to the young racer and he says:
"My mum never wanted me to do racing, she was always scared of it. My dad was ok with it. They've been supporting me the whole way, both my mum and my dad. My mum now comes to races more, because she's less scared of it."
Motorsport also requires a lot of money, and this can hinder other British Asians from even considering it for their children. In previous interviews, Ahmed has revealed how his parents had to make a number of sacrifices to fund his F3 seasons.
Despite this, however, Ahmed's success in the field proves that hard work and determination really does pay off in the end.
What's more, ever since Ahmed's rising prominence in motorsport, there have been a number of perks along the way. The racer adds: "My parents are British Asian. I'm British Asian as well. I went to the Pakistani Embassy in London, that was really cool."
While the young star admits that he has gained a good following across the UK, he is also raising awareness within Brit-Asian communities.
In fact, Ahmed has also been nominated for the 'Inspirational Performance of the Year' award at the British Ethnic Diversity Sports Awards 2018.
As a proud British Asian, I'm delighted to be nominated for the @BEDSAofficial Inspirational Performance of the Year award! Appreciate your support people ?? ?? https://t.co/baVQOZUvkV pic.twitter.com/FemB1mfGD7

— Enaam Ahmed (@Enaammotorsport) February 22, 2018
Such recognition proves that more acceptability in the sporting profession is possible for Brit-Asians if only they have the drive and ambition to do the best they can.
With motorsport being an expensive hobby, spending so much money on the sport definitely requires a lot of passion, willpower, faith, and talent.
Enaam Ahmed has all these things and may inspire young British Asian hopefuls to take more interest and root for a career in motorsport racing. He tells us: "Hopefully it will inspire most of them to do any kind of sport really.
"Motorsport is quite a hard one to get into, and to do it well, just like any sport is. I think a lot more [young British Asians] are going into motorsport nowadays."
As a young driver himself, Enaam admits that Lewis Hamilton is one of his role models:
"He's probably the coolest guy, and one of the best drivers out there at the moment. He's also one of the guys who is setting the benchmark for everything at the moment."
Enaam is also keen to push young drivers like himself to the forefront: "To show how good young drivers can be if they're given the chance."
Watch our full interview with Enaam Ahmed here: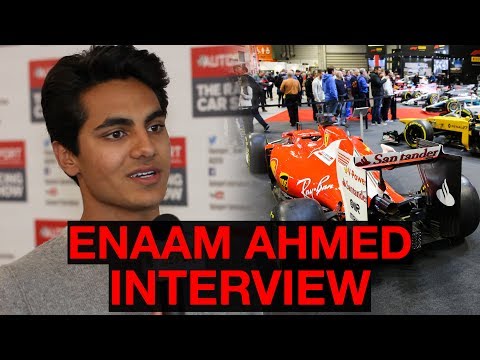 At present, however, Ahmed is keeping his eyes and focus firmly on the 2018 European F3 season. As the current season approaches, the young champion is hoping to gain more titles this year.
And above all else, Enaam is keen to have as much fun along the way, wherever his racing journey may take him: "I just like driving racing cars really, it's as simple as that."
For the future of motor racing, Enaam Ahmed looks set to become a prominent figure. A Brit-Asian racer with passion, talent, and certainly one to watch out for!
The 2018 European F3 season starts on the 12th of May, in France.