"Racing in F1 is obviously a dream come true, especially coming from India"
Racing driver Karun Chandhok is the first Indian man to ever compete in the Le Mans 24 hours. And one of two only Indian racers to ever compete in F1.
This is no easy feat, as Chandhok remains to be an influential figure in the motor sporting world.
He is also the 2001 Formula Asia Champion, an Indian National Champion, has raced in Formula E, F3, Formula Renault Series, GP2 (F2), and finally F1, and Le Mans.
In an interview with DESIblitz, Karun Chandhok tells us all about his racing career and highlights, and what he thinks needs to change in order for more Indian drivers like him to join motorsport racing.
Journey into Racing
Chandhok's racing debut was in 2000, where he became the Indian National Champion. The following year he won the Formula Asia Championship.
This led him to become a constant frontrunner in F3, after which he fell in love with England and moved abroad from India to live there.
After taking part in the Asian Renault V6 Series in 2006, he propelled to fame in GP2 before getting the chance to become a test driver for Red Bull F1 in 2007 and 2008.
He finally landed the dream spot as an F1 driver for Team Lotus in 2010 and 2011. Something Chandhok remembers fondly.
F1, Formula E and Le Mans
After starting racing in F1 for the 2010 season for Team Hispania and Team Lotus the following year, Karun tells us:
"Racing in F1 is obviously a dream come true, especially coming from a country like India, you feel like it's quite a distant dream sometimes.
"[Especially] in our country, where the sport didn't have a huge history in sending drivers internationally."
This may be why he is one of the only two Indian drivers to ever compete in F1 to date, although, he hopes that this will change, and more young hopefuls will be given a chance.
F1 isn't the only incredible feat this man achieved. Chandhok is the only Indian racer to ever race in the prestigious Le Mans 24 Hours endurance race. He has taken part in this event six times.
Speaking of his career highlights, he brims with pleasure and says:
"Being the first Indian to race in Le Mans in 2012, and so far I'm still the only Indian to race in Le Mans, which is a magical event. It's still something I'm very proud of."
From 2012 to 2017, Chandhok enjoyed top 10 finishes with teams JRM, Murphy, and Tockwith Motorsports LMP2 Class Ligier Gibson P217.
As if all this wasn't enough for the star driver, he also raced with Mahindra Racing for Formula E from 2014 to 2015.
Motorsport in India
Born to a Punjabi father and Tamil Brahmin mother, 35-year-old Karun Chandhok was raised in Chennai.
His grandfather Indu Chandhok founded the Federation of Motorsports Club in India in the 1950s.
Racing seems to be very much a family tradition. Even Karun's father, Vicky Chandhok, was the former president of the Motorsports Club in India and also raced in the 1970s.
Speaking of his racing family background, he says:
"My dad and granddad used to race in the early '60s, but in terms of international drivers, there were very few."
One of the problems is that young people in India do not go into the sport due to the difficulty in getting anywhere near a track.
F1 is not a common sport. It cannot be played outside locally and requires a lot of money to be able to forge a serious career out of it.
Sadly, compared to other popular sports, India does not spend much money on sending young hopefuls to become motorsport racers. Even the Indian GP which was held in 2012, did not last.
Speaking of why the Indian GP did not work, he says:
"Ultimately, the Indian Grand Prix was a privately backed event. It had no government backing in terms of financial support."
This could explain why Motorsport in India is so scarce. It took private sponsors to hold the Indian GP, and not a lot of overseas fans turned up.
However, support from fans in India is still immensely popular, with one fan, Ganesh Shanmugam commenting:
"If there is another chance for F1, it can well and truly happen. If another circuit is to be built in the southern part of India. The fandom is already there, the wallets are there […] the sport hasn't diminished any bit here."
The fans clearly have much love for the sport. So the issue is not that F1 is unpopular in India, but as Chandhok himself explains, the government needs to do more:
"What we lack in India is the infrastructure. India is a big country, it's not like the UK. You can't just get in a car and drive up two hours to your local go-kart track. We've only got 3 really good go-kart tracks in the country."
But this does not mean it is impossible. Chandhok himself is proof that anything can be done when the willpower and drive exist.
His advice for young Indian boys and girls trying to get into the sport is:
"Learn as much as you can about it. It's not as simple as you get a ball and go kick it around on a field or play with a cricket bat. There's layers upon layers of complexities involved.
Karun adds:
"Most importantly as is the case with any sport, is to enjoy it."
Watch our full interview with Karun Chandhok here: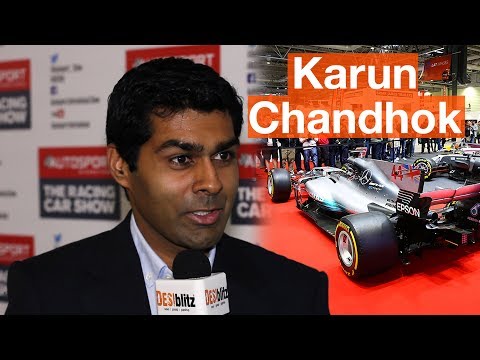 Karun Chandhok may have left F1 at the end of 2011, but he still regularly makes appearances at many of the races.
As well as becoming the main commentator for the star sports F1 broadcast in Asia, he appeared on BBC Radio Live F1, Sky Sports and BeIn sports in Qatar.
He is also a regular for Channel 4's F1 coverage and a columnist for Autosport.
In 2013, Chandhok became a member of the first ever FIA Driver's commission, which represents the rights and views of racing drivers all over the world.
For the 2018 season, Karun Chandhok will stay with Williams for the Williams Heritage division. He will also continue to commentate on F1 for Channel 4.
With a successful career in the racing world, Karun Chandhok has achieved what very few South Asians could have hoped.
His passion and undeniable love for racing make him a great role model for others. And his work both on and off the track continues to inspire young men and women to pursue their dreams.