the phone can provide five hours of charge in a rapid 15 minutes
Android has continued to pull out excellent smartphones year after year. 2017, in particular, saw the smartphone makers experiment with varying iterations and incremental design changes.
While a new set of smartphones are coming soon, there is still time available to upgrade from iOS to Google's operating system.
Picking a 'dream' smartphone depends on the size and budget. With Android, there is no shortage of options on offer.
DESIblitz has managed to whittle it down to five of the best Android phones to buy in 2018.
Sony Xperia XZ Premium
With the 'world's first' 4K High Dynamic Range (HDR) screen, the Sony Xperia XZ Premium is sure to set pulses racing.
As with most Sony phones, there is the inclusion of PlayStation Remote Play. Gamers who own a PS4 can pair their console with their phone to play games on its breathtaking screen.
The phone's party piece is capturing super slow-motion video at 960fps with its 19-megapixel rear camera and 13-megapixel 'selfie' camera.
Sporting a fingerprint scanner on the right-hand side of the phone, opening the Xperia XZ Premium is hassle-free and straightforward.
Regarding processing power, there is a Snapdragon 835 processor which makes multitasking, gaming and watching videos a dream.
Its outdated, chunky bezels may be a turn off to some, the Xperia XZ Premium is a great phone packed with lots of future-proof technology.
Whilst it's a pricey phone, the Xperia XZ Premium is worth the £499 GBP (Carphone Warehouse) in the UK and around Rs. 55,733 (Amazon India) in India.
HTC U11
HTC has been under the radar in recent years due to the emergence of OnePlus despite making some quality handsets.
One of the main features on the U11 is 'Edge Sense', which can allow taking photos and launching apps with a simple squeeze.
It's also one of the first phones to have Amazon's Alexa, as well as Google Assistant, making it the only handset to come with both Amazon and Google's personal assistants.
The phone comes with a 12-megapixel 'UltraPixel 3' rear camera. When it comes to the front camera, it's 16-megapixel snapper allows for taking 'selfies' automatically by smiling or standing still or by voice activation.
As with most flagship Android phones, it comes with a Snapdragon 835 processor which is powerful enough to do most everyday tasks, as well as watching video content.
The HTC U11 is an excellent alternative to the Samsung Galaxy 8 whilst packing in some unique and innovative features.
Whilst it's within the same flagship phone price bracket of £499 GBP (Carphone Warehouse) and Rs. 51,990 (HTC India website), expect to be amazed by the U11.
Nokia 8
Returning to the smartphone market with its first premium phone since 2014, the Nokia 8 is a return to former glory.
It's the first time Nokia has run Android on their handsets as the 8 comes with the latest version 'Oreo'.
While it boasts what you would come to expect from most high-end phones with an octa-core processor under the boot, it does have a 5.3inch 2k IPS LCD screen.
The LCD screen may be a step back from the Quad HD or 4k displays we have come to expect from most phones, but don't let this be a turnoff from watching YouTube videos or playing games on the 8.
'Dual-Sight' allows the phone to capture both front and rear cameras in real-time. It will enable taking photos, videos, as well as YouTube Live and Facebook Live content with a split-screen view.
The Nokia 8 is a triumphant return for the Finnish manufacturer while continuing to innovate with its camera technology.
Likewise, with the Xperia XZ Premium, the Nokia 8 is expensive. In the UK, the phone costs £499 GBP (Carphone Warehouse) whereas, in India, it's Rs. 27,990 (Amazon India).
OnePlus 5T
An evolution from the OnePlus 5, the OnePlus 5T is an iteration of the phone that initially launched in June 2017.
A slightly bigger display than its predecessor with a 6inch 18:9 AMOLED screen, it keeps the 16-megapixel and 20-megapixel dual camera. It also retains the headphone jack which is being phased out in Android phones.
Its big 3,300 mAh battery will ensure your phone will run all-day-long without an unnecessary charge during the day.
One of the handset's hidden features is a dual nano-SIM slot. It's an advantageous feature if you're looking to have a separate SIM for work and holiday.
The phone comes in 64GB and 128GB models. It's more than plenty of storage available to store podcasts, music, apps and photographs.
Starting at £449 GBP in the UK and Rs. 32,999 in India on the OnePlus website, the OnePlus 5T packs all the features of an iPhone X for a fraction of the cost.
Moto G5S
Last but by no means least is the best budget handset available on the market, the Motorola G5S.
As it runs on the previous OS 'Nougat', the Moto G5S is not to be dismissed. Sporting an all-metal design, it looks and feels a premium-quality phone.
While it lacks the 4k capabilities of the XZ Premium, it can shoot Full HD video at 30fps due to its 16-megapixel rear camera.
With an all-day-battery, you can be sure to run the G5S without needing to charge it in the middle of the day.
The 'TurboCharger' included with the phone can provide five hours of charge in a rapid 15 minutes, which puts an end to overnight charging.
A fingerprint sensor, as well as 32GB of storage, makes it the perfect first introduction to the Android ecosystem.
As it does lack in significant features from other manufacturers, the Moto G5S is a considerable step up from the Moto G4 with its build quality and design.
The G5S is the cheapest phone out of the list at £199 (Motorola UK website) and Rs. 12,399 (Amazon India), which makes the phone very good value for money.
Watch our video of the 5 best Android phones to buy here: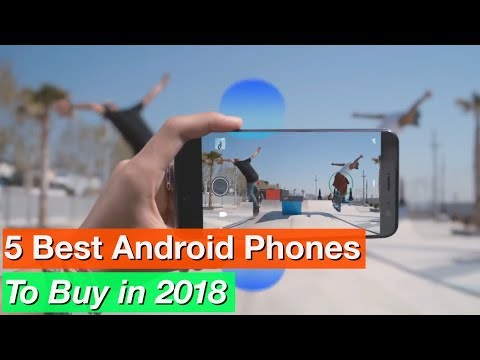 Looking at the state of play in the market, there are many options for consumers to buy a new phone in 2018.
Although current smartphone design has plateaued, there is still so much choice available in the market for a powerful Android handset.
Those five Android phones featured will be sure to blow you away with its processing power, as well delivering higher-quality photographs, videos and images.