This incredible aerodynamic poser-mobile delivers performance like no other.
The engineers at Ferrari HQ in Maranello have been working hard to produce a worthy successor to the ever so stunning 458 Italia.
And they seem to have succeeded with the new twin-turbocharged V8 Ferrari 488 GTB.
This mid-range beauty is an evolution of the 308 GTB, which launched as a budget 'start up' Ferrari 40 years ago, like what the Boxster range does for Porsche.
Except it is priced at a hefty £184,000. The 488 GTB is indeed anything but budget.
With less drag than any other Ferrari to date and 50 per cent more downforce than its predecessor, this incredible aerodynamic poser-mobile delivers performance like no other.
Exterior
An exclusive new shade of red has been developed, titled 'Rosso Corsa Metallizzato'. It uses a triple layer formulation full of millions of micro-particles suspended in the paint, which gives it a unique depth of glossiness.
The Ferrari Styling Centre has beefed up the sculptural flanks and air intake scallop.
The bonnet is carved with two side channels on either side of its raised centre. Not only is this aesthetically pleasing, but it channels air from the two bumper vents as well.
Aerodynamics are at the heart of the 488 GTB with F1 style-double spoilers and central Aero Pillar.
Air is pushed out of the back of the car, moving turbulence away from the back, contributing to even more downforce.
Interior
The cabin has been designed to 'exude extreme sportiness without sacrificing occupant comfort'.
A more compact dashboard, less clutter on the steering wheel, and buttons ergonomically directed towards the driver all help towards a better driving experience.
There is even an armrest for those rare times when you are relaxing at speeds below 100mph!
With the usual premium handcrafted materials and trim characteristic of Ferrari, every square inch of the inside has been thought through with meticulous attention to detail.
Performance
The use of a downsized 3902cc power unit turbocharged engine – like the one used in the Ferrari 4.5 litre California – may put off purists, who love the workings of a naturally aspirated engine.
For those who don't mind a bit of electronic manipulation, you can get more power and precision-controlled torque from the 488 GTB than previous Ferraris.
The car surprisingly generates better efficiency figures, giving 25mpg and CO2 emissions of 260g/km.
With 660bhp, maximum torque of 760Nm, and seven paddle shift gears fitted with F1 dual clutch transmission producing 'zero lag', it will clock 0-60mph in three seconds flat.
A Fiorano lap time of 1 minute 23 seconds is a whole clear second faster than the Italia, making this a scarily fast supercar.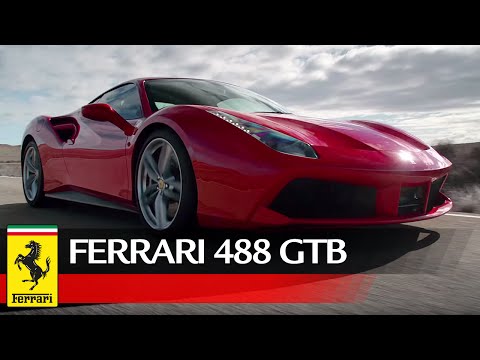 Ferrari fans will relish the remarkable beauty of the 488 GTB with all of its dazzling looks and jaw-dropping enhanced performance.
This is one Italian Prancing Horse that is sure to become another iconic supercar in the Ferrari range.
The Ferrari 488 GTB will go on sale in the UK in September 2015.