"Supercar pace and archetypal Audi A8 luxury converge in the Audi S8 Plus."
The Audi S8 Plus is a prime example of the phrase 'looks can be deceiving'.
Whilst this executive luxury saloon plays rival to the Mercedes – AMG S65 and BMW 760i, you may be surprised to hear it's faster than both.
Not just that, but it is as fast as the iconic Ferrari F40!
When you consider the S8 Plus being a 5 seater family car with enough space to get your golf clubs in the boot, it starts to ring truth to Audi's slogan 'Vorsprung durch technik' (advancement through technology).
Yes, secretly hiding under the bonnet lurks a beast of an engine to the tune of 597bhp, up from 516bhp from the last S8.
Audi's latest super luxury car is capable of reaching 0-62 in a rocketing 3.8 seconds.
The same twin turbo 4.0 litre V8 TFSI engine from the standard S8 model has been boosted to pump out a gastronomical 750Nm torque with a top speed of 189mph.
That makes the S8 Plus the fastest accelerating Audi S model and the fastest S8 ever.
Exterior
With a sporty quattro exhaust, matrix LED headlights and 21 inch alloy wheels cosying up to those carbon fibre spoilers, there are subtle hints of prowess if you look hard enough.
The body of the S8 Plus is made largely of lightweight aluminium and weighs a mere 231kg which holds part of the secret to its brutal speed.
All in all, the exterior remains true to its predecessor and keeps modest yet elegant looks to deter those boy racers from revving up next to you at the traffic lights.
Audi's press release states: "Supercar pace and archetypal Audi A8 luxury converge in the Audi S8 Plus.
"A new evolution of the already formidable S8 performance slaoon."
Interior
The cabin boasts 'S sports comfort seats with 22-way adjustability and memory function'.
14 Bose speakers should ensure a hedonistic musical surround sound experience on your journeys.
Privacy glass, ambient lighting, DVD player and advanced parking system with top view camera are sound creature comforts that flaunt a whole heap of nifty tech at the fingertips of your tiptronic centre console.
Take a look at the S8 Plus in action right here: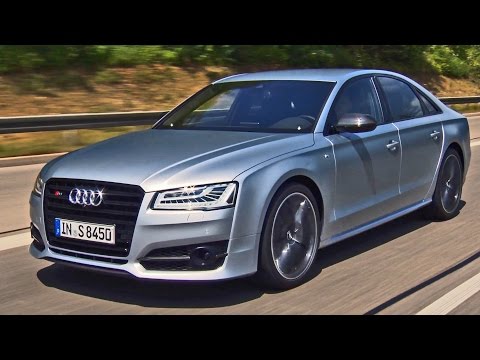 Prices begin from £97,700 with orders available from October 2015 for earliest deliveries in January 2016.
If you're looking for an all-in-one luxury car with deceptive supercar style power specs to match, then the Audi S8 Plus looks to be the car to go for.