"We can give Indian filmmakers a voice to the world."
Anurag Kashyap and Vikramaditya Motwane's Sacred Games is an 8-part Indian series available on Netflix worldwide.
The exciting crime thriller sees Saif Ali Khan take on the role of a lifetime as Police Officer Sartaj Singh who becomes reeled into the mind games of Nawazuddin Siddiqui (Ganesh Gaitonde).
Based on Vikram Chandra's novel of the same name, the first Indian Netflix Original series centres around Sartaj Singh who races against time, to save Mumbai from an attack in 25 days. He teams up with RAW agent, Anjali Mathur, played by Radhika Apte, to foil the attempt.
Netflix has provided the filmmakers and actors with a unique platform to visualise Chandra's story across 8 episodes. Within these 8 hours, the co-owners of Phantom Films can manage to produce a successful adaptation, allowing detailed storytelling.
As audiences eagerly await Sacred Games, DESIblitz reviews the first episode. We also chat with the leading man,  Bollywood star Saif Ali Khan to find out more.
Unpacking the Layers
Kashyap and Motwane have created, yet again, a production that continues to set a new standard of Indian thrillers. The graphic nature which was present in their previous projects like NH10 and Gangs of Wasseypur is also visible in Sacred Games.
Though the first episode mostly focuses on Ganesh Gaitonde, the viewer is also introduced to Sartaj Singh's numerous battles and struggles that will begin to unfold in the episodes to come.
Of course, the hunt for Gaitonde is Singh's number one priority. The cop must also face and tackle corruption within the police force.
Khan tells DESIblitz more about his character:
"It's a character unlike any other I've played so far… Let me tell about the things that excited me about it. It was a Punjabi Sardar and a policeman."
"He's the only outsider in the force, not just because of the turban, but also because he's the only honest cop around."
"A lot of people are taking bribes and telling lies about things that are happening."
Singh must face the drama surrounding his personal life too, such as his deceased father's links to the underworld. We are also given a glimpse into his rocky love life as well.
Saif continues:
"There are various things that are going on. He is under a lot of pressure. He's a slightly damaged character. He is addicted to sleeping pills which he's just chewing to kind of stay calm, his marriage has ended, he doesn't have too many friends."
"He's got this relationship with his father who passed away where he kind of looked up to him. But now he's wondering whether his father was honest as well. So he's at an all-time low, really and it was quite interesting to play that."
"And then he gets this amazing opportunity to with one of the dreaded members of the Indian Mafia who drops a clue on his lap about saving the city."
"He gets a chance to save himself and redeem himself and become a hero."
The trailer displays vast amounts of action but the episode does well not to shroud Singh and Gaitonde's development amongst the violence.
We are briefly introduced to Radhika Apte's character, Anjali Thakur, a RAW agent. As of now, little is known of the character. So we'll just have to wait and see what she brings to the table.
Storytime with Ganesh Gaitonde
In the first episode, Nawazuddin Siddiqui is definitely a highlight with his portrayal of the villain, Ganesh Gaitonde.
The episode sets the overall tone for the series right from the get-go with a heartbreaking opening. The chilling narration of Ganesh Gaitonde and talks of his belief in God leave you entranced.
He calls Sartaj Singh with a manipulated voice, illustrating the story of his life as Singh scurries around Mumbai, trying to locate the mastermind.
The flashbacks are well-constructed with Lion star, Sunny Pawar, playing a young Gaitonde. The more the viewer progresses into the episode, the more sinister it becomes.
The character's transformation occurs over a long period of time. It begins with his childhood as the young Gaitonde's traumatic past sets him off on a path of corruption.
Siddiqui's nonchalant portrayal of his character creates much eeriness. The shocking moment comes at the closing moments of the firtst episode which is very unexpected. A great cliffhanger! We are eager to see where the show goes on from there.
A Shift in Indian Production
Sacred Games, the first of its kind in India, will change the landscape of Indian dramas. In terms of production quality, performance and execution, it really does live up to the standards of hit Netflix dramas like Stranger Things and Narcos.
When discussing his attraction to Sacred Games, Khan tells DESIblitz:
"I think foremost, it's a great script. It's a lovely story, very well written book. It's a great character, really exciting to play, something I've never done on screen before.
"And most importantly I think it's the production houses, the fact that Netflix is making it. And making their first original [web-series] in India and the world is going to see it. It puts us on the global platform in that sense so a very exciting platform to be on."
Saif adds:
"It's a different kind of story. It's quite a complicated, convoluted story that connects… gurus and these self-styled gurus, cops, Bollywood, Mafia, and the politicians.
"So in that sense, it quite a wide-range story that needs a few hours to tell, much more than a film and in that sense, a series is the best way of doing it. If you flesh out the characters properly and get into the complexities."
Watch our full video interview with Saif Ali Khan here: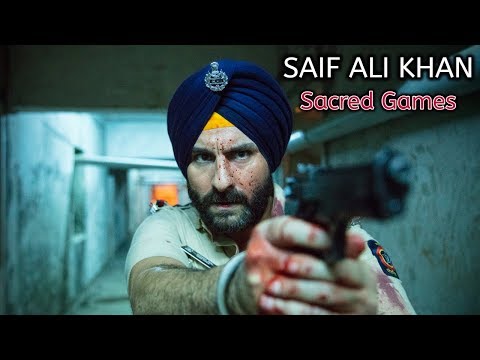 The technical side of the show is very impressive with its great use of lighting as well as making use of compact spaces. It really enhances the viewing experience, creating an empathetic connection with Sartaj Singh:
"The city's an interesting character… to show Mumbai for what it is, I've never seen it done quite like this before."
"I think it's because the equipment has changed for filmmaking.
"We have much less stuff like you have small digital cameras, you don't need lights, you can go live into different places, shoot in taxis, on crowded streets, public bathrooms, things that art decorators really couldn't create.
"It gives a very authentic feeling and you can feel the city and see the city for what it is unlike ever before."
With this vast improvement in production quality as well as the multiple arcs and believable performances, could this show appeal to non-Bollywood fans too?
Yes. Having seen the first episode, it is probably one of the most intriguing opening episodes of a series on the streaming service.
Unlike some shows which require several episodes to eventually build an interest, Sacred Games keeps you hooked within the first few moments, and with such a talented, star-studded cast, the series oozes with potential.
Growth of Netflix in India
Netflix CEO, Reed Hastings made the decision to launch Netflix in India in 2016 in order to reach an additional 10-20 million subscribers. With this, more Hindi content has been added as well as introducing original Indian content.
Netflix initially gave original Indian films like Love Per Square Foot and Lust Stories in 2018. However, Sacred Games marks the first Indian original series for the streaming platform.
At the Economic Times Global Business Summit in February 2018, Hastings said:
"We can give Indian filmmakers a voice to the world. We have opened up a Mumbai office six months ago."
When asked about how much of Netflix's budget of $8 billion for 2018 is being spent on India, he replied:
"It's not enough. Next year, it will be higher. We can look at it by the number of shows.
"We have six shows (in India), which have already been announced and more coming. That is not as big for us as UK and Japan, but it is very substantial."
As seen in the West, Netflix has provided a fresh platform for established and upcoming actors. With a vast library, amazing content is available in the palm of your hand, literally. Streaming is the present. With its download feature, Netflix can be watched on the go too!
Many Hollywood actors have made the transition to the streaming service like Will Smith, Winona Ryder and Alison Brie to name a few. Could we see more B-Town actors doing the same?
Watch the Trailer for Sacred Games here:
Setting their sights on producing more Indian content, we can expect Netflix to revolutionise the Bollywood experience having already done so with Hollywood.
Watch Sacred Games on Netflix Worldwide on 6th July 2018.