"At the heart of 'Jo Tu Na Mila' is a universal message."
Pakistani pop singer, Asim Azhar, weaves an evocative tale in his soulful new single, 'Jo Tu Na Mila'.
The singer himself describes the song as "soulful", certain that it "will touch everyone who listens to it."
Together with an accompanying video, 'Jo Tu Na Mila' fulfils this promise. From the gentle opening chimes comes a wealth of emotion from Asim Azhar.
The ballad shares the sadness of not being able to let go of a past lover. Here the vocalist and composer of the track, Azhar, conveys an unshakeable sense of loss in every wistful note that almost then flutters into a sigh.
The popstar is full of feeling even when talking about 'Jo Tu Na Mila', stating:
"It has been an amazing experience working on the song and also shooting the music video for it."
We can't help sharing this enthusiasm when watching and listening to the heartfelt song.
A Moving Narrative
The songwriter is Kunaal Verma for VYRL Originals, EMI Music India's music property to promote independent non-film music.
In fact, this is Asim Azhar's first song in India and in a statement, he says:
"I have truly been looking forward to releasing my first track in India and I am elated that it is finally happening."
This is evidently an important moment in this young star's career.
Nevertheless, the complementary video is as well-shot and well-acted as you can hope for in a film. Azhar plays the heartbroken male protagonist who longs for his past lover, balancing subtlety and emotion.
The television actress, Iqra Aziz takes on the role of the romantic interest who has moved on to her new beau, Waleed Khalil.
Together with director Yasir Jaswal, they create a memorable music video. Shots of Aziz joyfully dressing in red – the colour of passion and danger – intersperse with Azhar mournfully watching in a car.
He looks at photos of their former relationship as she lovingly meets her new partner for dinner and then dancing.
The dreamlike quality of the video focuses on Azhar character's unrequited love. However, the meeting of the two ex-paramours, sad Azhar and wide-eyed Aziz is a method of closure for the heartbroken protagonist.
Finally, with the burning of their photographs, there's the sense he's finally able to move on.
A Postive Reaction
Clearly, we're not the only ones to enjoy 'Jo Tu Na Mila'. Azhar's excellent vocals, stunning music and captivating video have earned him over 9 million thousand views on YouTube .
After all, at the heart of 'Jo Tu Na Mila' is a universal message.
As Vinit Thakkar, Senior Vice President, Universal Music Group India and South Asia, summarises:
"Everyone at some point in time has experienced a heart break. 'Jo Tu Na Mila' is one such single that every broken heart should be able to relate to,"
It appears that others agree with this message behind the ballad becuase fans of Asim Azhar love the track. They are quick to share their adoration online including Azhar's Twitter account with almost 58 thousand followers.
Calling him a "rockstar", many comment on the tune getting them in "the feels" and listening to the ballad repeatedly.
One Twitter user also describes the song as "soulful", thanking the singer.
Moreover, the video itself receives its share of special admiration with a fan tweeting:
"The chemistry between you and iqra

The lyrics, the beat and that soulful voice the song of the year.

One big fan"
Other supporters include the Pakistani fashion designer, Hassan Sheheryar. As someone with a clear eye for visuals, he praises the song:
"Just saw the video for @AsimAzharr new song. Loved it. Great song and video. Well done Asim! @IqraAzizz and Waleed looked great as well. Looks like a hit. @YasirJaswal nicely done."
VYRL Originals also took the opportunity to playfully connect with fans owing to Facebook and Instagram's problems on the day of release. They encouraged everyone to #GetOverItWithVYRL and "feel the love this season" by watching the video for 'Jo Tu Na Mila'.
This is definitely a proud moment for the young pop star. Best of all, there's certainly more to come from the 22-year-old Pakistani singer.
In fact, filmmaker Mohit Suri praises Azhar and said he is a "talented singer and he has many milestones to cover."
'Jo Tu Na Mila' is just one of Azhar's achievements in what is likely to be a lengthy and successful career.
The Path to International Stardom
Asim Azhar burst onto the music scene in 2013 with his popular cover of Ed Sheeran's 'The A Team' and quickly shot to stardom.
As mentioned 'Jo Tu Na Mila' is Asim Azhar's first track in India, so built up much anticipation for its release. Thanks to Azhar's ability to deliver a convincing performance on both the video and song, it proves worthy of this hype.
Although, 'Jo Tu Na Mila' isn't his first foray into the world of acting. He has an impressive musical pedigree with the renowned pianist, Azhar Hussain as his father and his mother is actress Gul-e-Rana.
Asim Azhar had made some smaller acting appearances before starring in Pagli. Alongside Hina Altaf and Hira Mani, he was in the second male lead in the romantic drama series.
Elsewhere on the small screen, he was one of the youngest people to appear on Season 8 of the Pakistani television show Coke Studio. The international music franchise features live studio-recorded performances from established and emerging artists alike.
Azhar made such a successful debut, that he returned for Seasons 9 and 11 of the show. He particularly excels in duets with fellow Pakistani singer, Momina Mustehsan, to enchant with 'Tera Woh Pyar' and 'Mahi Aaja'.
This is unsurprising as he has gone from strength to strength in his singing career. He has become known for his brand of pop and catchy ballads with songs like 'Saajna' and 'Khuwahish'.
Nevertheless, perhaps it's the marriage of his singing and acting ability for 'Jo Tu Na Mila' that results in such a captivating ballad.
He tours internationally as well as in Pakistan to the delight of his fans. However, for those still waiting for their chance to glimpse the star in person, the soulful 'Jo Tu Na Mila' is certain to make the wait easier.
Watch the Full Video of 'Jo Tu Na Mila' below: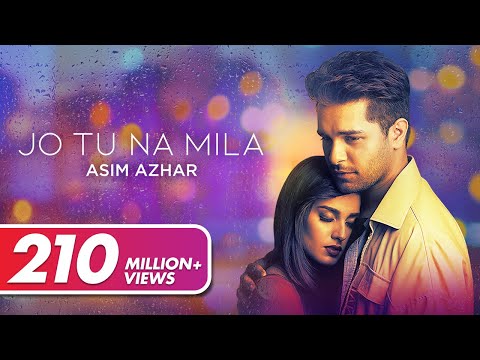 'Jo Tu Na Mila' is available now worldwide through Gaana.com, iTunes, Apple Music and Spotify.
To keep up to date with Asim Azhar and all of his new releases, you can follow the singer on Instagram, Twitter and Facebook.