"There will be magic within each one of the teams that will evoke beautiful dance moments."
Just Bollywood is the UK's first inter-university Bollywood fusion dance competition.
This year Just Bollywood will be holding it's 5th edition of the contest.
With an incredible surge in popularity and demand for this competition, the show will be held at a larger and grander venue.
This year the contest will be at the West End's Adelphi Theatre on Strand, London.
The theatrical settings will host larger than life performances, ranging from energetic Bhangra to entrancing Kathak with the addition of engaging street dance performances.
With a great venue and an increased interest in the competition, this year seems all set to be a showstopper!
Sunday 9th December 2018, will play host to 10 university teams that are battling it out to win the much-coveted title.
The Competition
Just Bollywood is organised by, Imperial College London's Indian society. The student-based committee consists of individuals from a range of courses and years.
This committee dedicates months to planning this dancing extravaganza.
Nidhish Jeyin, a 3rd-year medical student and co-head of Just Bollywood, says:
"Just Bollywood's long-term dream has been to create a production instead of just a university competition."
"This year, being hosted at a West End Theatre, in the heart of Covent Garden – Adelphi Theatre – the dream is finally coming true!
"With a record number of auditions, the talent this year is looking phenomenal and there's honestly nowhere better to be on the 9th of December, than at Just Bollywood."
The committee visits each of the universities leading up to the competition. As mentioned previously, Just Bollywood compiles 10 University teams.
The participating universities are:
St George's University
Imperial College London
University of Birmingham
University College London (UCL)
Queen Mary University
Brighton University
University of East Anglia
Newcastle University
Leeds University
Manchester University
There is also, a preliminary mini round, which is where teams are provided with a short mix to choreograph to.
The mini round performances are recorded then uploaded to social media.
This creates buzz for the show and gives a chance for teams to decide on their slots, in the running order of the contest.
With the mini round being won by the talented, University of Manchester's team this year.
These students created record-breaking numbers on their video. Thus making this year's mini round the most successful till date.
Just Bollywood uniquely incorporates a theme each year, for the choreographers to abide by.
Children's fables are the theme for this year's performers, fables such as 'The Jungle Book' and 'The Wizard of Oz' have been selected and delegated to teams.
The storytelling aspect makes the performances that much more engaging to witness.
In addition to challenging the teams, to stretch themselves to meet their theme and portray it in a convincing and creative manner.
It will be intriguing to see what each team creates and presents on the performance night.
The Judges
Each year, Just Bollywood brings an 'X-factor' style judging panel, to add to the excitement of the competition.
The celebrity judges this year are:
Samir Bhamra – director of Bring on the Bollywood
Leena Patel – Bollywood choreographer and founder of LPL productions
Ash Oberoi – artistic director of Sapnay School of Dance
Esha Malkani– Modasia from Lasya Dance.
Samir Bhamra, who has consistently judged every Just Bollywood contest, says:
'You can not quantify the formula of a winning performance."
"Quite often the competition is so close between the teams that it's nearly impossible to predict who will win.
'What I always advise choreographers is to listen to their dancers – challenge them with intricate and technical vocabulary but also play with their creativity and strengths.
"There will be magic within each one of the teams that will evoke beautiful dance moments."
"And to dancers, I always say, if you truly enjoy performing, then your energy and enthusiasm will infect audiences who will want to get up and dance with you! And to the entire team, whatever happens, just breathe. It's one of the simplest things that is often forgotten."
An illustrious and skilled panel means it will be difficult to impress these seasoned dance judges.
The Choreographers
Team UCL
The University College of London were the winners of last year's Just Bollywood competition.
With the University of Manchester, having won the mini round, it appears the reigning champions may have some stiff competition this year.
Speaking to team UCL's choreographers; Sumona Chaudhari and Sharleen Yajnik, they said:
"Choreographing for UCL's Just Bollywood team has honestly been so much fun!
"There has definitely been some pressure to live up to last year's show."
"But we have a team of amazingly talented dancers and we are extremely excited to put up an entertaining and lively Bollywood performance!"
Despite the pressure, team UCL appears confident, happy and excited to lay claim to the title once more.
See the winning performance from 2017 here: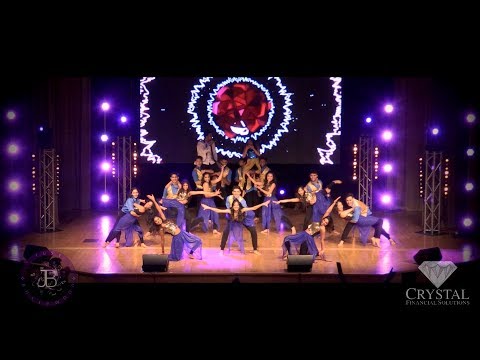 Team Leeds
The University of Leeds' choreographers Mehak Kakwani and Reshma Prasad expand on the fairytale aspect of the contest.
It can be quite tricky to choreograph thematically, it truly depends on the luck of the draw.
DESIblitz were curious to see how the team was handling this aspect of choreographing.
The choreographers said:
"As choreographers, every step we took throughout this journey has been thoroughly enjoyable."
"Plus we all got to live out all our Bollywood Dreams! Like who doesn't want to be the hero of their own Fairytale?!
"With the competitive Audition and Mini-round, and the fun-filled mixer before the show, we definitely can't wait for the most anticipated, Just Bollywood show day!"
It appears that the Leeds team has taken this challenge in their stride, which suggests that their performance will be innovative and entertaining.
Team Manchester
Speaking to the current favourites of the competition, team Manchester gave us insight into how the dancers balance university alongside rehearsal commitments.
Sunenah Verma, a dancer for the University of Manchester's team, talks about her journey in Just Bollywood.
With only weeks before her final year medical exams, she remains passionate to perform.
Verma said:
'Winning the mini round was the perfect start to our competition journey!"
"We could not be more excited to share our talent with you on the day!
"My decision to take on JB in the run-up to my final academic exams wasn't easy. We all admire and simultaneously envy those people who seem to be able to do it all.
"But there is no reason why we can't do the same. Do the things that motivate and inspire you, as dance does for me."
It's clear that team Manchester has very dedicated and passionate members in their team. With such enthusiasm and dedication, it is possible they may take the trophy.
Team Imperial College London
Following team Manchester as a close second in the mini round, was Imperial College London's team.
Choreographers for the Imperial College London team, Anannya Menon and Aarushi Luthra, said:
"The whole team is ready to come back and shine on the West End stage."
"It's been an incredible journey getting to where we are now, and we can't wait till show day to show everyone what we have got."
These choreographers oozed a calm and collected confidence. However, with such talent throughout the teams, it really is anybody's game.
One thing is clear to see, the Just Bollywood contest will make for a thrilling watch.
With charity being at the core of this contest, this year's committee aims to raise awareness for an extremely important cause. This cause is, to provide education to underprivileged children.
Doorstep Schools is the charity being supported and the competition is sponsored by the Hemraj Goyal Foundation.
Just Bollywood is set to take place at the Adelphi Theatre in London at 5 pm on Sunday 9th December 2018.
Tickets range from £20-35 and can be purchased here.
DESIblitz looks forward to seeing the Desi dancing tadka set to scorch the west end stage!