"Winning first place felt out of this world. I am so, so proud of the whole team."
The UK's first inter-university Bollywood fusion dance competition, 'Just Bollywood', took place on Saturday 13th December 2014, at Logan Hall in London.
Six teams from Imperial College, Kings College, UCL, Leeds, Birmingham and Cardiff, competed in the inaugural competition.
The show was hosted by radio presenter Anushka Arora and DJ Braha Bala. They were joined by the judging panel of renowned dancers and choreographers, Karan Pangali, Leena Patel, and Samir Bhamra.
The trio of judges resembled the judging panel X-Factor. At the end of each performance, the judges would give their views on the performance. Samir Bhamra admitted to being the Simon Cowell of dance and never hesitated to say how he truly felt.
1st Place ~ Imperial College London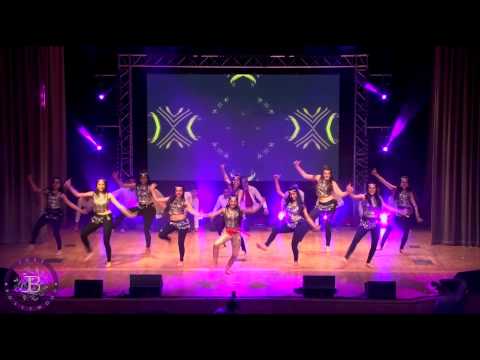 The winners of the inaugural Just Bollywood dance competition were Imperial College London.
They will now get the opportunity to perform with BollyFlex dance troupe of Strictly Come Dancing-fame, as part of the star-studded lineup at the Bollywood Showstoppers dance showcase at the O2 Arena in London, in summer 2015.
The judges had said that what set Imperial apart from the other teams was their energy, synchronisation, and the strong execution of various dance styles, as well as the way that they worked as a team.
Imperial were led by fourth-year medical student, Arati Menon, and her co-choreographers, Trisha Ghosh and Radhika Bhanot.
Regarding Imperial's victory, Arati said:
"Being able to perform on stage with a group of talented, fun dancers that I can truly call family, in front of the most wonderful, warm, supportive audience ever, was an absolute dream and honour."
She added: "Winning first place on top of that felt out of this world. I still haven't gotten over it, and I am so, so proud of the whole team.
"It was also a huge pleasure to co-choreograph with Radhika and Trisha, and to have the incredible Aman Dhanjal create our team's outstanding mix, which went down so well with the crowd!"
In her analysis of the inaugural Just Bollywood winners, Judge Leena Patel said: "The great thing about Imperial is that they all worked so well as a team. Not a particular dancer stood out, because they were all so incredible!"
Simon Cowell-esque judge Samir Bhamra, said the calibre of their performance ranked alongside that of Bollywood. He said: "You guys don't deserve to be here. You deserve to be in Bollywood!"
2nd Place ~ University of Brmingham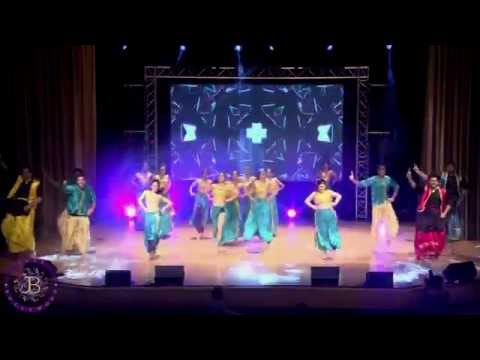 The extremely close runners up were the University of Birmingham. They were led by third year medical student, Sejal Khara, who said:
"It was an amazing opportunity to perform at Just Bollywood! The whole experience from start to finish was enjoyable, especially forming the friendships along the way.
"Being the first one, we didn't really know what to expect, but we certainly didn't expect to do as well as we did!
"Congratulations to Imperial for putting on an amazing show and also for the amazing performance. We are already looking forward to competing again next year!"
On Birmingham's performance, Karan Pangali said:
"A lot of performers do Bhangra but what I saw on stage was real Bhangra!"
Birmingham University dancer, Arya Pimpale, who was awarded the honours of 'Best Female Dancer', was described by Karan Pangali as 'extremely energetic!'
Arya said: "The atmosphere at JB was incredible! And to share that with my dance family was so much fun! I was honoured to receive best female performer. I hope I made University of Birmingham proud!"
3rd Place ~ University of Leeds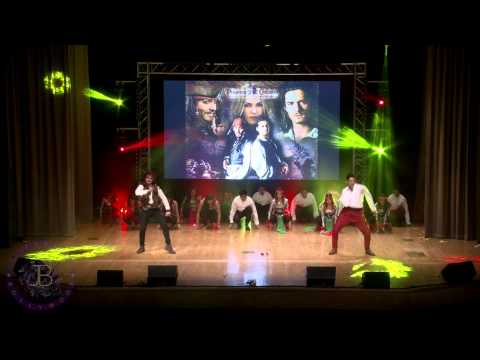 Third place went to Leeds University, led by Zain Velji. He said: "It was an honour to be part of Just Bollywood, not only representing Leeds but also the North at large."
He added: "I was so proud of my team, and can't wait to develop and perform again, hopefully next year with this amazingly talented family of mine."
In her assessment, Leena Patel believed that Leeds University had 'depicted the story of the Pirates of the Caribbean well'.
The title of 'Best Male Dancer' went to the 'Johnny Depp' of the Leeds team, Omar Khalil. He said: "I felt really honoured and humbled to receive the award for Best Male Performer.
"All I wanted to do was to have some fun dancing as Captain Jack Sparrow with my team so it felt really great to be recognised. I hope the audience enjoyed it."
One of the stipulations of the competition was that each university team would choose a Hollywood actor as their main theme, and incorporate a prop into their act. For example, UCL had Will Smith as their Hollywood actor and hats as their prop.
The audience were treated to a performance from Punjabi By Nature (PBN) and Raj Bains, who sang their smash hits 'Kaun Nee Jaandah' and 'Phatte Chuk Di'.
The infectious vibes of the live music show brought half of the crowd and the performers onto the stage, mid-performance, in a spontaneous breakout of bhangra dancing!
Just Bollywood aimed to raise money for the British Asian Trust's anti-child trafficking project in India. Founded in 2007 by British Asian businessmen, at the request of HRH The Prince of Wales, The Trust has already touched the lives of more than 1 million people in the poorest communities worldwide.
The inaugural Just Bollywood dance competition was a huge success. We look forward to next year's competition. Congratulations to the winners!