Rock and soul is the foundation of Pakistani music.
Pakistan is home to some of the most talented artists, singers and musicians in Asia and indeed the world.
Its music scene over the decades has reached legendary status, and the world has enjoyed numerous musical exports from the nation.
It is because of this fantastic musical track record that former Vital Signs band member, Rohail Hyatt, founded Coke Studio Pakistan in 2008.
His vision of live musical collaborations truly struck a chord with the country's millennials, where music was the heartbeat of newer generations.
Now in its eighth season, Coke Studio has achieved success not only in Pakistan but around the globe.
So after much deliberation, DESIblitz have narrowed it down to our favourite, and arguably, the best Coke Studio Pakistan songs you must watch. Enjoy!
1. 'Jugni' by Arif Lohar and Meesha Shafi
Perhaps one of the most recognised songs of recent years, Punjabi folk singer Arif Lohar gives a captivating rendition of 'Jugni' with Meesha Shafi.
The live collaboration between the two went on to become an international success, and even featured in the Bollywood film, Cocktail.
Dr Zeus and Kanika Kapoor have also released a remixed version of the folk song.
2. 'Man Aamadeh Am' by Gul Panrra and Atif Aslam
Pop icon Atif Aslam teams up with the sweet voiced Gul Panrra from Peshawar, for 'Man Aamadeh Am'.
Gul's unique Farsi voice adds a different dimension to this take on a classic Iranian love song. Atif responds in Urdu verses which he wrote himself.
The Rubab and Harmonium offer a melodic accompaniment to this story of love and heartache.
3. 'Toumba' by Sain Zahoor
A master of Sufi music, the colourfully eccentric Sain Zahoor takes inspiration for his tracks from the likes of Bulleh Shah, Shah Badakhshi, and Muhammad Qadiri.
This live session of 'Toomba' shows off Zahoor's trademark earthy voice. The song even featured in the 2010 British Asian film, West is West.
4. 'Chaap Tilak' by Abida Parveen and Rahat Fateh Ali Khan
When it comes to musical legends, there can be no more pairing more perfect than Abida Parveen and Rahat Fateh Ali Khan.
The Sindhi singer is one of Pakistan's foremost Sufi musicians of our generation, and coupled with qawwali legend Rahat, 'Chaap Tilak' is an incredibly unique experience to behold.
5. 'Bibi Sanam Janem' by Zeb and Haniya
Pashto duo, Zeb and Haniya are best known for their alternative rock and easy listening style.
'Bibi Sanam Janem' is a laidback bluesy guitar rendition of an Afghan folk song.
Watch and listen to our full Coke Studio Pakistan playlist here: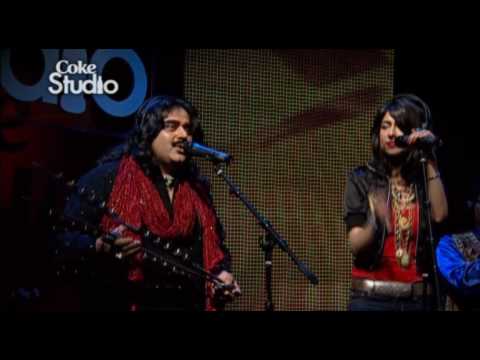 6. 'Jana Jogi Dey Naal' by Rizwan and Muazzam
Nephews of the late Ustad Nusrat Fateh Ali Khan, qawwali singers Rizwan and Muazzam's 'Jana Jogi Dey Naal' has a retro Pakistani pop feel, with some nostalgic Nusrat-esque ragas.
7. 'Daanah Pah Daanah' by Akhtar Chanal Zahri and Komal Rizvi
Akhtar Chanal Zahri's distinctive voice carries a sense of history and place, and takes you back to the village working songs of rural Pakistan.
'Daanah Pah Daanah' is penned by the folk singer himself, who is from Balochistan.
Komal Rizvi needs no introduction. Her soulful voice adds a modern twist to the old folk style, and is a daringly unconventional pairing with Zahri.
The track which gradually develops into a modern funk version of the Sufi classic 'Lal Meri Path' is truly fantastic.
8. 'Yaar Vekho' by Sanam Marvi
A young Abida Parveen in the making, Sanam Marvi's uniquely deep and soulful voice makes her perfect for reciting Sufi ghazals.
'Yaar Vekho' is a poetically heavy track with an added bluesy guitar feel for good measure.
9. 'Ishq Aap Bhe Awalla' by Chakwal Group and Meesha Shafi
The beautiful actress and singer Meesha Shafi teams up with the Chakwalis for a brilliantly emotive Sufi track, that talks of the strangeness of love and blossoming youth.
10. 'Lambi Judaai' by Komal Rizvi
Another beautiful rendition for Coke Studio, Komal's take of Reshma's classic song 'Lambi Judaai' is a fitting tribute to the iconic singer.
Komal manages to perfectly recreate the song true to its 1950's style, and with such talent, she deserves to be on this list twice.
11. 'Kamlee' by Hadiqa Kiani
Pop princess of Pakistan, Hadiqa Kiani expresses a new side of her musical talent with the Sufiana Kalaam, 'Kamlee' by Bulleh Shah.
The song exposes Pakistan's Lahore as a city of lost lovers, while the singer wanders around going 'crazy' in search of her true love.
12. 'Ajj Din Vehre' by Ali Zafar
One of Pakistan's most talented exports, Ali Zafar offers an emotional ballad with 'Ajj Din Vehre' composed by lyricist Shahnawaz Zaidi, Ali's uncle.
Ali both sings and recites beautiful poetic verses against a backdrop of flute and dholak. The chords are all Western while the rhythm is undoubtedly Eastern, creating a magical fusion of sound.
Rock and soul is the foundation of Pakistani music. Music and rhythm resides in the heartbeat of Pakistan, exemplified by world-class songs that will surely stand the test of time.
Coke Studio has given us eight seasons of live sound to enjoy, and we are pretty certain that Pakistan will continue to innovate and create inspiring music for many more seasons ahead.