"Because I've been waiting to show you, I'm unbeatable"
An all-female video, #BeatMe, speaks against gender-based violence.
Delivering a powerful message, with a unique twist to publicly speak on Pakistani women's rights, #BeatMe is strongly portrayed through concise messages.
Remarkably created by United Nations for Women in Pakistan, the video gracefully features Pakistani personalities, strongly exhibiting their respective achievements.
To demonstrate, that they are unbeatable.
In particular, inviting men to beat them.
However, not to physically abuse them. Rather, to beat women at the things they shine in, outstandingly wearing the crown.
#BeatMe Video
The word 'beat' stands for itself, meaning to defeat and conquer.
Alternatively, it also means to strike someone violently and repeatedly.
The 1-minute black and white clip features some of the classically exemplary ladies of Pakistan.
We witness Pakistani actresses and singers, declaring their abilities in their respective fields. These include the renowned personalities, Sarwat Gillani, Momina Mustehsan and Amina Sheikh.
Along with other numerous prominent faces, we see leading athletes, a mountaineer, boxer and footballer. All inspirationally addressing both physical and verbal abuse, faced by the opposite gender.
They challenge men to beat them, with their voice, words, and physical strength.
Notably, we hear Naseem Hameed, the fastest woman in the South Asia games, declaring: "Beat me with your feet."
Following which, singer Meesha Shafi expresses: "Beat me with your voice." Meanwhile, Sana Bucha adds: "Beat me with your words."
The striking Mountaineer, Samina Baig, challenges the men to: "Beat me to the top of the mountains."
While, an exceptional footballer adds: "Beat me on the ground."
Most captivatingly, a pregnant woman emotionally says: "Beat me at life."
In the final, #BeatMe finishes with the most powerful words: "Because I've been waiting to show you, I'm unbeatable."
All in all, it is inspirational seeing the ladies stand up to make their voices heard.
You can watch UN Women Pakistan #BeatMe video here: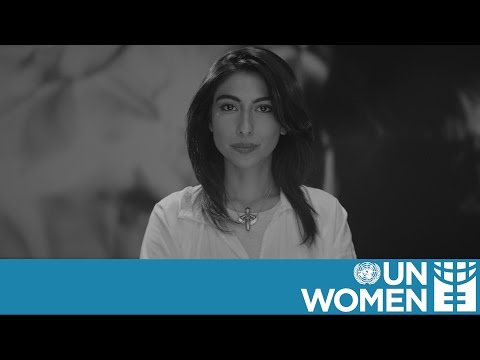 Many female social media users have emotionally reacted to the #BeatMe video.
HK tweets: "Can't remember for how many times I've been victimised, for how many times I've cried. But, nothing made me stop. I'm Unbeatable!"
Meanwhile, Sadaf Alvi says: "Almost all the Pakistani men criticising #BeatMe campaign. Don't even know that the word 'beat' has more than one meaning."
#BeatMe United Nations Women Pakistan
According to the United Nations Women Pakistan, this campaign video aims to:
"Inspire women to reaffirm that they are stronger than they are made to believe, and aims to shatter the perception that a woman is weak, taking her from someone who is 'beatable' to being 'unbeatable'."
Furthermore, Jamshed Kazi, the representative for UN Women Pakistan states:
"The #BeatMe campaign poignantly drives home a universal message that verbal and physical violence against women in Pakistan and beyond is unacceptable."
"If men treat women as badly as they choose to – beating, burning, abusing or killing her – with little or no consequence, it negates all efforts to build a safe world in which women and girls can flourish.
"This campaign celebrates their strengths and achievements as being 'unbeatable', and acknowledges women's equality as a driving force for successful societies and nations."
Given this, the video aims to express that women are just as strong as men. Yet, made to believe and live with the perception that they are fragile and weak.
#BeatMe raises awareness about the constant violence against women. Not only in Pakistan. But, also around the world.
Further, it emphasises the women empowerment principles, challenging men to win against women in things they master.
Therefore, #BeatMe demands to end the patriarchal mentality, that affects women globally. A widespread disease that must be stopped.
In effect, it is an infringement of human rights and equality.
You can click here to visit the UN Women Pakistan's website.