"I got the most intense role of my career, which is 1921"
His stylish look, dapper dressing sense and heart-piercing eyes all make Karan Kundrra an absolute heartthrob.
One cannot forget some of his most popular roles in TV serials like Kitani Mohabbat Hai (as Arjun Punj) or MTV Fanaah (as Vivaan the vampire).
But besides appearing in fictional dramas, Kundrra has also made a mark as playing the host on reality shows including Gumrah – End of Innocence, Love School – Season 2, Pyaar Tune Kya Kiya, and even as a guest host on Splitsvilla 8.
Most notably, Karan has been prominently seen as the 'Gang Leader' on MTV Roadies.
However, the 32-year-old actor's portfolio is not just limited to television.
In 2011, Karan made his film debut with Pure Punjabi and subsequently appeared in other Punjabi films like Jatt Romantic and Control Bhaji Control. 
With Horror Story in 2013, Karan made his Bollywood debut. Whilst he was impressive in this Vikram Bhatt production, Kundrra recently had a meaty role as 'Manpreet' in the Anees Bazmee laugh-riot, Mubarakan.
Karan Kundrra, who fears nothing except for failure, opens up to DESIblitz on his experience of working in Bollywood horror films, including the upcoming film, 1921.
Here is the exclusive DESIblitz interview!
Karan, tell us about the plot of '1921'?
First of all, it is going to be one intricate film. The film does come under the horror genre, but it's more of a thriller.
There's obviously a supernatural set-up in the film, but it's a beautiful love story. Vikram [Bhatt] sir has written it himself and has been directed by him.
Because 1921 is absolutely a brand new franchise, he [Bhatt] wanted it to be the biggest possible.
I've worked with Vikram sir before, but when he narrated the film to me, I just asked him 'where do I sign?' (Laughs). I was that excited because that's how crazy the script is!
How different will 1921 be from the other '1920' instalments? 
It's been 10 years since the first 1920 film had come, which was directed by Vikram sir.
There have been other 1920 films which were not directed by him, but this one is going to be a new benchmark in the series.
The understanding of a script and evolution of an audience has happened. Netflix is now available in India so audiences have been shown great films that have been made abroad.
Their sensibilities have now changed. You'll see a big shift [in terms of horror and film-making style] when you see this film.
What can be expected from your role in the film?
 After Mubarakan, I got the most intense role of my career, which is 1921.
I have done a lot in this film.
"I'm playing a pianist from the 1920s. He [the character] is into his music, he's an artist and he is goofy."
The character is just in his own world and is, of course, the main lead of this love story.
How was Vikram Bhatt like to work with as a director?
I've worked with him as a producer for Horror Story in 2013, but that was just his production.
He, as a person, is so witty and funny, it's almost ironical that he is making horror films!
These two months that I spent with Vikram sir, these are going to be the stepping-stones for my personality as an actor, especially with the schooling that I got.
Everybody has an inclination towards certain things in life – that inclination and your interest reflects in your work. He [Vikram Bhatt] is this mentor that I was been looking for.
His work reflects a different world of cinema. It [acting] is like red wine, you have to sit with somebody and they teach you how to enjoy red wine.
Those two months was like the stepping-stone for me. Now, I have a direction.
How was your rapport with leading lady, Zareen Khan?
I once met her for a brief moment when she was shooting for her music video in Georgia and I was also shooting for mine.
Then, I was travelling and she was travelling, we signed the film yet we never met. I was in London shooting for Mubarakan and she was shooting for Aksar 2.
We didn't even travel together for the first schedule of 1921 because she was coming from another country.
The funny thing is, although we were doing a love story opposite each other, we never met properly until the first day of shoot.
But Vikram sir said that would works great for chemistry and that did.
Let me tell you one thing, Zareen is the naughtiest co-star I've had the experience of working with. I called her 'Miss Giggles' because she's always giggling!
How scary is it in real life to work in a horror film?
I'm not somebody who gets scared of the dark, of the supernatural or of the paranormal, I am unfazed.
But our crew had a really tough time because we were shooting in the most haunted places in Europe. They kept getting scared [laughs].
It was pretty eerie. Particularly, one place is some 12 hundred years old and it is massive, bigger than the Queen's palace. It's empty and dark.
Imagine a massive place, with say only 100 people roaming around. Plus, we were mostly shooting at night.
"When you're shooting for horror sequences, for example, there's an entity. You have to sit with that entity because you're shooting with it. That's actually the funniest part."
You start laughing. Imagine a shadow crosses right in front of you, you have to act like you're scared but after the first or second take and you cannot control your laughter.
Me and Zareen would crack up every time. I have shot for two horror films and it is a comedy on set.
Have you experienced supernatural occurrences personally or on a film-set before?
Not directly, but there was a strange experience when we were shooting for Horror Story.
"I think me and Vikram sir have a connection. Whenever something odd happens and I fake my expressions, somehow sir always catches me. He has some power, he just understands."
This happened with Horror Story in 2013 as well.
We were shooting in this old, dilapidated hotel from the 1990s, I think a bomb blast happened there. It's now called Tulip Star, right in the middle of Juhu.
It's huge and obviously shut down, some real strange things happened there.
Vikram sir would be there taking a shot, something has happened and he would look at us. Somehow he would know [that there's an issue].
The same thing kept happening this time as well.
It's not a ghostly thing that happened, but it just freaks people out that 'how does Vikram sir know there's a problem?'
What's next in the pipeline for Karan Kundrra?
I'm not working on my brand anymore because of the kind of work that I have done.
Mubarakan, for example, if I was initially looking at the film I wouldn't have taken it up. Even if I do a small role in a big film, it doesn't hamper my image.
It does not mean that I'm not going to get more lead roles and I got the craziest role in Mubarakan.
If I was unknown, I think that [doing a small role in a big film] would've been a career suicide for somebody, because then you're not taken seriously and you get typecasted.
"Now, I'm actually looking at good roles, good characters or good stories to be a part of."
It is admirable to see Karan's motivation to develop his craft of acting.
As such, Vikram Bhatt has always harboured young talent.
Previously, the director's hit horror films, Raaz, 1920 and Haunted – 3D, were successful ventures for actors like Dino Morea, Rajniesh Duggal and Mahaakshay Chakraborty.
Even with thrillers such as Footpath, which was Emraan Hashmi's debut movie, Bhatt provides a platform to showcase talent in Bollywood.
One hopes that 1921 will not only spook the audience but will be a great way to bring Karan Kundrra to the forefront as an actor.
Watch the trailer for 1921 here: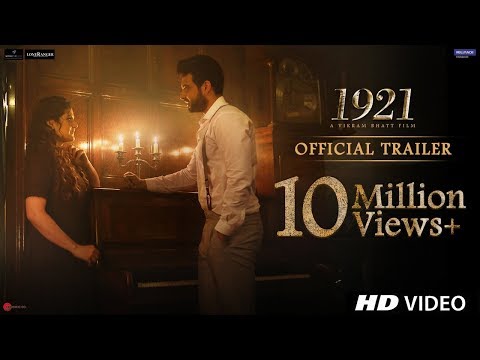 1921 will tentatively release on 12th January 2018.
DESIblitz wishes Karan Kundrra and the team all the very best for the film and future projects!