"As usual my attempt is to explore the complexities created by an unfortunate event"
Talented Indian actor Irrfan Khan is all set to entertain audiences once again with a powerful performance in Madaari (2016).
Since the release of the trailer on May 11, 2016, this social political thriller has been gaining a lot of attention from fans and has managed to gather over 4 million views on YouTube within a week.
Directed by Nishikant Kamat, who is best known for his hit thriller Drishyam (2015), audiences have high hopes for the upcoming movie.
The trailer for Madaari alone has already left a considerable impact on fans of the director in this genre.
Madaari follows the story of a common man, Nirmal (played by Irrfan Khan). When his life gets turned upside down he has no choice but to make a rash decision that'll change his life forever.
When the home minister's son is kidnapped, the whole city goes under lockdown and thus starts the cat and mouse chase between the system and the common man, Nirmal who wants justice to be served.
Will Nirmal get the justice he deserves? Or will his path of crime get the better of him?
Joining Irrfan on-screen is Jimmy Shergill who plays the role of a policeman who pursues Nirmal, as he runs from police custody.
As the film focuses on the emotions of a grieving father, Irrfan was asked on what it took for him to prepare for the role and whether he dug deep within his own personal relationship with his sons to bring authenticity to the role. He responded, saying:
"Never. I never do that. Because if as an actor you begin to delve deep into your own personal emotions and experiences it can get very dangerous for you. I never draw connections between my own life and the characters I play."
Known to touch upon relatable and social political issues within Indian society, director Nishikant takes inspiration from a real life back drop of the ghastly collapse of an under-construction metro bridge in Andheri Mumbai on September 4, 2012.
However, when asked about the relation between the incident and the narrative of the movie, the director explained:
"Madaari is about an under-construction metro bridge which fell a couple of years back in Andheri, Mumbai.
"But if you recollect my 2008 film Mumbai Meri Jaan, it also was based on the backdrop of a tragic catastrophe, namely the Mumbai train bombings on July 11, 2006. But the film was about human emotions. As usual my attempt is to explore the complexities created by an unfortunate event."
It is interesting to see the director, who is known for his remakes, to take on an original story: "True I've done a lot of remakes. But Mumbai Meri Jaan in Hindi, Dombivali Fast in Marathi and Laal Bhari in Marathi were originals. So is Madaari. But even this film borrows from a real-life incident. In a sense all art is non-original."
As Bollywood is known for fulfilling its entertainment quotient with commercial blockbusters, it is refreshing to see more directors and actors tackle important social political topics in their work that can make a change in society.
With a stellar star cast and talented director, Madaari looks like a promising film that will definitely be raking in rave reviews for its storytelling and character portrayals.
Watch the official trailer for Madaari here: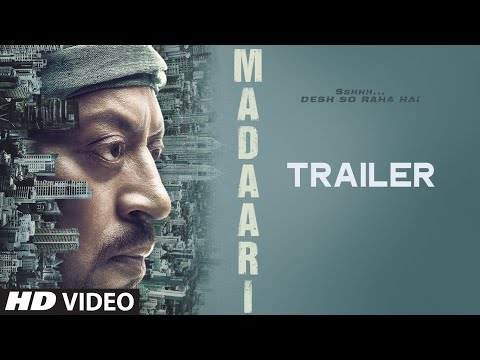 Irrfan Khan could be looking at another critically acclaimed film to add to his filmography.
The diverse actor is also set to appear in the Hollywood adaptation of Dan Brown's thriller, Inferno, alongside Tom Hanks. The film is due for release in October 2016.
In the meantime, fans can watch a powerful performance from Irrfan Khan in Madaari when the film hits cinemas from June 10, 2016.