"We actually had roles and their job was to keep me entertained and my job was to feed them."
A heart-warming and endearing tale of familial relationships through a journey of discovery, Piku has been hitting all the right notes in B-town.
Seeing the return of our Bollywood dimpled beauty, Deepika Padukone alongside the exceptionally talented Amitabh Bachchan and Irrfan Khan, Piku is directed by Shoojit Sircar (Vicky Donor, 2012; Madras Café, 2013).
The film follows the story of Piku (played by Deepika Padukone) a young cosmopolitan Bengali girl working in Delhi. After her mother's death, Piku takes full care of her elderly father, the retired Bhaskhor Banerjee (played by Amitabh Bachchan).
On a spontaneous trip from Delhi to Kolkata, Rana (played by Irrfan Khan) finds himself driving this dysfunctional duo to Kolkata, as no other driver is willing to take on this crazy family.
However, on the way, Piku and Rana find a distinct liking for each other and Piku realises her relationship with her father grows stronger.
While the film promises a simple storyline, as Shoojit explains: "In the film, I have tried to put the audience in between their everyday life. I want them to start living with them and dealing with their problems."
With an incredible ensemble cast, the filming process of Piku was described as a delightful experience. All the actors shared a warm equation between one another, especially Deepika and Amitabh, where their father-daughter chemistry on-screen, rubbed on to them behind the scenes as well.
As Deepika explains: "It was very organic because he is someone that has always been very, very supportive of my career and very encouraging right from the start of my career.
"I go over to their place for Diwali. When I had a house warming party, he and Jayaji came over to congratulate me. So they've always treated me like their own daughter."
Shoojit mentions that Amitabh would regularly prank Deepika on set:
"Mr. Bachchan succeeded in pulling Deepika's leg. Every time Deepika was going to say her lines, he would interrupt her and ask me questions about the scene.
"This happened a few times till Deepika realised he was just having fun at her expense, and that's when we caught this animated reaction."
Bachchan Sr. also decided to document some of the fun moments in a video called 60 Days 60 Shots.
The video shows the megastar speaking in 'Tapori' slang, breaking into laughter, addressing Deepika as 'Deepikajee', running around, making faces, reciting dialogues from his old movies, dancing, singing 'Let's football' and making fun of his co-stars.
Watch it here: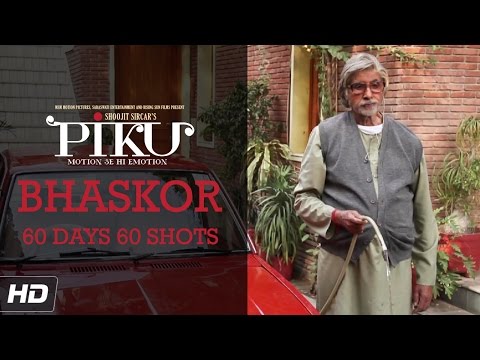 Deepika says: "While we were making the movie I would say of these two people, both Irrfan and Amitjii, both have a great sense of humour. Very straight faced humour.
"We actually had roles and their job was to keep me entertained and my job was to feed them. It made the experience of the film all the more fun."
Being the sweet and simple story Piku is, Deepika was completely on board after Shoojit narrated just one scene to her from the script.
Shoojit says: "I never had to convince Deepika to do the lines. In fact, she agreed to do the film after I enacted just one scene in front of her. Just one scene! After that one scene she said, 'I am going to do the film'."
She admits that she couldn't stop smiling after that one scene narration, adding: "It was warm it was relatable it was funny, just one scene can bring out all these emotions it was fascinating."
Irrfan also mentions that the relationship of Piku and her father reminded him of his own relationship with his mother:
"I am a responsible son. I have a strange relationship with my mother. We argue a lot. Our thought processes never gel and yet we openly have all kinds of conversation.
"I am very different as a father. I hate studies and look for excuses not to send my kids to school. I believe space for dialogue with your kids should be open all the time."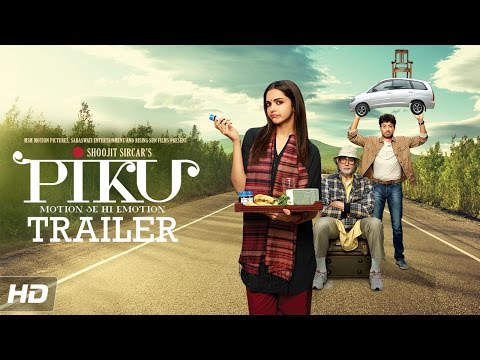 Marking the debut of music composer Anupam Roy, the 5-song soundtrack of Piku is already number two on the most downloaded album on iTunes.
Singing four out of the five songs on the album, Anupam Roy captures the raw essence of the movie very well. 'Journey Song' uses Indian percussion instruments, to project the calm yet wild journey from Delhi to Kolkata. It has the melodious Shreya Ghoshal singing the Bengali lyrics, reflecting the Bengali roots of the character.
One of the more upbeat numbers on the album is the self-titled 'Piku' sung by the melodious Sunidhi Chauhan. Upbeat and spontaneous, this track definitely gets your foot tapping instantly.
With the film gaining so much interest among Bollywood stars and film critics, Piku is one of the unmissable delights of 2015.
Karan Johar tweeted out:
140 characters to describe the most wonderful film I have seen this year is not enough…#Piku is all heart and stomach…..and so much more

— Karan Johar (@karanjohar) May 8, 2015
Deepika's beau, Ranveer Singh added:
PIKU…Absolutely marvelous!!! @ShoojitSircar @writeonj take a bow! RIP-ROARING (!) heart-warming, endearing & poignant…sheer quality!

— Ranveer Singh (@RanveerOfficial) May 6, 2015
Film critic Taran Adarsh also added:
Love the choices Deepika is making as an actress. To stand up to stalwarts like Big B and Irrfan is no mean achievement. Bravo! #Piku

— taran adarsh (@taran_adarsh) May 7, 2015
Make sure you go on this journey with Piku and her crazy family. The film releases from May 8, 2015.