For those looking to buy shade 290, anyone with sensitive skin like Raji will appreciate her review.
Rihanna's new makeup line, Fenty Beauty, has revolutionised the industry. Catering to women beyond the conventional shade ranges, this line has literally flown off shelves.
But if the make-up range is "Beauty For All", does it work for British Asians?
Rihanna created the line "so that women everywhere would be included". This covers foundations for all shades, including those that are "hard-to-match".
Foundation isn't the only item British Asians have to consider; they also have to carefully choose concealers and contouring products.
In addition, the average British woman already spends £70,000 on her appearance. So choosing the right makeup shade is more important than it first seems.
DESIblitz then asks the question: Is Fenty Beauty worth the hype and your money? Let's take a look through these 5 reviews from British Asian beauty vloggers.
Kaushal Beauty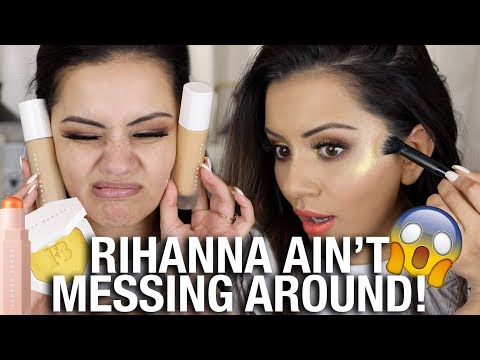 For those looking for an unbiased opinion, Kaushal Beauty's review is ideal. Her demonstration hails as a great review for finding out how to get the perfect base.
While giving close up and wide shots of her made-up face, she shows off the great coverage of the foundation. Yet, she underlines that it upholds its claim of a skin-like texture. 
Kaushal also highlights the line's reasonable costs. For example, the Pro Filt'r Soft Matte foundation matches MAC prices and packaged to a high quality, better than drugstore makeup.
In fact, the beauty vlogger has a talent for noticing small and significant details. The Killawatt highlighter packaging doesn't just have a pretty iridescence, but the white beehive shape makes them perfect for stacking.
Kaushal's review covers a great deal of the line. Therefore, it's useful for those looking for an overall view of the line, providing comparisons between different shades.
AnchalMUA
AnchalMUA gives us not one, but two excellent videos on the makeup range.
First, she demonstrates how to use everything in one stunning look with a beauty tutorial. Here, she creatively uses the infamous Killawatt highlighter in Trophy Wife as an eyeshadow. With the highlighter's unusual mix of gold and greenish undertones, you can have the most captivating eyes.
Combined with the perfect skin and a stunning highlight, Anchal brilliantly demonstrates the full potential of Fenty Beauty. In short, this is a glam look, ideal for looking red carpet ready like Rihanna herself.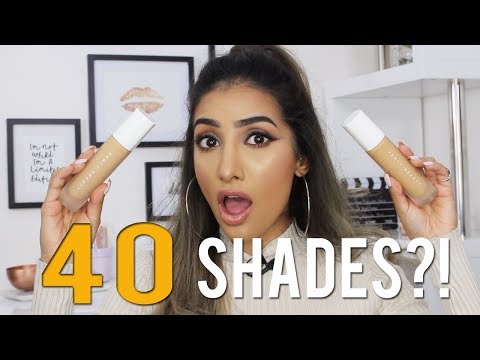 For those only interested in the foundation range, Anchal gives a fantastic review and demo in her second video.
The foundation is her "holy grail" for matching but she handily compares it to other matte foundations. Busting the myths, she gives a far better idea of where its velvety matte sits on the scale.
Furthermore, Anchal considers her undertone more of a rarer neutral. With such a rare undertone, this is ideal for those considering shade 300 like her.
Anoushka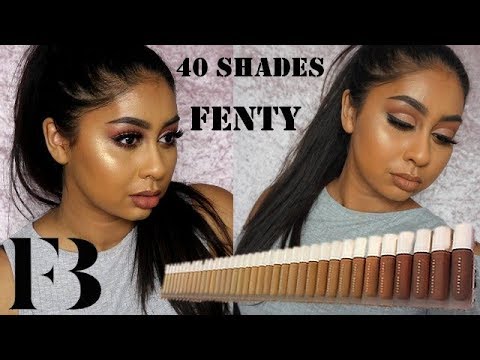 Anoushka offers plenty of videos to cover every aspect of buying the range. While we hope the queues have died down, the vlogger offers useful tips. For instance, she advises sampling the foundation and waiting for it to set in. Potential buyers can see how it darkens and how it adapts to the skin.
The vlogger also tries out the Fenty Beauty items, focusing on how it works for dry skin types. Again with great close-ups, she shows that the full coverage foundation creates a flawless application.
Anoushka also explores hyperpigmentation, which is the bane of many British Asians. She wears the foundation shade 330 – a useful comparison for people with a warmer skin tone to examine before buying.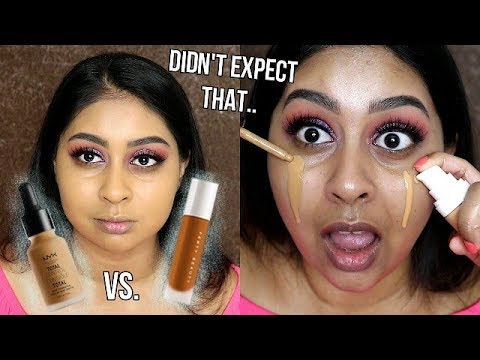 Finally, she provides a useful comparison video of the Pro Filt'r foundation vs. NYX Total Control Drop Foundation. The NYX foundation is a thinner, more watery liquid foundation that takes longer to dry. This leaves you a longer application time but Rihanna's foundation wins her seal of approval.
While it's difficult to build up layers of the Fenty Beauty foundation, it looks softer and more like skin. This fulfils the brand's promise and Anoushka shows it isn't too painful for a student budget.
Raji Osahn
If you're looking for a good critical review, Raji Osahn is fair and honest. Again, she offers her first impressions but covers the longevity of the products after four hours.
In fact, she makes little use of other products to test the line's promise of a long-wear foundation. For those looking to buy shade 290, anyone with sensitive skin like Raji will appreciate her review. She pays attention to the makeup's effect on her face and the often-forgotten, sensitive under-eye skin.
Plus she's great at conveying the feel of the makeup, which promises to be "light as air". Her general honesty allows viewers to make a well-informed decision before purchase.
Raji's review also showcases how the range can create subtle, everyday looks. You can focus on the makeup's quality rather than the temptation of items like the Trophy Wife highlighter. This 'first impressions' look would suit makeup newbies who prefer minimal makeup.
Shahleena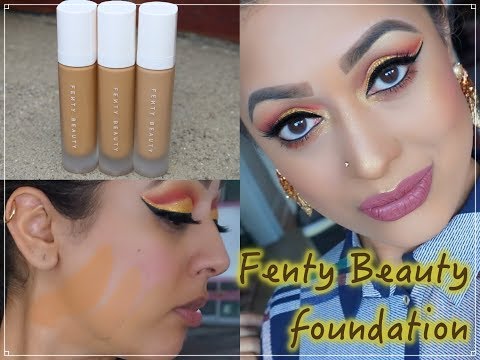 Shahleena offers a great critical review with her comical, no-nonsense approach. Refreshing direct, she interestingly critiques the range and its website – an intriguing insight for those keen to see how the industry works.
Differing from typical 'first impressions', she showcases three shades of the foundation. Unluckily for her, this was due to colour matching problems and serves as a warning for viewers.
However, the video is then incredibly informative as Shahleena swatches the shades 300, 310 and 330 on her face and neck. This underlines the differences more clearly than the wet swatches shown on the website.
Also, as she discusses, there's a lot of conflicting information online. It's easy to get sucked in by the excitement surrounding the range. Shahleena emphasises the importance of being cautious. With Rihanna offering such a range, British Asians have to rethink their usual approach.
In fact, the video is worth a watch for her expertise alone. But if that isn't enough, she tested the foundation in a variety of situations, including marathon training. For an expert review of the Pro Filt'r foundation, Shahleena is the go-to.
Here we have 5 very different, but extremely useful reviews from some of our favourite British Asian beauty vloggers.
There may have been little information and guidance available for British Asians. But it's heartening to see change thanks to these passionate vloggers, as well as celebrities such as Rihanna pushing for change.
With an extensive range of shades, one can see the excitement surrounding Fenty Beauty, most of which is merited.
Yet, it's crucial for British Asians to be able to buy products that are worth their money. Hopefully, with these reviews, you can find the range's best products to suit you!