it can be difficult to find the right foundation to match your skin tone
The world of beauty vlogging on the Internet is a goldmine full of creative beauty Gurus who share their tips and tricks to their worldwide audiences.
Whether they are professional makeup artists, or just make up enthusiasts who have perfected their craft with practice, these vloggers sure have some talent.
From skin care regimes, to hair care treatments, they incorporate all things beauty from the inside out, on their channels.
Especially for British Asians, it can be difficult to find beauty tutorials on how to look like your favourite Bollywood stars, or even how to find the right foundation to match your skin tone.
DESIblitz presents you with the top five must see British Asian vloggers, who will help you on your beauty journey, with their tips, tricks and endless beauty knowledge.
Kaushal Beauty
With over 150 uploaded videos and over 1 million subscribers on her YouTube channel 'Kaushal Beauty', this girl has garnered an incredible fan following due to her great beauty tips and makeover tutorials.
If you are looking for incredible Bollywood inspired makeup tutorials then she is a must watch vlogger.
Often inspired by her favourite star Deepika Padukone, Kaushal has given her audiences some exquisite makeup tutorials from her onscreen characters and off-screen makeup looks.
Along with intricate make-up tutorials, her vlogs include essential skin care hacks, and entertaining vlogs where you can follow this fashionista on her adventures.
Anchal MUA
Anchal's Vlogs and makeup tutorials are a great mix of simple step by step guides for beginners, and advice on the best beauty products.
Her material includes makeup tutorials, hair care routines, celebrity inspired looks and eyebrow tutorials. Her spunky and fun personality and makeup knowledge is perfect combination for beauty vlogging.
Her video on 'How To Find Foundations', for South Asian skin is a great guide for her South Asian audience in finding the best base for their makeup.
Makeup with Raji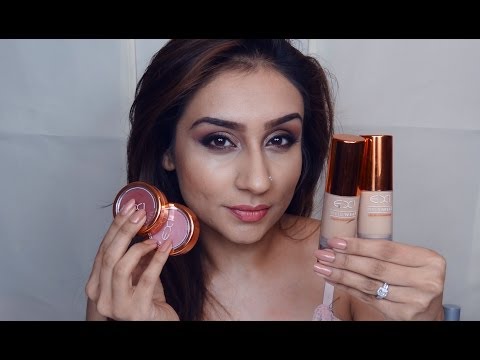 Yorkshire based beauty Guru Raji, is relatable funny and incredibly talented with her makeup brushes! Taking you on a journey with her in almost every video, her transformations are impressive.
Giving great advice on hair, skin care and even hair removal, Raji covers all aspects of beauty on her videos.
Her quirky Vlogs on skin care, relationship advice and makeup tips, give her audience diverse material to watch. Her 'story time' videos are a treat for anyone who wants to get to know this beauty enthusiast a bit better.
BeautybyBambi
Bambi Bains who is largely known for her musical career with PBN, has delved into the world of online beauty vlogging. This multi-talented girl shares her fun and useful tips on her YouTube channel.
Not only doing tutorials on herself, she has shown her skills by doing elaborate hairstyles and intricate makeup tutorials on others.
Sharing some great makeup tips, and flawless makeup looks for daytime and special occasions, her channel is a definite must see for all beauty lovers.
Her DIY tutorials on 'How To Apply False Lashes' and 'Eyebrow Tutorial' are great for any beginner who wants to learn all things beauty.
Cinnamonjules
This London based beauty fanatic incorporate all forms of beauty in her videos. Adding the combination of 'outfit' to her beauty videos, this beauty Guru adds fashion to her beauty Vlogs.
Whether it's a party or for Valentine's Day, you are sure to find a tutorial on her channel to help you look your best!
With Rita Ora and Rihanna inspired makeup looks on her channel, this beauty enthusiast can transform you into an A-List celebrity with makeup and styling tips.
Beauty is all around us, whether it is on the silver screen or on billboards, we are showered with faces which we would love to emulate.
To help all of us at home, who do not have makeup artists or personal stylists, these online beauty vloggers are a blessing!
These Brit-Asian vloggers can assist with all aspects of your beauty regimen, whilst giving you the fun and spunky elements of Bollywood inspired beauty looks.
Whether you are a makeup expert or just a beginner, these vloggers are a must see for all!