Tubelight attempts to recreate the brutal horrors of the conflict.
The first teaser for Salman Khan's upcoming film Tubelight has landed on YouTube. Revealed on 4th May 2017, the two-minute clip gives fans a taste of what to expect with the historical war drama.
Produced by Salman Khan Films, it also marks the debut of Chinese actress Zhu Zhu featuring in an Indian film.
It comes as the Bollywood legend himself teased fans with a day-by-day countdown for its eventual release.
Set against the backdrop of the Sino-Indian war, the video begins with soldiers seemingly charging towards a fight. A radio broadcast also features in the beginning, reporting 246 soldiers' death, painting a tragic end to their battle.
With the men attempting to dodge explosions in a desert landscape, Tubelight attempts to recreate the brutal horrors of the conflict. But how much it will truly show remains unknown.
The teaser also features glimpses of Zhu Zhu and Sohail Khan. However, despite the film reportedly depicting a romance between the Chinese actress and Salman Khan's characters, not much is revealed to viewers.
In fact, it is only until the last moments that fans actually see the actor in the video. But during his quick appearance, Salman Khan reveals his character to have a warm, fun side to him. He paints a striking contrast to the harrowing setting.
Also, throughout the teaser, fans watch quick shots of various ultimately reveal very little. However, eagle-eyed viewers will notice a portrayal of historical figure Gandhi.
Watch the Tubelight teaser here: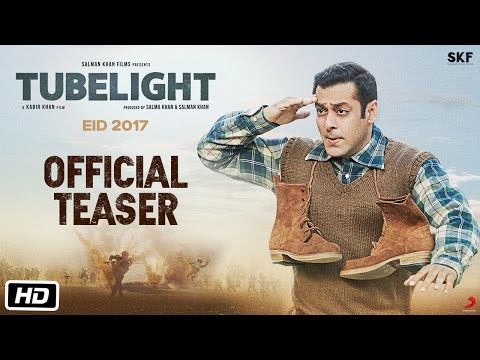 Until the next eventual trailer, many will have to wait to see romantic scenes between Zhu Zhu and Salman Khan. They will also have to wait for a possible sneak peek of Shah Rukh Khan's alleged cameo.
Meanwhile, Salman Khan has greatly promoted the film with a gradual countdown of the teaser's release date. On social media, he accompanied the countdown with various Tubelight posters.
With such promotion, Salman seems genuinely excited for his new project. But, while some fans may question the actual content of the teaser, perhaps producers will reveal more soon.
Tubelight will hit cinemas on 23rd June 2017.