"Badnaam are rock stars, you guys owned the stage today"
On Saturday 9th September 2017, Pepsi Battle of the Bands witnessed the final showdown between the remaining contestants Badnaam and Kashmir – The Band.
The TV contest which has breathed a refreshing musical wave across Pakistan has reached its climax. And after a gruelling contest across many weeks, celebrity judges Atif Aslam, Meesha Shafi, Shahi Hasan, and Fawad Khan have now left it to the public to decide the Pepsi Battle of the Bands 2017 winner.
To secure their votes, both bands performed two songs on stage. The first a mashup of popular Pakistani hits, and the second, an original song of their own.
Creative Mashups
For their first song, Badnaam performed 'Ishqnama'. The track was a mash-up of the band's own 'Ishq Mein Tere' along with the Qawwali classics, 'Halka Halka Suroor' and 'Haq Ali Mola Ali' by Ustad Nusrat Fateh Ali Khan and Abida Parveen's 'Tere Ishq Nachaya'.
Ahmed Jilani's powerful vocals took these memorable qawwals in a new direction. The addition of the improvised guitar and drums offered an infectious and almost hypnotic rhythm. It is clear that their trademark style of mixing Qawwali with heavy rock is both inventive and truly original.
Meesha called the performance "dynamic", while Atif Aslam picked up on the band's intentions to promote a powerful message through their music. By passing on the work of great musicians and making them relevant to future generations:
"Solid performance Badnaam. I loved it, well done!" Atif expressed. Shahi thought there should have been more creative transitions between the songs. But he agreed with Atif, saying that he loved the performance overall and the message it delivered.
Fawad was blown away by the performance: "Badnaam are rock stars, you guys owned the stage today. For me very honestly you as three people manage to fill the stage as though it was ten people.
"When music transcends a language and it starts speaking to people irrespective of what language you're talking in, that's when it's winning. And I felt that about your performance today."
Next up was the pop rock band, Kashmir. Their 'Ankahi' mash-up took cues from the panel judges who are responsible for two iconic songs of Pakistani music: 'Aitebar' by Vital Signs and 'Aadat' by Atif Aslam.
Lead vocalist Bilal took an original approach to the vocals on both songs. The moody and sensitive performance was well-received by both the crowd and the judges.
Atif gushed: "Best performance. Especially your vocals, towards the end they were brilliant." Shahi Hasan, co-founder of Vital Signs, added that the performance was "very impressive".
Meesha loved the sensitivity of the performance: "I have nothing but praise for this performance. I'm really happy to see you singing these ballads and these songs which are softer. Here and there you bring a rock texture in your voice and in a dark, moody version that works with a lot of prettiness."
Also Read: Pepsi Battle of the Bands 2017 Final ~ Badnaam vs Kashmir
Stunning Original Songs
Next came the finalists' original songs, which they have created and produced themselves. Badnaam took a much softer approach to their first performance. Inspired by a Bulleh Shah poem, their track 'Kalyan Ishq' fused together Sufi Kalaam and rock.
Beginning with only Ahmed and his guitar, the simple melody gradually developed into another trance-like song that mesmerised viewers.
Fawad picked up on the rock ballad element of the song, while Meesha added that their songs have an "emotional power" that has a lot of attitude. Atif however, believed that both performances were very similar, and so lacked versatility. He did add that the band has an "amazing energy".
For their final performance Kashmir – The Band presented an original, 'Kaagaz Ka Jahaaz'. The simplicity of the lyrics and its upbeat, quirky melody made it truly magical.
Unsurprisingly, the song resulted in a standing ovation from all four judges, and Atif Aslam even jumped onto the stage to give each of the members a hug.
Meesha said:
"The lyrics were very simple, very beautiful. And very symbolic. Super creative stuff guys. You guys are very mature and sensitive at the same time."
Shahi added that the musical transitions were "superb". Fawad commented: "I don't know where you've been hiding this stuff. It's amazing. Everything was spot on, you guys were on a roll today. I loved it."
Who will win Pepsi Battle of the Bands 2017?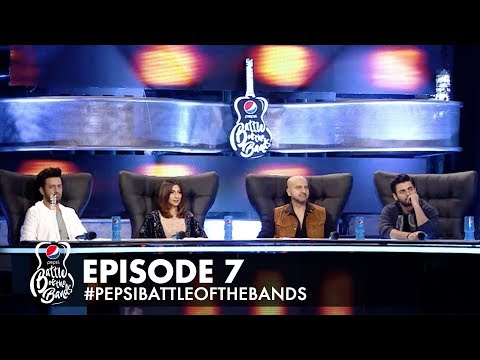 With such a strong finale to what has been a fantastic competition so far, the public has a tough decision to make to decide their favourite. But which band will clinch the title?
Badnaam's ability to take on Sufi and folk classics and reinvent them have set them apart throughout the entire contest. Their consistency in delivering knockout performances each week meant that it was pretty easy for them to make it to the final. The band clearly has a lot of soul, and their aim is not to just be a band but to inspire others with their Sufi Kalam and folk style of music.
In comparison, Kashmir – The Band have undergone the biggest learning curve of all the contestants in Pepsi Battle of the Bands. Their style of music, although pop rock, is incredibly atmospheric. And the versatility of their songs has brought something that is completely new to the Pakistani music scene.
Kashmir are certainly fan favourites having garnered 67% in our DESIblitz poll.
But could they actually win Pepsi Battle of the Bands 2017? With the young band up against the incredibly well-polished Badnaam, it is a very tough call.
But whatever the outcome, it is clear is that both bands have a bright future ahead of them.
Good luck to both finalists, Badnaam and Kashmir – The Band!