"This was an opportunity to collaborate with other like-minded creative talents."
Step aside Nike, Humza Productions is here. Led by Youtube sensation Humza Arshad ('Diary of a Badman'), a parody of Nike's recent advertising campaign ('Nothing Beats A Londoner') was released on Youtube on March 12, 2018 titled 'The Other Side of London.'
Featuring a host of popular faces including music stars Naughty Boy, Jay Sean, Steel Banglez and Arjun, online influencers Hussain Manawer, Islah Rahman, Tez Ilyas, Bhangra stars Juggy D and H-Dhami and DJ's Kan D Man & Limelight (BBC Radio 1/1xtra/Asian Network) and Bobby Friction, the viral video showcases the British Asian side of the city.
'Nothing Beats A Londoner'
Shot on the streets of London, from Dalston to Peckham and Brixton, 'Nothing Beats A Londoner' celebrates the young Londoners shaping the city with their passion, entrepreneurship and fiery competitiveness.
The ad features 258 real young Londoners, with cameos from sport and music stars such as Skepta, Mo Farah, Harry Kane, Dina Asher-Smith and Gareth Southgate.
Starting with Skepta's Shutdown and travelling to West London's pirate radio station, Kurupt FM, the soundtrack adds to the passion and competition that the ad embodies.
A Celebration of British Asian Talent
"Lads, quick question. What did your parents want you to be when you grow up?" Humza Arshad asks DJ Limelight who's sat on the counter of a chicken shop, and it's at this moment that all British Asian kids give an audible sigh – because who hasn't been asked this question before?
From Southall to Green Street, 'The Other Side of London' is self-aware while still having fun with it.
Addressing the lack of British Asian representation on mainstream media in mind, Arshad speaks about this historic collaboration:
"As a big fan of Nike and having seen the recent Nike advert, a representation of London culture, I was inspired to create a moment that represented British Asian London. This was an opportunity to collaborate with other like-minded creative talents and promote our unique culture and lifestyle."
Yet the group feels that even in Nike's celebration of the city's passion and diversity, there was still a lack of British Asian representation in the ad.
Kan D Man & DJ Limelight commented on this, saying:
"We have been working in the UK's urban music scene for many years now and were proud to see grime acts such as Skepta, Giggs and J Hus take centre stage in the recent Nike commercial. But we couldn't help but feel that the campaign was lacking British Asian representation, a community which is such a vibrant part of London's multi-cultural society."
From Humza Productions' hilarious editing to the witty one-liners, this parody video will have the audience laughing while showcasing London's wealth of British Asian talent.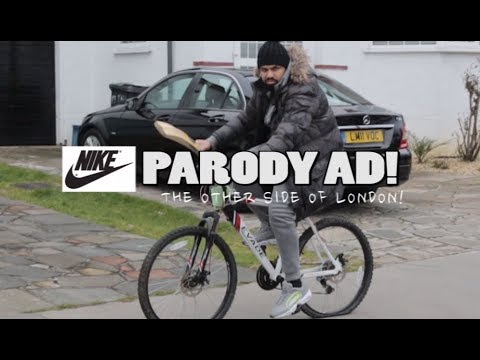 "The group that has come together for this have individually been incredibly successful in their respective fields, so to have them all together to represent our community is a really special moment which I hope will positively showcase and represent diverse British Asian talent from London." Arshad adds.
"Our parody video simply illustrates a strong group of young, talented British Asians coming together to push diversity boundaries in a fun and creative way."