"LIFF has an amazing team…they gain nothing yet give us a beautiful platform to present films."
The London Indian Film Festival (LIFF) has had an incredibly successful fifth year, and ended on a high during the Closing Night on July 17.
The week-long festival saw an amazing amalgamation of British and South Asian talent and showcased great movies from Sold, Million Dollar Arm, Sulemani Keeda and Hank and Asha, all pulling at the heart strings of its packed-out audiences.
The Closing Night red carpet in the heart of London's buzzing Haymarket Cineworld was no stranger to many famous faces including brand ambassadors Sunny and Shay, the legendary Bollywood actor Nana Patekar, Samruddhi Porey, Paul Sagoo, Neerja Naik, Sohail Anjum and Asjad Nazzir.
Replacing the red carpet with a forest, adding a dose of Bollywood legendary artists and sprinkling it with tender love gave you the closing night movie, Hemalkasa.
A truly heart-warming film, Hemalkasa is based on the true story of Dr. Prakash Baba Amte and his wife Dr. Mandakini Amte.
They are a couple who have selflessly dedicated their lives to a project for the development of tribal people in Maharashtra, India. It describes their journey, trials and tribulations but above all, shows their unconditional love for all living creatures.
During the Q&A that followed, Director Samruddhi Porey described the film as 'a beautiful love story'. When opening questions to the audience, one British audience member commented on the outstanding acting of Nana Patekar and stated: "You make me want to watch Bollywood movies."
At the end of the Q&A, the film and talent behind it received a well-deserved standing ovation from the audience where there was no dry eye left in sight!
In an exclusive Gupshup with DESIblitz, Nana Patekar said of the movie: "[It's a] real story about a couple doing an amazing job in a corner of the world which people are ignorant about.
"Just register something in your mind; this man has given his life totally. His [Dr. Prakash Amte] work is a dialogue, his devotion is a dialogue, his sacrifice is a dialogue."
Having known Dr. Prakash Amte personally for the past 42 years, Nana Patekar was happy to portray the life of a man he calls his brother.
He also gave us a sneaky insight into what his future plans will be, including going back to directing once more and starring in a film reflecting Baba Amte's life; the father of Dr. Prakash Amte whom Nana describes as 'a colourful character'.
Many acknowledged the importance of LIFF in giving independent cinema a much needed platform. Director Samruddhi Porey told us: "LIFF has an amazing team and coordination…they gain nothing yet give us a beautiful platform to present films."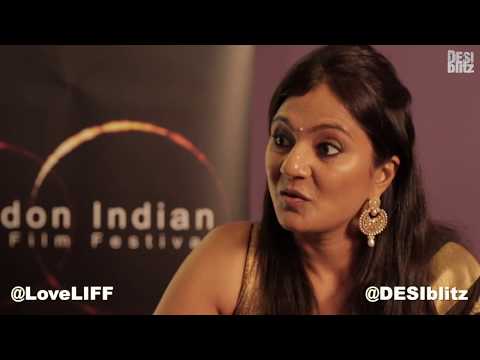 When asked what she wanted to achieve with her movie Hemalkasa, Samruddhi said: "After watching this film, if there is a change, the way you want to see your life, this is the biggest achievement for me."
The much sought after LIFF 2014 Audience Award was announced later in the evening and went to Jeffrey D. Brown's movie Sold, an adaptation of Patricia McCormick's best-selling novel about child trafficking across India.
As on-line media partners of LIFF, DESIblitz also caught up with the Director of LIFF itself, Cary Rajinder Sawhney, who said of the festival:
"We got a surfboard and jumped on the wave of Indian cinema early on, so [the] Indian Independent wave came in and we were [there] at the right time at the right place."
"I'm glad to say that's turned into a tsunami of great new cinema going across the world," he added.
Having grown immensely over the past five years, LIFF is continuing to help Independent Films make it to the wider and global audiences and, as Cary puts it: "Create a buzz about the British Asian identity."
From touching movies such as Sold, Million Dollar Arm, Hank and Asha and Hemalkasa it's been a somewhat emotional week with Cary adding: "It's been a sobbathon."
It seems that the London Indian Film Festival has gone from strength to strength and continues to create a fusion between South Asian and British independent film making.
Mixing various writers, directors, producers and actors under one roof of independent cinema can only help establish further relations and create more exciting films for the future.
Though LIFF 2014 has come to an end, Cary is determined to make sure that next year will be even bigger and better: "[Next year's a] bigger canvas, we need a bigger boat…we're sailing out into the Pacific and Indian oceans. [We] need to meet those expectations," he says.
An outstanding week of Asian cinema, the London Indian Film Festival 2014 has been an truly unforgettable week. Watch this space for a fantastic and eclectic LIFF 2015!