"All I can say is that 'Kick' will take a record-breaking, earth-shattering opening!"
Audiences worldwide are in for a high octane, action rom-com treat with Salman Khan's Kick.
Directed by Sajid Nadiadwala, the film stars heartthrob of B-town, Salman Khan, Jacqueline Fernandez, Randeep Hooda and Nawazuddin Siddiqui.
Kick is about a man's desire to live life to the full and get a 'kick' out of every opportunity that comes his way.
Salman Khan plays the character of 'Devil', an adrenaline junkie who is addicted to risk – whether it may be in his job or in his personal life.
His many misguided acts culminate in him becoming a thief. What ensues is a cat-and-mouse style chase, as Devil is pursued by a police officer and enters into a turf war with a local gangster.
Like many Salman Khan blockbusters, Kick also has a catchy dialogue which has resonated with the audience. The phrase, 'Dil mein aata hoon, samajh mein nahin' was written by the director for Salman: "I think it describes what he thinks about me," Salman says.
The never seen before Jacqueline and Salman Jodi seems to work well both on screen and off screen! Recently, Salman fed Jacqueline cake when they promoted their film on dance reality show, Jhalak Dikhla Jaa. Their chemistry really glowed when Salman wiped off the cake that was on Jacqueline's face with his arm!
Salman says: "Jacqueline has this beautiful energy to her; she's very funny and very witty. She is also extremely talented as an actress, and we got on really well on the set."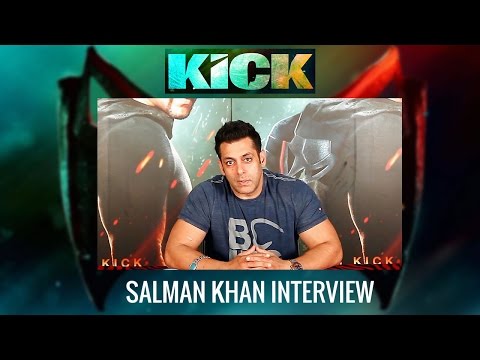 Kick marks a turning point in Jacqueline's career and she says: "I think it is safe to say that it is one of the best phases of my life.
"After the trailer launch we all looked at the big screen, seeing myself and Salman, it was something unbelievable. At that point we realised that it could have been anyone but I was lucky enough to be the chosen one."
On working with the Bollywood superstar for the first time, Jacqueline adds: "I have never seen or known Salman before this. The first day of shooting was the most nerve-wracking day of my life.
"We were shooting in Karjat when Salman walked in. It felt like the whole energy on the set had changed. I was afraid that I might do something wrong, but after seven months of filming I can confirm that Salman is very calm and extremely helpful."
For her, the biggest challenge of Kick was to ensure that she did not disappoint anyone: "You just want to give everything to the movie and want to do your best. I really wanted to make sure that I got my character right."
When asked about her role in Kick, Jacqueline says: "Shaina is a psychiatrist who is about to marry Indian police officer, Himanshu.
"Neither one of us are looking forward to the arranged marriage, but when we meet on a train we quickly form a firm friendship. We start talking but what we don't realise is that both of us are talking about the same person who has affected our lives profoundly."
In Kick, Salman Khan sings three songs including the popular, 'Hangover'. Salman found the experience of singing all the songs for the film "difficult":
"It was my friend Wajid who was rehearsing with me and teaching me the songs! 'Tu Hi Tu' and 'Jumme Ki Raat' were composed by Himesh Reshammiya and 'Hangover' by Meet Bros. Anjjan, but it was Wajid who was singing and showing me how to sing at home," Salman says.
However, deep down Salman Khan admits that he prefers to sing on his own: "If I want to sing – I will sing and I can sing about pretty much everything. But I don't like to be put in the limelight and told to sing; then I get hesitant."
Making a special guest appearance in the film, Nargis Fakhri sizzles in the item song, 'Yaar Na Miley'. Salman found her great to work with and calls her 'the girl next door'.
Salman adds he was very impressed with his leading ladies in both 'Jumme Ki Raat' and 'Devil': "Both Jacqueline and Nargis performed really well in those dance numbers."
The expectations for this film are sky high. Salman Khan and Eid are a blockbuster combination. Every film in the last few years that has released on Eid has crossed 100 crores and the last 5 consecutive films of Salman Khan have crossed 100 crores.
Kick has already broken records in its official trailer release. The trailer garnered four million hits in just 38 hours and the trailer launch has crossed 39,000 likes already, making it the fastest Bollywood trailer ever to get so many likes.
Kick is expected to make a widespread entry in the cinema halls of India and worldwide. It is expected to hit 4000 screens in India, the biggest screening space given to an Indian film until date.
Many Bollywood personalities also believe that Kick has what it takes to be Salman Khan's biggest hit. Noted trade analyst Taran Adarsh said: "The craze for Kick is humongous among audiences. Salman apni Eidi lene zaroor aayega. All I can say is that Kick will take a record-breaking, earth-shattering opening!"
We at DESIblitz certainly can't wait to see Sallu Bhai on our screens again, Kick releases from July 25.